The term Sextool defines a lot of the ground [of "sexual politics"]. I define the word as use/abuse, everyone, everything. As for politics, I mean political in the sense that it sort of breaks the stereotyped roles that are supposed to define us… Gay supremacy is fascistic!… It's a new kind of fascism—which I wholeheartedly endorse. I really do think we're superior… I think it has been proven that at times when you have a great renaissance in culture and the arts, it's always gay people who are leading the whole thing. We are now starting such a renaissance again. — Fred Halsted, 1978*
During his lifetime, gay-porn provocateur Halsted was the last person the gay pride establishment would want to associate itself with. Now Halsted's films are in MoMA's collection and, for pride week, the Nuart will screen a double-bill of Halsted's L.A. PLAYS ITSELF and SEXTOOL.
The only thing that hasn't changed is you still need to be at least 18 years old to get in. See below link for details.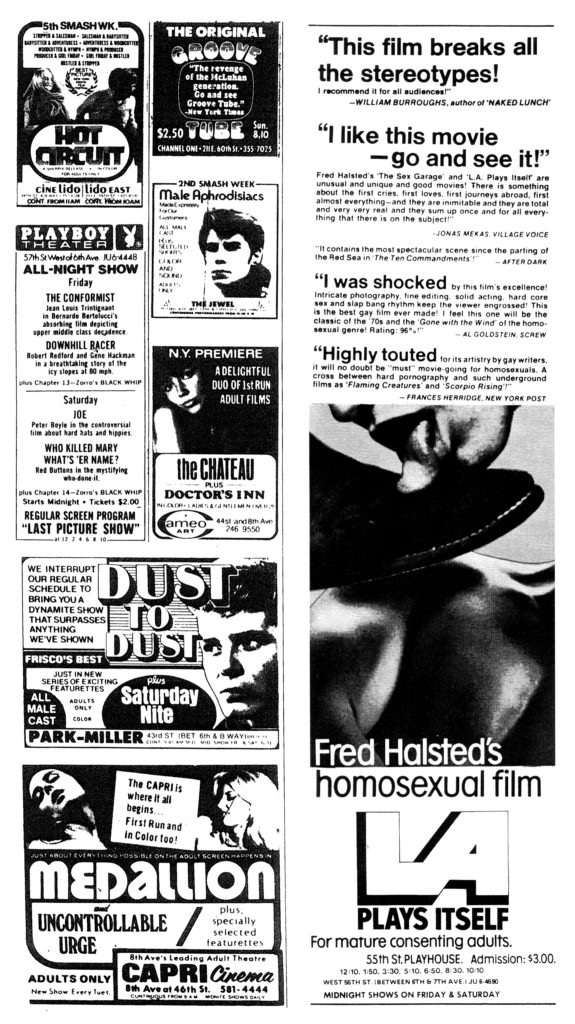 Directed by Fred Halsted
Wednesday, June 30.
4:15 pm, 7 pm, and 9:45 pm.
Nuart Theatre
11272 Santa Monica Boulevard, West Los Angeles.
*"America's First Gay Family of S/M: Fred Halsted and Joey Yale," interview by Mikhail Itkin, Coast to Coast Times, August 22, 1978; reprinted in William E. Jones, Halsted Plays Himself (Los Angeles: Semiotext(e), 2011), 147–148.
From top: Fred Halsted, Sextool (1975), still, photograph courtesy and © Hustler Video; New York City newspaper ads circa 1972; Fred Halsted, L.A. Plays Itself (1972), still, photograph courtesy and © Joel Shepard.