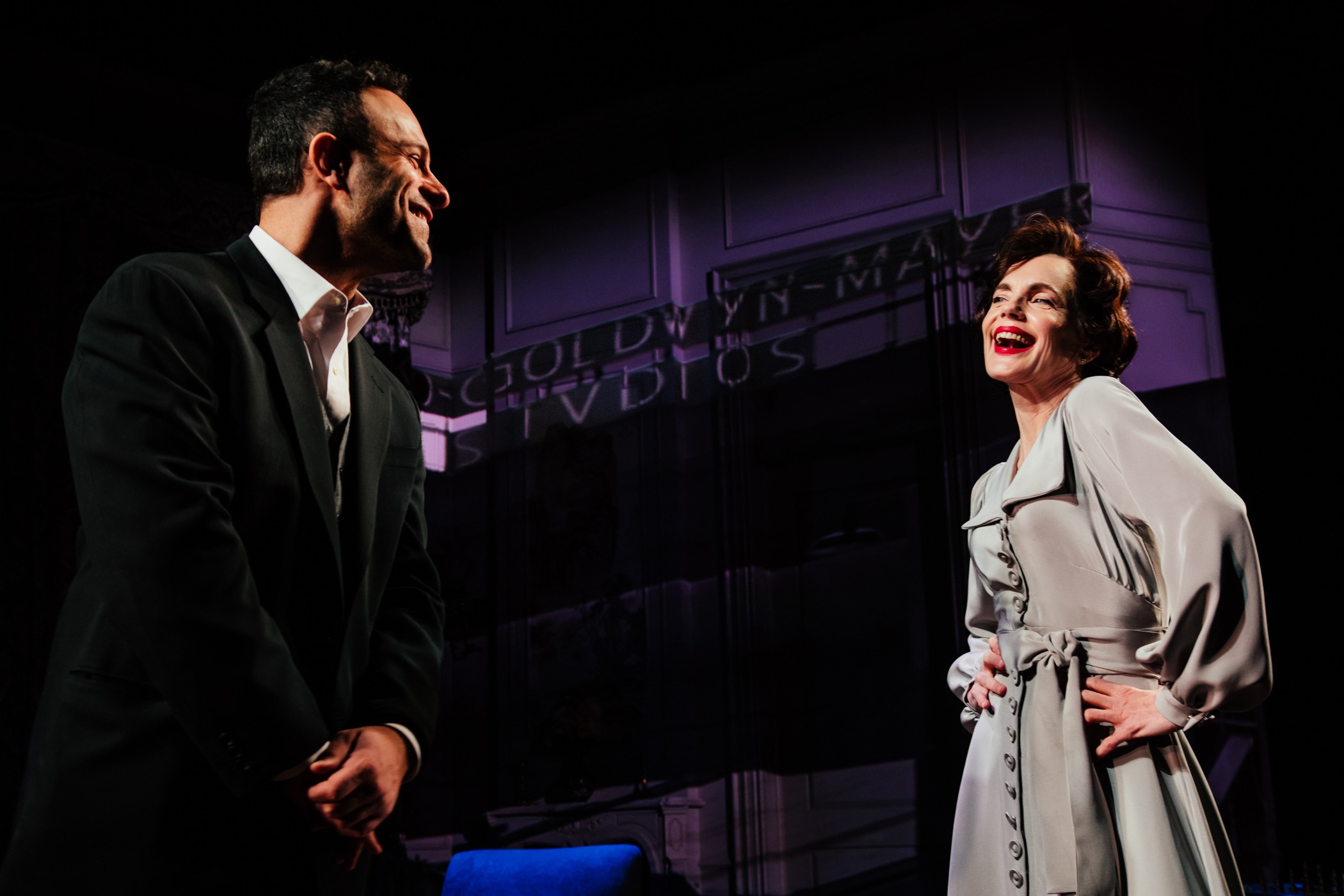 Let me tell you something: nobody handles Ava Gardner… She's a complicated woman, courageous, difficult… well, you'll find out. — Peter Viertel, to Peter Evans
In 1988, living beyond her means in London and still in recovery from a stroke two years prior, Ava Gardner hired Peter Evans to ghostwrite her memoirs, to be based on a series of conversations between the star and the journalist. Stubborn and imperious when she wasn't salty and full of gossip, they spent many wine-fueled evenings in her Knightsbridge flat, dishing about her journey from backwoods North Carolina to global stardom—with a special focus on her three famous husbands: Mickey Rooney, Artie Shaw, and Frank Sinatra.
Things didn't work out as planned. Months into the book—afraid she was revealing too much and troubled by the fact that Evans had never mentioned an earlier defamation lawsuit brought against him by Sinatra—Gardner pulled the plug, eventually collaborating with a different journalist for a more anodyne version of her story. Twenty-five years after their first meeting, with permission from Gardner's estate, Evans' book was finally published. Ava Gardner: The Secret Conversations turned out to be a double memoir, with Evans framing Gardner's scenes of reminiscence with a running report on their daily get-togethers—the disagreements, the walks in Hyde Park, the process behind the project.
Remember that she is essential to the Hollywood myth about itself. You tamper with that at your peril… She can be outrageous. Dom Perignon at 5 a.m. in Makeup: "The only way to make filming fun," she used to say—but she is terribly conflicted about herself, especially about her fame. Most well-known actors are, but she especially, pathologically so. — Dirk Bogarde, to Peter Evans
In AVA—THE SECRET CONVERSATIONS, now at the Geffen Playhouse, actor and playwright Elizabeth McGovern shapes this backstage drama into a brisk, effective theatrical glance at a legend in twilight, with McGovern—breezy, ribald—taking center stage in a more than capable turn as Gardner. As Peter Evans, Aaron Costa Ganis has been encouraged to play the writer rather more broadly than he comes off in the book, and is much more successful in his scene-stealing imitations of Rooney (hysterical) and Sinatra (threatening). As for Artie Shaw—who Ganis also impersonates—the genius bandleader and full-time underminer never failed to assert his intellectual superiority over his wife, and Gardner claims that her serious drinking began during this marriage as a means to make it bearable.
In 1946, after years of starlet duty, Gardner divorced Shaw and finally broke through with a key role in the now-classic noir The Killers, costarring Burt Lancaster in his debut and based on a story by Gardner's soon-to-be friend Ernest Hemingway. A few years later, she started seeing Frank Sinatra on a regular basis. The singer's sensational days as the bobby-soxers' idol were over and he had yet to reinvent himself as Capitol Records' greatest swinger. Too much alike to last, they loved and fought and drank one another under the table from California to New York to Spain. When Gardner told Sinatra about her affairs with bullfighters Mario Cabré and Luis Miguel Dominguín, the crooner threatened suicide. "We broke things," Gardner has said, but, post-divorce, they remained close friends for the rest of their lives.
Love is nothing… It's a power play… I am completely alone. — Ava Gardner
A bawdy romp through the loves and lays of a Hollywood supernova, AVA—THE SECRET CONVERSATIONS shines a light on Rooney's satyriasis and includes a running gag on Sinatra's exceptional endowment. But, as with most Hollywood memoirs, the underlining theme is the alienating, destabilizing, ultimately barren nature of celebrity. Gardner was a peerless libertine, getting away with everything longer than most. The endurance of her best films—East Side West Side, Pandora and the Flying Dutchman, Mogambo, The Barefoot Contessa, Bhowani Junction, Seven Days in May, The Night of the Iguana—stands on her indomitable strength of character, deeply flawed though it was. Leaving aside the abject self-destruction and overt manipulations, she became a role model for a certain way to live. A sort of anti-Marilyn, she was nobody's supplicant, a determined "top" in every position. Two years after meeting Evans, Ava Gardner's élan vital—resurrected year-round on TCM—gave out in London, a month after her 67th birthday.
See link below for performance details.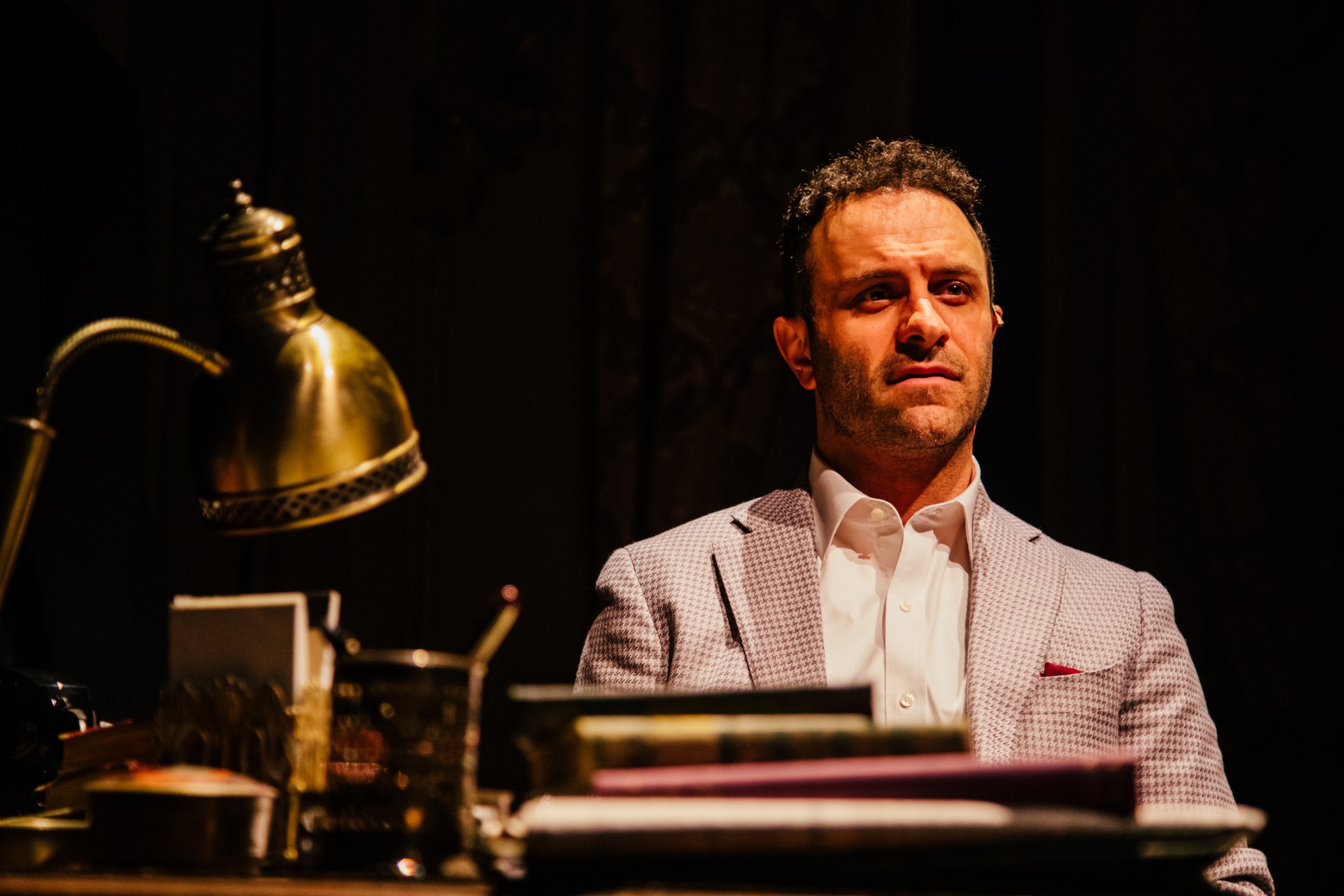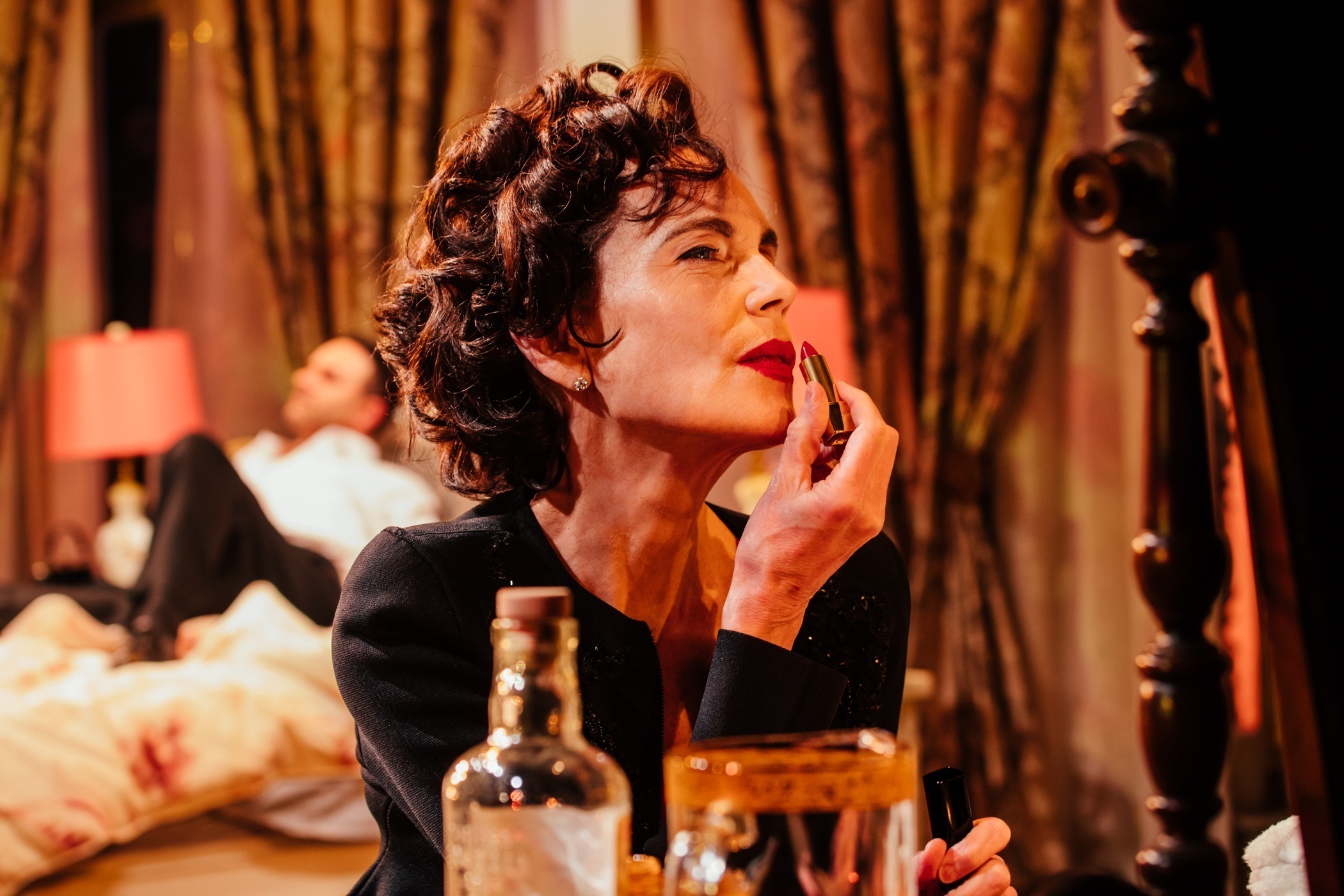 AVA — THE SECRET CONVERSATIONS
Written by Elizabeth McGovern
Directed by Moritz von Stuelpnagel
Through May 14
Geffen Playhouse
Gil Cates Theater
10886 Le Conte Avenue, Westwood, Los Angeles
Peter Viertel and Dirk Bogarde quotes from Peter Evans and Ava Gardner, Ava Gardner: The Secret Conversations (New York: Simon and Schuster, 2013), 13, 16; text © the Estate of Peter Evans and the Ava Gardner Trust.
Ava Gardner quotes from Elizabeth McGovern, Ava: The Secret Conversations, © Elizabeth McGovern.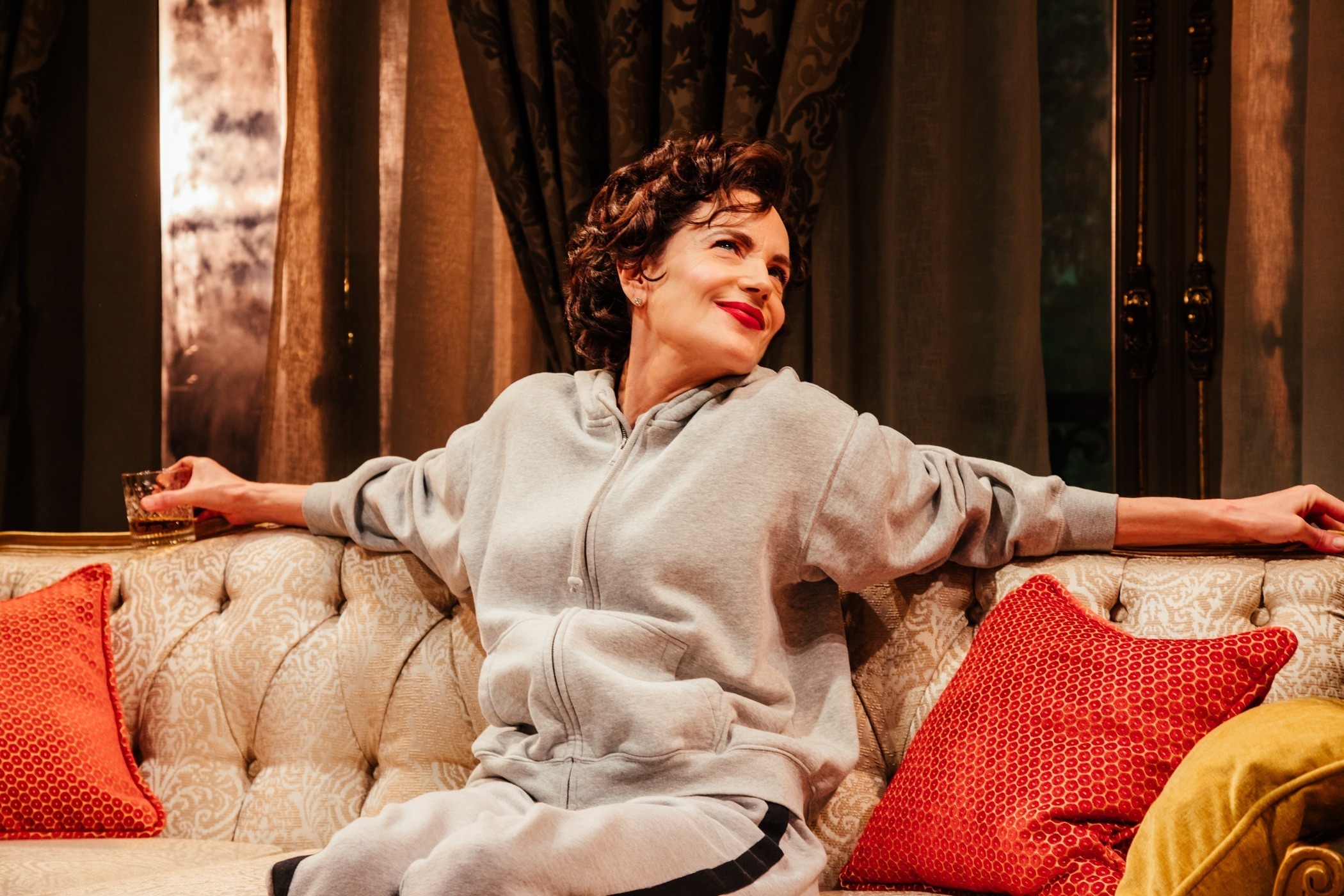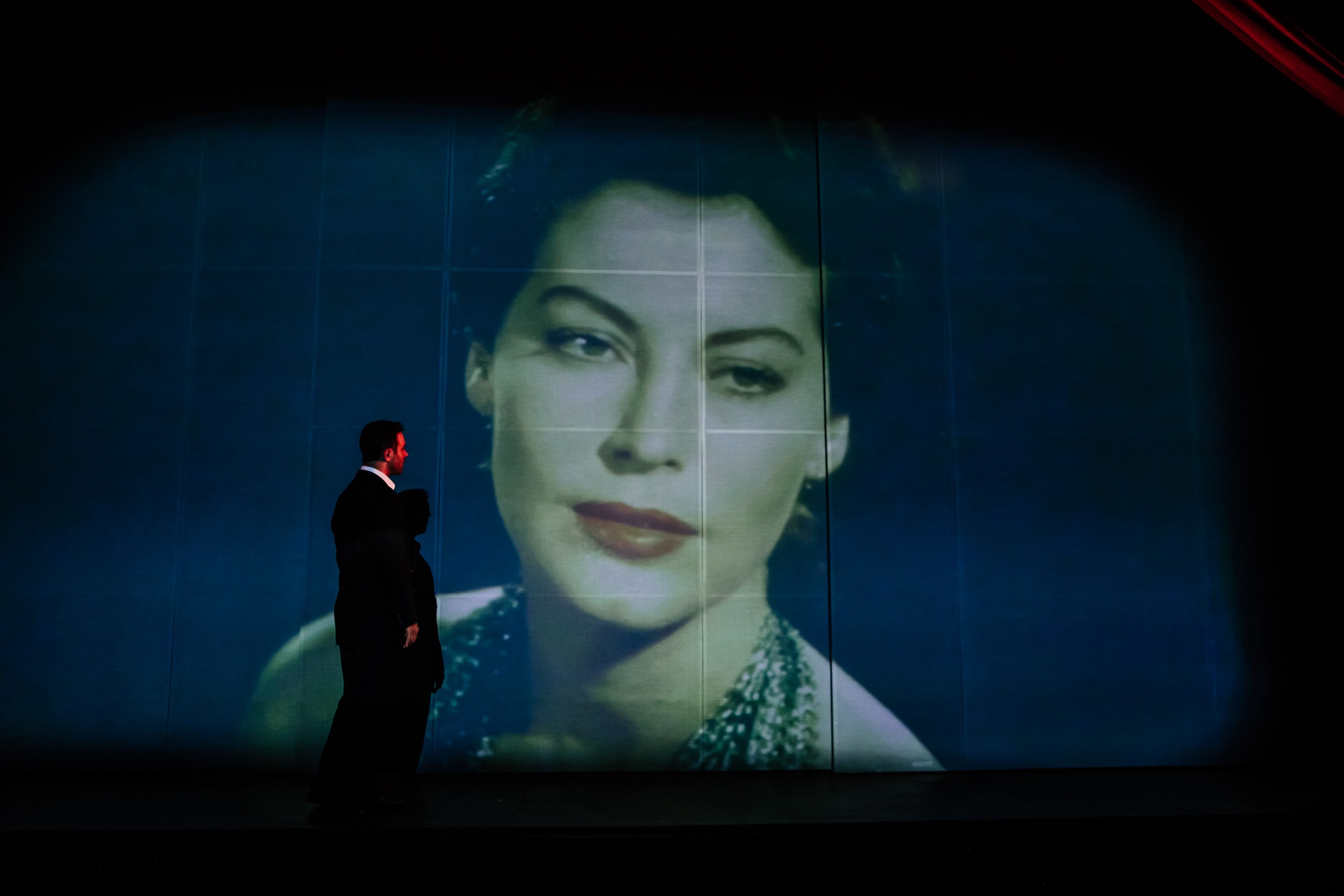 Elizabeth McGovern, Ava: The Secret Conversations, directed by Moritz von Stuelpnagel, Geffen Playhouse, April 4–May 14, 2023, Opening Night April 13, 2023, from top: Elizabeth McGovern; Aaron Costa Ganis and McGovern; Ganis; McGovern (2); Ganis with image of Ava Gardner.
Photographs, from top, by Justin Bettman (1) and Jeff Lorch (5), courtesy the Geffen Playhouse.