It is not a cafe, but a sort of sequin
buried in the smoked skin of a neighborhood
of old leather and garment lofts, sootstained facades,
the lower floors spangled with peep shows
and arcades… — Mark Doty, Playland*
Fantastic in both the literal and poetic senses, Georden West's PLAYLAND is a loving, haunting look inside Boston's late, great Playland Café (1937–1988), yet another erased queer space in an unforgiving urban landscape. Brought back to life in West's highly theatrical costume drama-cum-art installation, this feature film stars Danielle Cooper, Lady Bunny, Miranda Quinn, José Lapaz-Rodriguez, Adrian Elim, Constance Cooper, Aidan Dick, Jet Spratling, Kelly Mittendorf, Mason Caminiti, Maine Anders, Cedric Leiba Jr., Pierre Jean Gonzalez, Muhammed Cham, Ryan Lange, Alexander Hauke, Anania Williams, and Ollie Taylor in turns burlesque, operatic, terpsichorean, and transactional.  In a word: fabulous.
PLAYLAND premieres locally at Outfest Los Angeles 2023. See link below for details.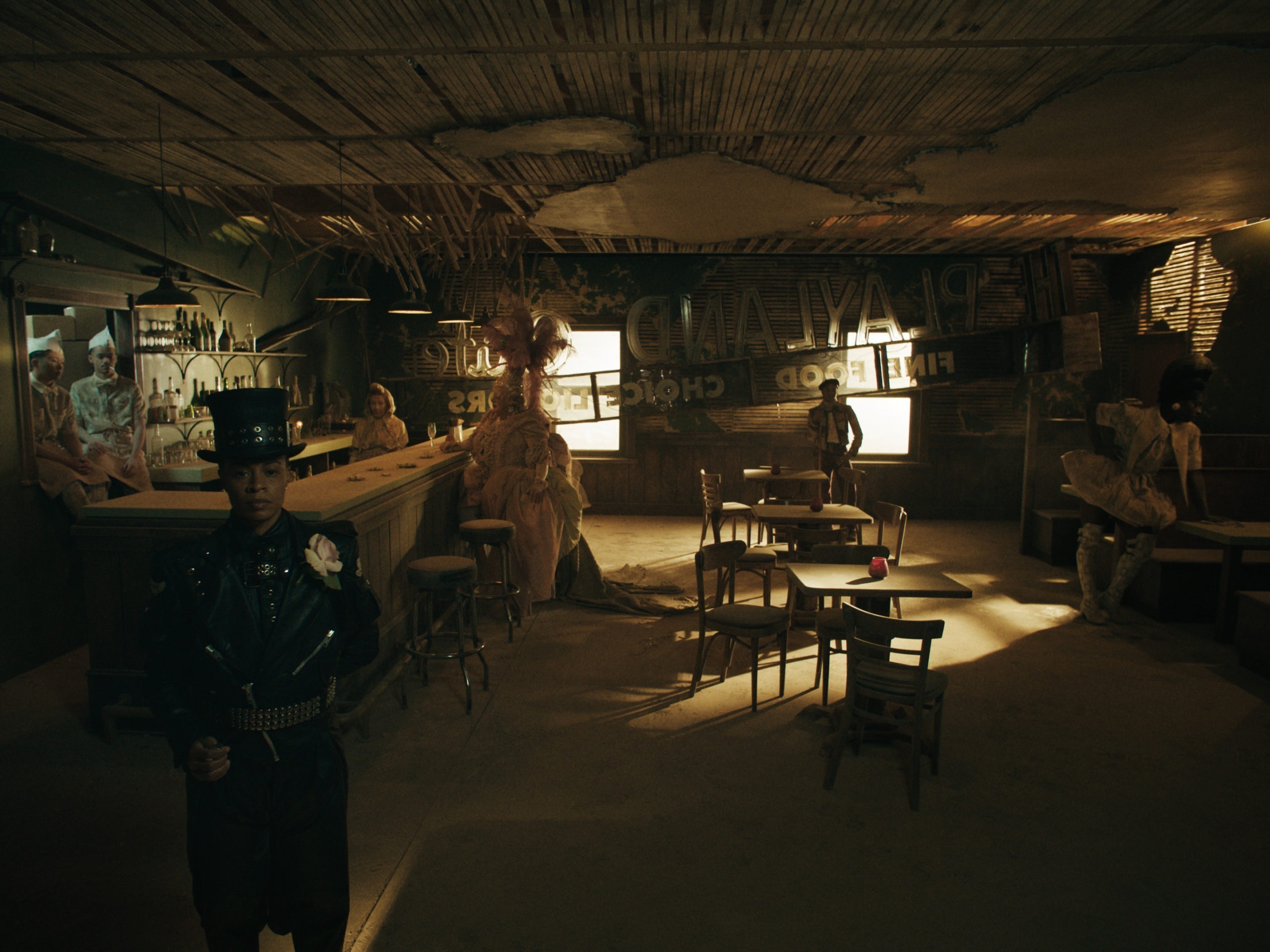 https://www.outfestla.org/films-events
PLAYLAND
Directed by Georden West
Outfest Los Angeles 2023
Friday, July 14, at 7 pm
REDCAT
631 West 2nd Street, downtown Los Angeles
*Mark Doty, "Playland," Agni, no. 26 (1988): 54–56. © Mark Doty.
Georden West, Playland (2023), from top: Lady Bunny (left) and Adrian Elim; Playland scene; Miranda Quinn and José Lapaz-Rodriguez.
Cinematography by Jo Jo Lam, production design by Kristen Dempsey, costumes by Edwin Mohney, and score by Aaron Michael Smith.
Images courtesy and © the filmmakers and artists.