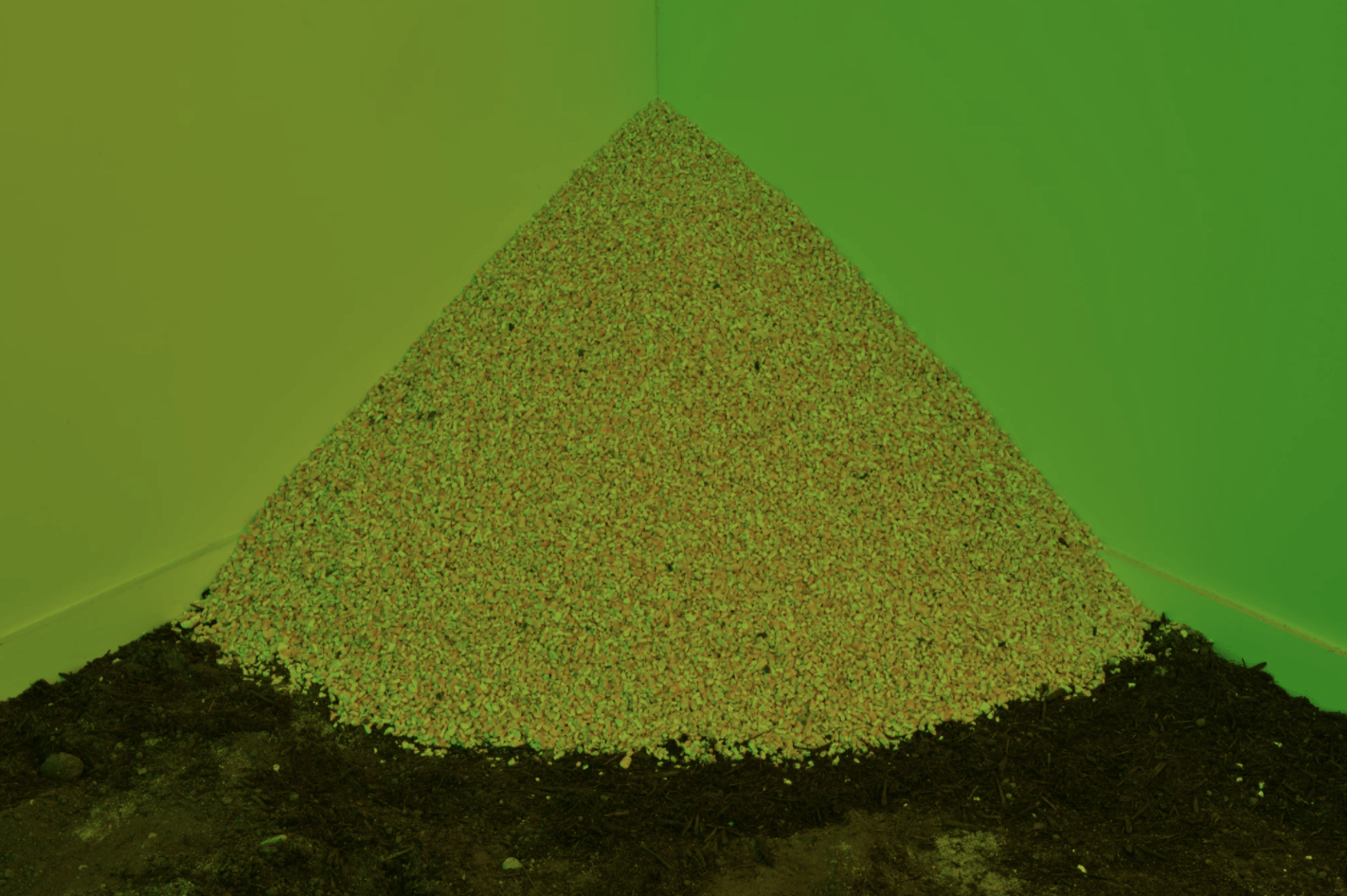 EXPECT US written in bloody hands (red paint) by protesters on a monument of Andrew Jackson • The red hand being a symbol of missing, raped and murdered indigenous women/femmes/two-spirit people • My trans women and two-spirit sisters hands were outlined and painted red on the walls of the gallery • red neon bent around the outlines of the hands painted onto the wall • glowing just like their spirits • My sisters Lexii Foxx, Cielo Oscuro and Alethia Rael's hands will be displayed at the height of their mouths throughout the space • Alethia Rael has done many performances with the red mono print of her hand upon her face as an act of resilence and awareness and I dedicate this work to her • proceeds from the sale of these works will support my indigenous trans women & two-spirit sisters • My fathers blood is Indigenous (Guainía)(Taíno)(Arawak descendent), African, Latinx and stems from the Caribbean • Irka Mateo/Akutu Irka (Abuela Irka) conjures ancestral spirits and is the shamanic healer I went to multiple times which resulted in this exhibition • This exhibition is also in honor of her as well as my chosen trans sisters • I have biological family members who are tribal chiefs but I do not know them as Jade Guanaro Kuriki-Olivo • a trans woman and two-spirit person • as trans people we don't always get to inherit or experience our ancestral wisdom through biological family because my father is dead (although he taught me a lot before he passed) and I'm afraid to come out as trans to my extended biological family • who could teach me more about my ancestry • so I choose healing from abuela Irka • it's rare to meet a shaman who is a woman • I admire her deeply and hope to make a documentary on her one day • She has taught me so much • Guanaro is Taíno for a dove that exists all over the Caribbean • "Guanaro must be a derivative from Guanara which means a far away, hidden place" • an Asian dove acts as a stand in for the Guanaro dove which will exist in the gallery • Irka conjured ancestral spirits to allow me to understand to call upon the dove in times of need and leave food (piles of crushed corn • in the style of Félix González-Torres' candy pile works • an artist also stemming from the Caribbean) for the dove to eat • nourishment • the dove a common symbol of • peace • which I always wish for deeply • in all aspects of life and in the world as a whole • she made me aware of this during a shamanic power animal retrieval ceremony • I am forever grateful for this experience and leave crushed corn and seeds all over my room and on the edge of my window sill • Irka taught me more about Atabey the goddess of water • An image of her taken from a petroglyph in the Caribbean has been etched into rocks that will stand throughout the gallery • hoping these sculptures will survive • whatever the fate of this planet may be • just as the original sacred petroglyphs survived • against the odds • in the space you'll hear water pouring in El Yunque and the chirping of the coquí as the sounds of the jungle envelope the space • undulating green light showers all who enter • long sticks of sugar cane will rest in a portion of the gallery • When the Spaniards arrived and realized gold was not available to harvest from the people of the Caribbean the next best option was sugar cane • enslaved indigenous and African peoples planted and harvested sugar cane for the colonizers • in this space I use it as a symbol of genocide and enslavement of my fathers ancestors but also as an offering to the spirits, goddesses and gods of Taíno shamanic spiritualism • organic offerings will be scattered across the space • rocks, sand and grass will fill the space surrounding the contemporary petroglyphs made in honor of the Goddess Atabey • green metallic beaded curtains (also inspired by Félix will adorn the doorways leading to the back of the gallery) • there will not be an official opening for the exhibition but instead a closing performance close to the closing day of the show • I will recreate a performance by another Caribbean artist Ana Mendieta which was titled Untitled (Rape Scene) from 1973 which she performed at University of Iowa as a student there • My first experience of penetrative sex was rape • This performance will take place in another room of the same building the gallery resides in • Ana Mendieta was murdered by Carl Andre who is celebrated and exhibited by many major art institutions world wide and was never convicted of her murder • this exhibition is a love letter to my trans women and two-spirit sisters, to Irka my forever mentor, to my father and his ancestors, to Félix González-Torres and Ana Mendieta, to Atabey, to healing, peace and the spirit of the dove I carry within • The diaspora, genocide, rape and enslavement of my fathers ancestors lives within my DNA and I honor my ancestors with this exhibition • in solidarity with all the indigenous peoples of the Americas / Turtle Island and all the water protectors putting their life on the line I end this text as I started it • EXPECT US • Hahom • giving thanks from a language thought to be extinct •
Love,
Jade Guanaro Kuriki-Olivo*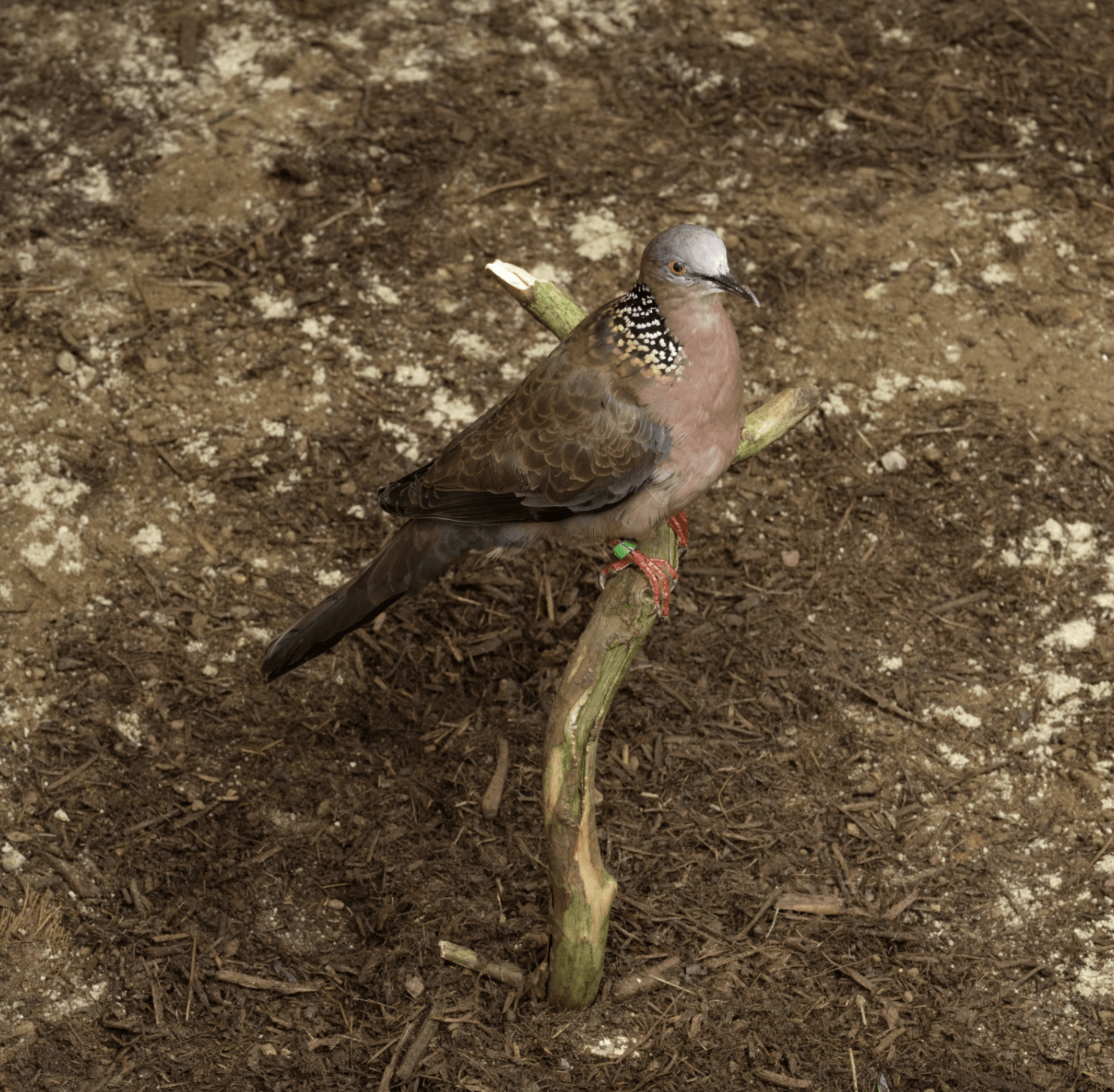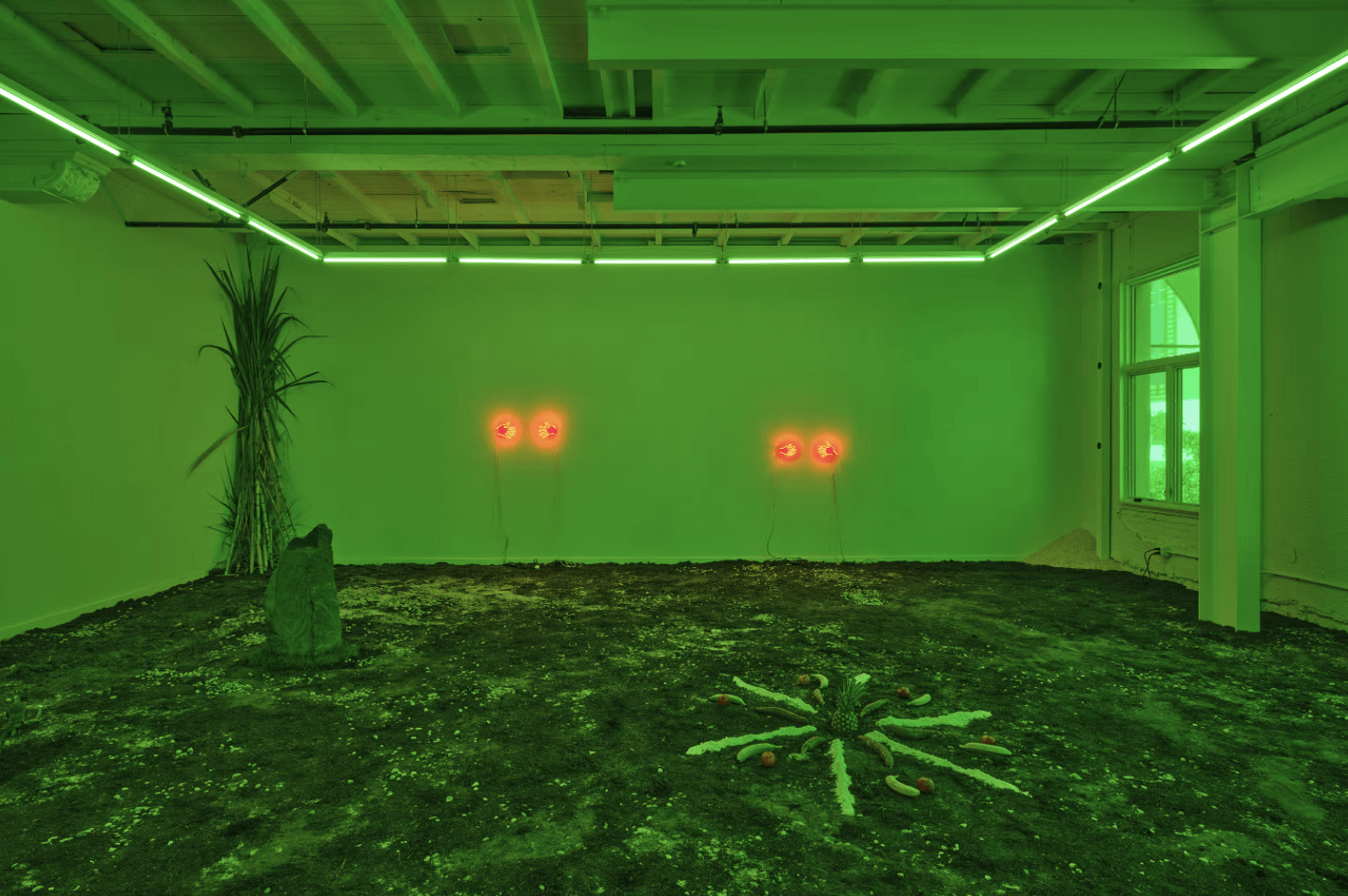 On the occasion of Puppies Puppies' current show in Los Angeles, the artist will present an evening performance this weekend.
See links below for details.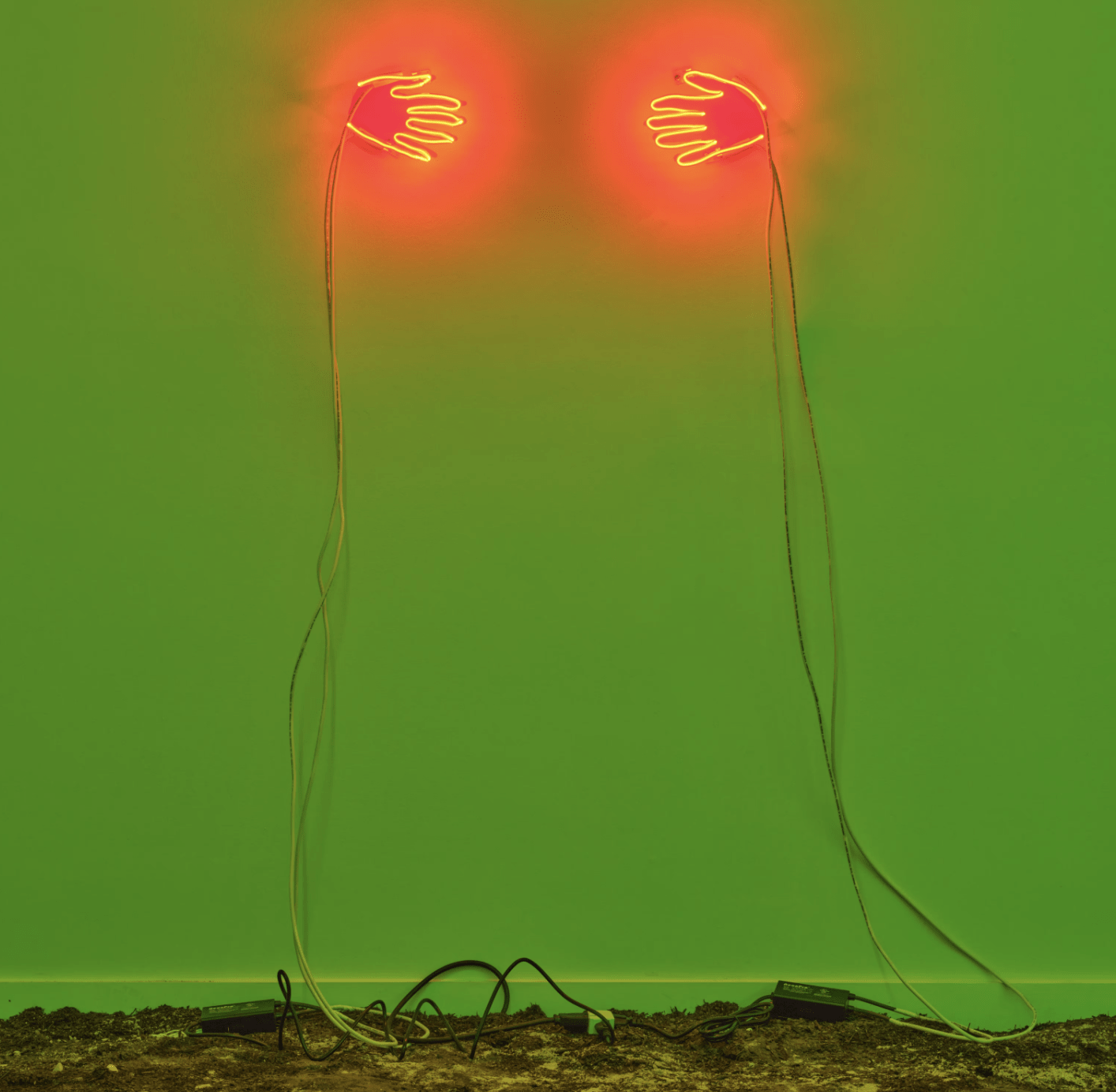 PERFORMANCE BY PUPPIES PUPPIES (JADE GUANARO KURIKI-OLIVO)
Saturday, May 14, from 5 pm to 8 pm
Hannah Hoffman Gallery
2504 West 7th Street, Suite C, Los Angeles
PUPPIES PUPPIES (JADE GUANARO KURIKI-OLIVO)
Through May 21
Hannah Hoffman Gallery
*Puppies Puppies' wall text © Puppies Puppies (Jade Guanaro Kuriki-Olivo), courtesy of the artist and Hannah Hoffman Gallery.
Puppies Puppies (Jade Guanaro Kuriki-Olivo), Hannah Hoffman Gallery, April 16–May 21, 2022, from top: Puppies Puppies (Jade Guanaro Kuriki-Olivo), performance, May 14, 2022, photograph by Dorothée Perret; Untitled (Food For The Animal That Protects My Spirit) (Dove) (Peace), 2022, cracked corn; installation view, taxidermy dove; installation view, with (foreground) Offering In Dedication To The Ancestors Enslaved For The Production Of Sugar Cane (Cadere), 2022, pineapple, yucca, fruits, corn, wheat flour; The Red Hand Over The Mouth (Right And Left Hand)• An Indigenous Sign Of Protest • This Piece Is Dedicated To My Chosen Indigenous Sister Alethia Rael • My Hands Were Outlined For This Work • Installed At The Height Of My Mouth***, 2022, neon hands (pair); Atabey (Water) Note: Save Caguana Ceremonial Ball Courts Site, 2022, etched stone; Puppies Puppies (Jade Guanaro Kuriki-Olivo), performance, May 14, 2022, photograph by Dorothée Perret. Images © Puppies Puppies (Jade Guanaro Kuriki-Olivo), courtesy of the artist and Hannah Hoffman Gallery.