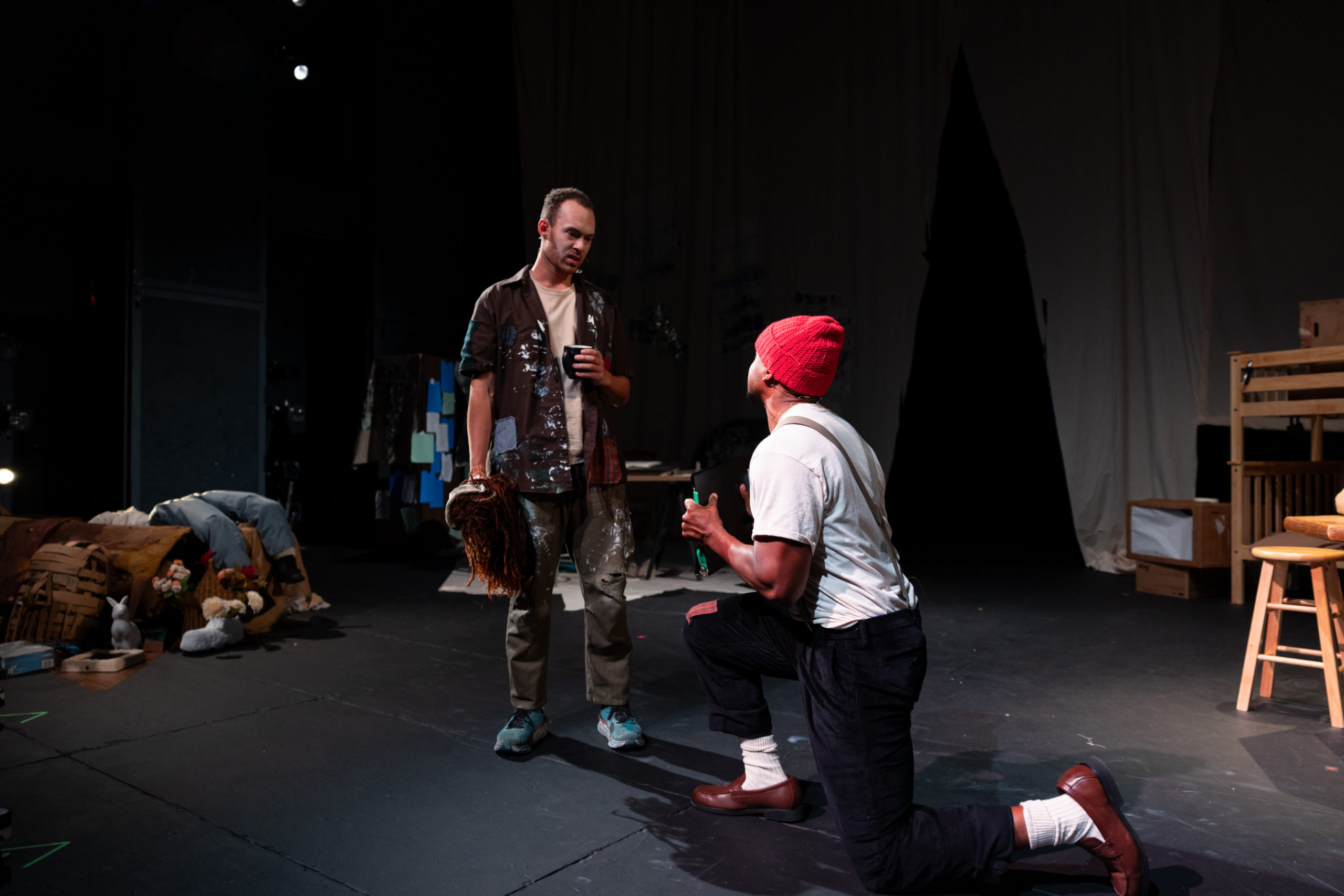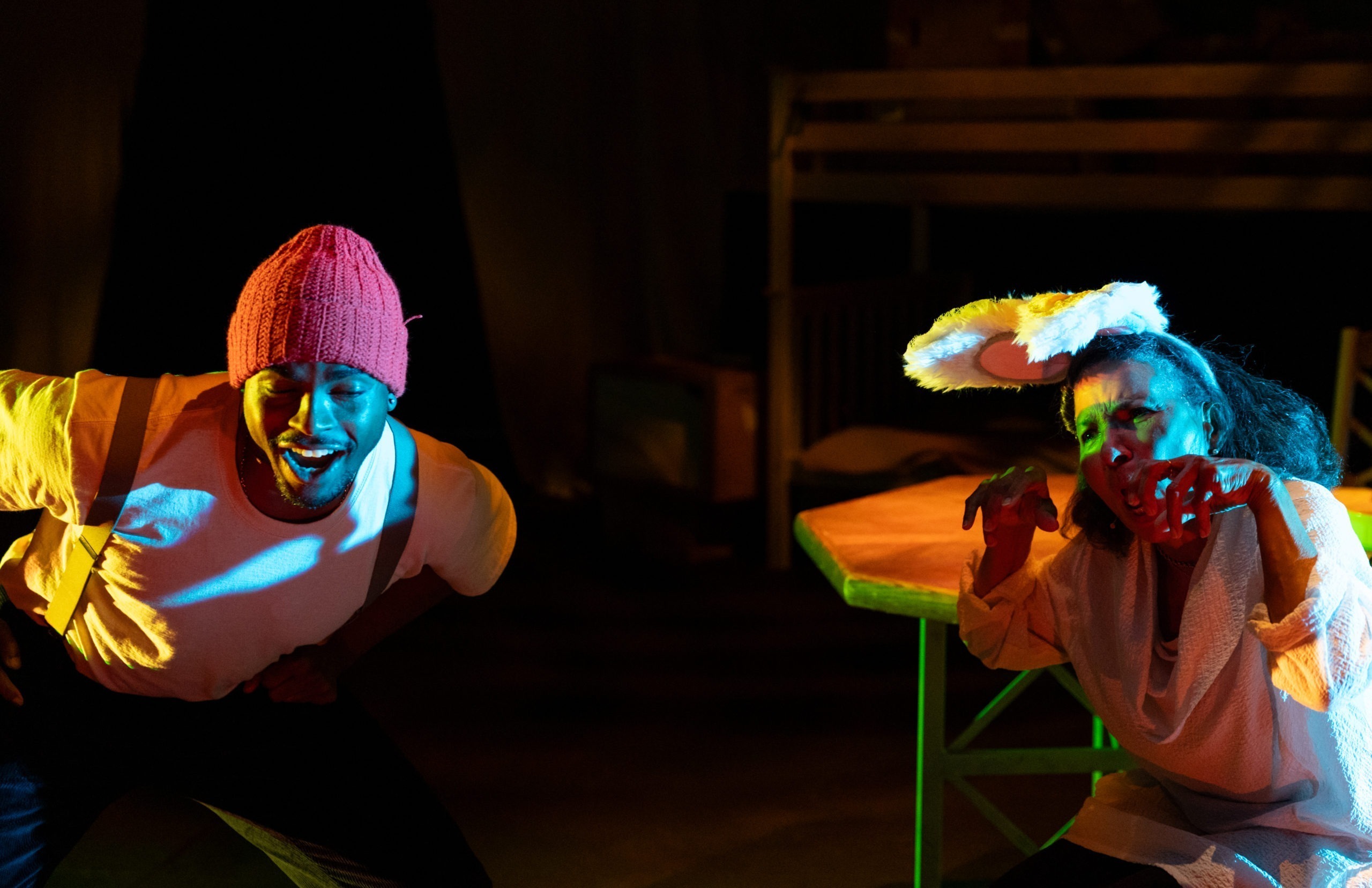 Boney Manilli—written and directed by Edgar Arceneaux—was at REDCAT in early October, 2023.
Review by Yann Perreau
Milli Vanilli was a pop music duo from Munich who sold millions of copies of their debut album in the late 1980s. However, their success turned to infamy when it was discovered that members Fab Morvan and Rob Pilatus did not, as billed on their American release, sing any of the vocals on the album. Frank Farian, the German producer of the band—also known for Eurodisco groups such as Boney M—admitted to being behind the plot, using the pair's fabulous charisma, beauty, and dance moves as a ticket to global stardom. Following the scandal and public disgrace, their 1990 Grammy award for Best New Artist was revoked, and Pilatus' drug-overdose death foreclosed a comeback attempt a decade later.
Boney Manilli, Edgar Arceneaux's dark comedy with music, was inspired by this tragic story. The play's main character, Edgar (Alex Barlas), is an artist tormented by self-doubt, frustration, and the unbearable feeling that he is an imposter. This alter ego figure intertwines a dark saga of cultural appropriation and exploitation with his own family history, becoming his own curse in the process. Edgar, who has biracial parents, is seen as never white enough for some and never Black enough for others. Putting his painting career aside to accept a commission for a theater play and criticized for trying to create "out of the box," he faces the consequences of rejection from both the art world and Broadway. His gallery is furious, and his theater producer doesn't understand exactly what he is trying to do with his play project about a disco band. Drinking heavily and hallucinating, Edgar is starting to lose his mind. There's a poignant and brilliant scene during the play's second half when Pilatus appears to him in a nightmare as a puppet. He accuses Edgar of reducing him to clichés and caricature—one of the play's constant themes. Edgar is always trying to bring nuance to his work, while his brother (Terry Wayne Jr.) is making colossal success playing on stereotypes of the "good Black man from the South." Arceneaux's dark and realistic humor reaches the quality of Percival Everett's books on the same themes.*
Boney Manilli—which mixes pop music, a burial ceremony, and great dance performances—is also a reflection on the impossible truth that artists are seeking but that the art market and our contemporary culture don't allow them to express, requiring, as they do, efficient narratives about good and bad. While the play could have been shorter and some scenes are repetitive, the emotion is there, particularly when Edgar and his brother support their mother (the brilliant Efé), a failed pop singer suffering from dementia. The trio finds refuge in a burlesque and comedic imaginary world, a surreal dimension of poetic movement and escape.
*See: Aytemis Depci and Bülent C. Tanritanir, "Parody of Racial Cliché in Percival Everett's Erasure," Journal of International Social Research 7, no. 29 (2014).
https://www.sosyalarastirmalar.com/articles/parody-of-racial-cliche-in-percival-everetts-erasure.pdf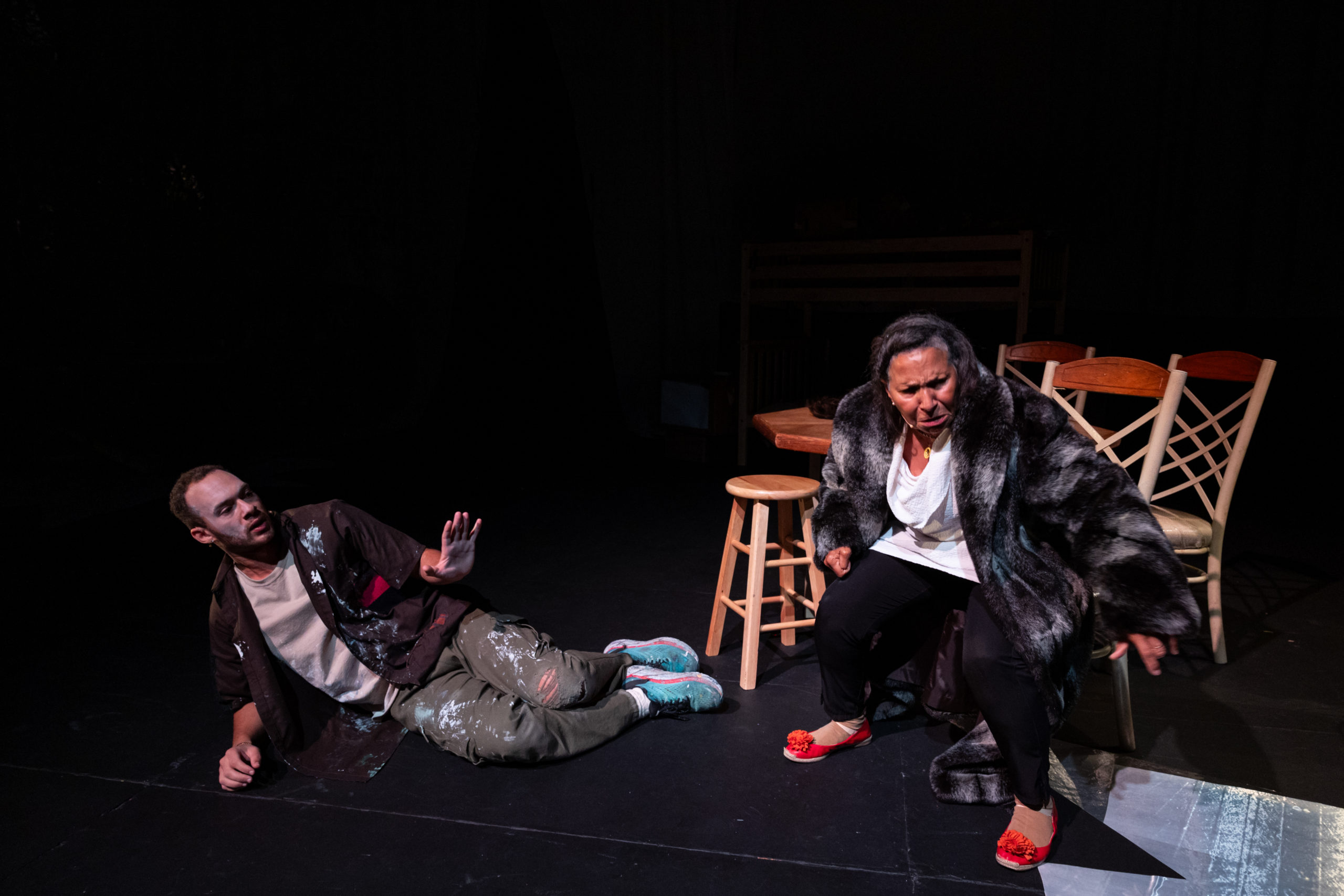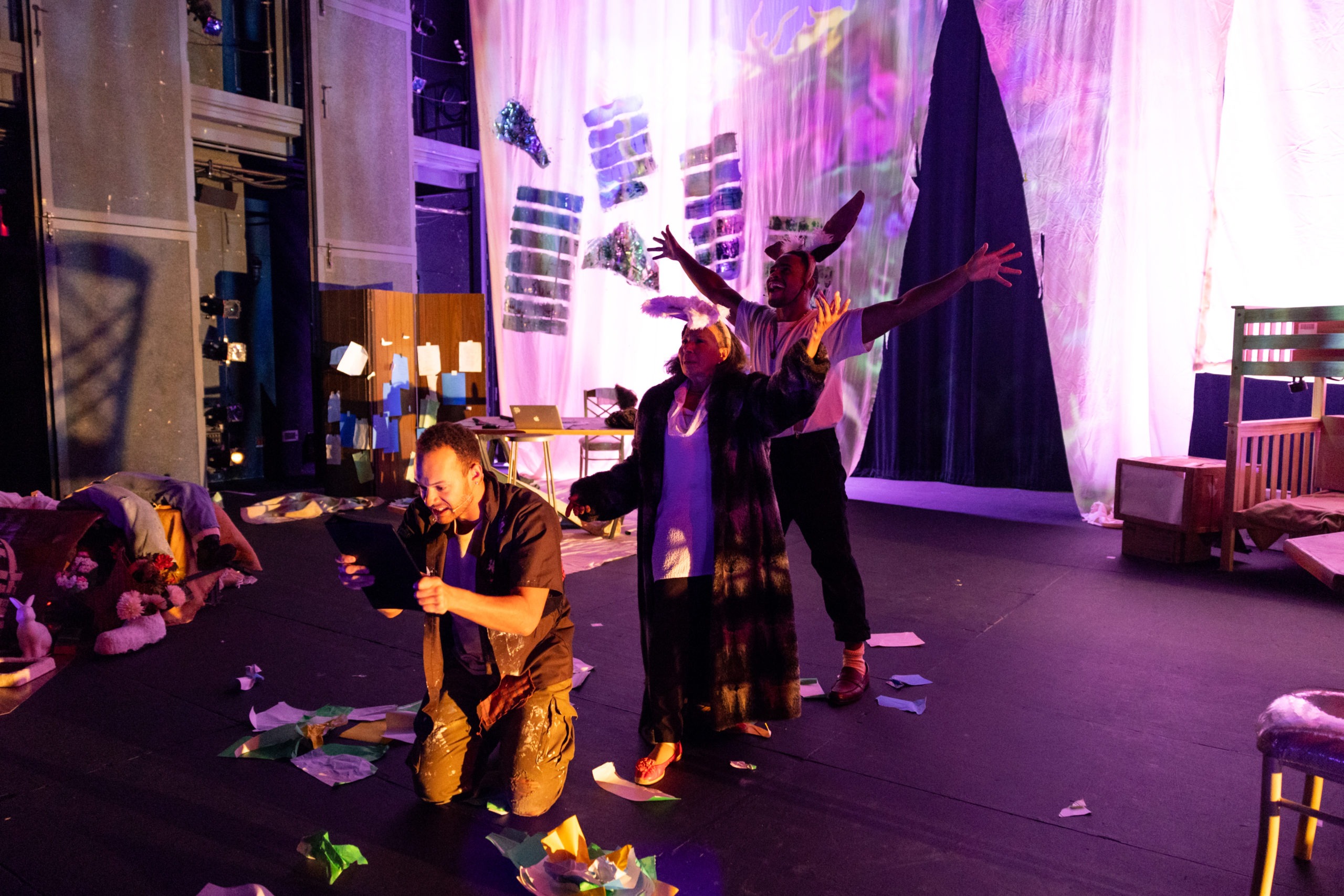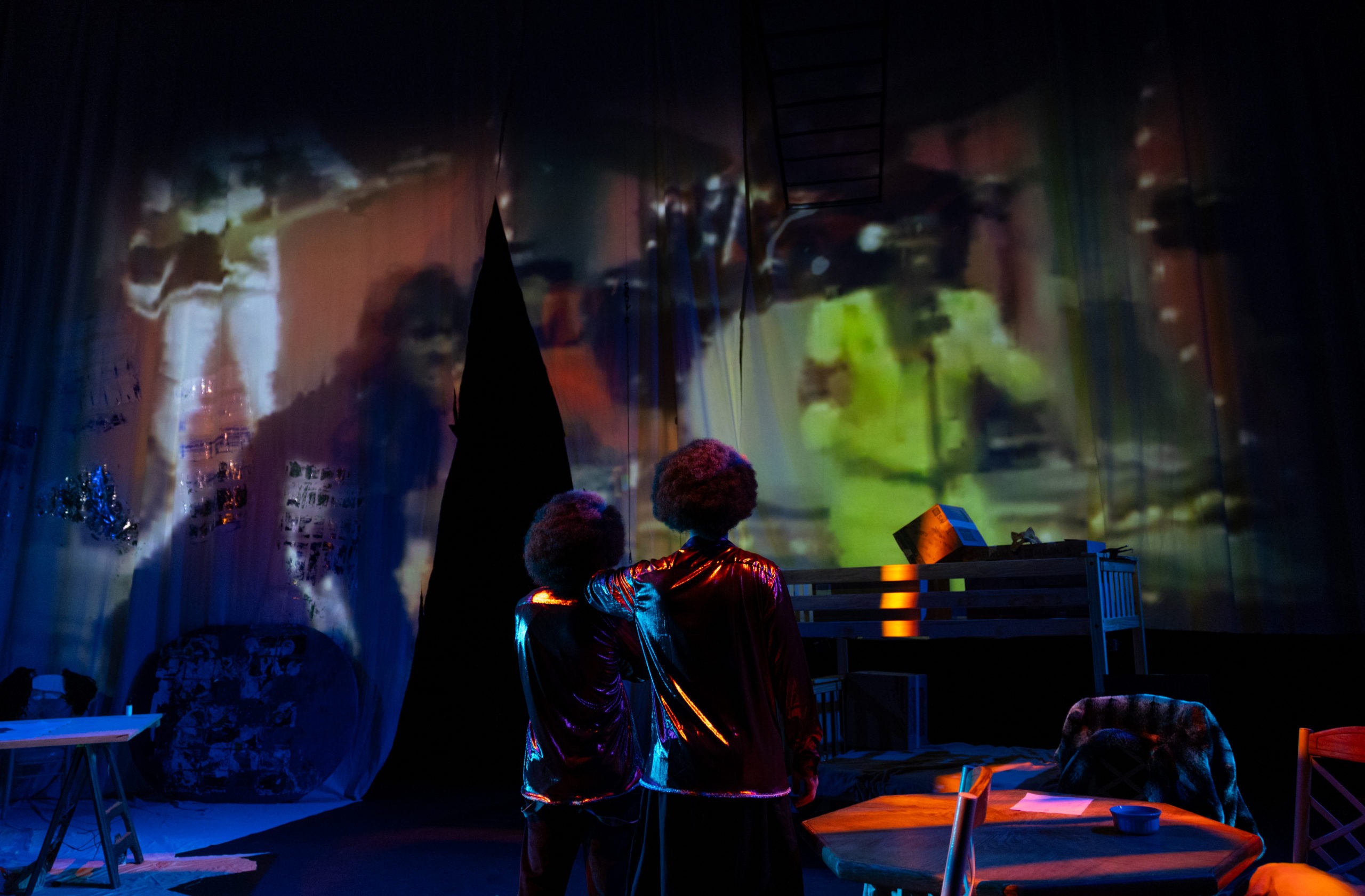 Edgar Arceneaux, Boney Manilli, October 5, 6, and 7, 2023, REDCAT, Los Angeles, from top: Alex Barlas (left) and Terry Wayne Jr. (2); Wayne and Efé; Barlas and Efé; Barlas, Efé, and Wayne; Wayne and Barlas.
Original music written by Edgar Arceneaux, in collaboration with Nick Goldston, Everette Saunders, and Kirby Tepper.
Dramaturgy by Douglas Kearney, lighting design by Omar Madkour, sound design by John Zalewski, costume design by Loren Weldon, scenic design by Yuki Ding, puppet design by Miguel Ayala, video design by Kamyi Lee.
Photographs by Angel Origgi, images courtesy and © the photographer and REDCAT.