PICTURES GENERATION(S)
Barbara Kruger in conversation with Dorothée Perret
The exchange of energy between the art of Barbara Kruger and its audience comes in blasts of text and photos (usually rendered in black, white, and red), followed by the viewers immediate consideration of whatever conditions of power abuse, social callousness, or blinkered vanity her work is addressing. Delivered with a deadpan twist, her art and concepts have achieved a permanence that says as much about the astuteness of her analysis as it does about a world that still requires it. Her headlines have no deadlines, and many of her pieces have not perceptibly aged a day since their original manufacture: Your Body is a Battleground (1989), Your Manias Become Science (1981), When I Hear the Word Culture, I Take Out My Checkbook (1985).
Kruger—like many Los Angeles artists—is also a teacher, currently at UCLA. During the 2014–2015 school year she was the resident artist of the Getty Artists Program, an educational outreach initiative, and she worked directly with 11th and 12th graders from Cleveland High School's Academy of Art and Technology, as well as 12th graders from Chatsworth Charter High School's Humanitas Academy of Education and Human Services.
Curious about the Getty program and her experience as an artist, PARIS LA editor Dorothée Perret recently talked on the phone with Kruger about art, design, politics vs. power, and the challenges of teaching. — B.P.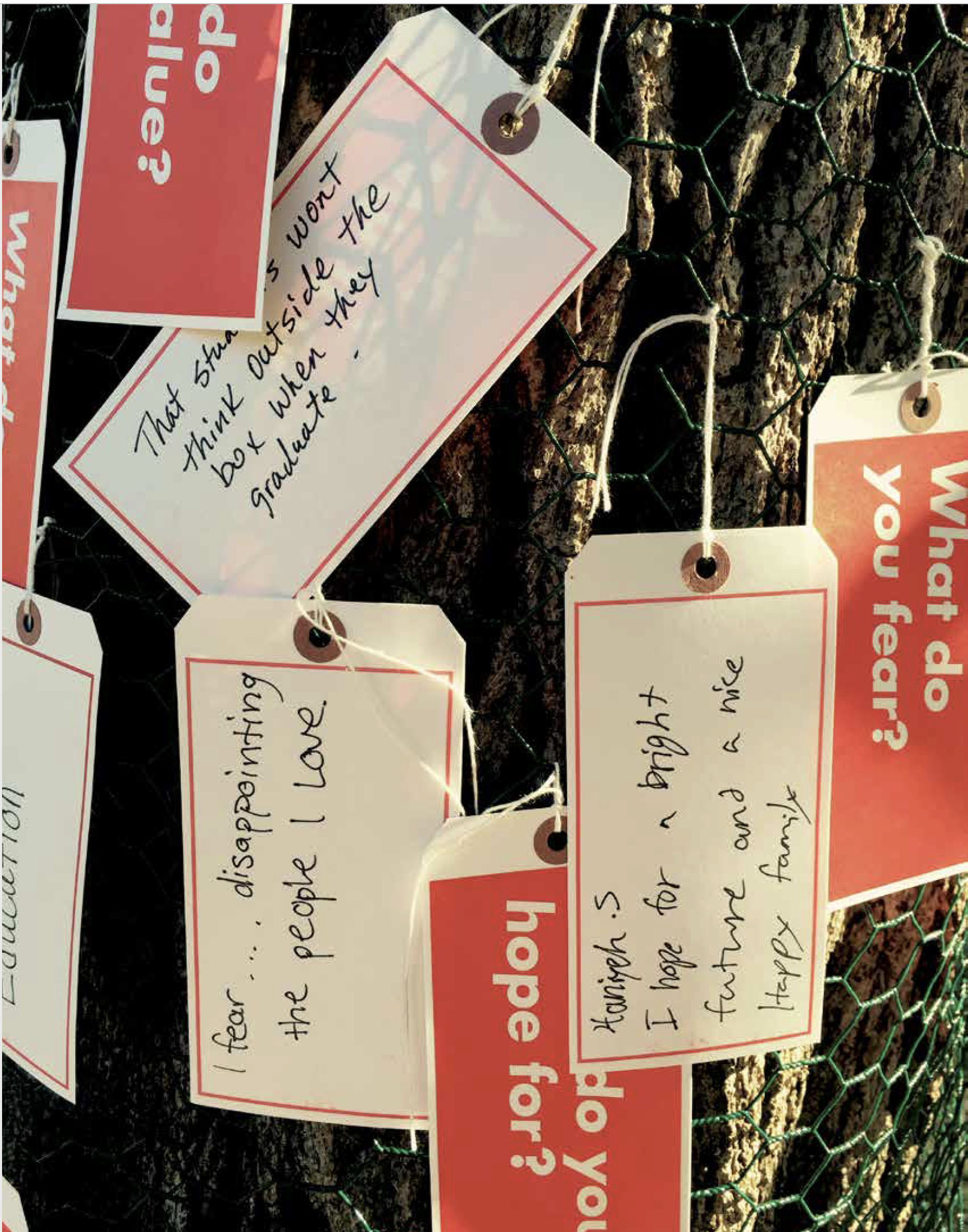 Dorothée Perret
You studied design at Parsons School, and worked at the beginning of your career as a designer for Condé Nast publications. What motivated you to leave a comfortable career in a corporate group for an unpredictable artist's life?
Barbara Kruger
I worked for magazines because I needed to earn a living. I had no college degree, so it was a job. After I left the full-time job, I worked freelance as a designer, but I really didn't have what it took to be a designer. After getting a few temporary teaching jobs, I started making what I thought was my art.  But it was very complicated because I didn't have degrees from art school and didn't have that identity. Art is more professionalized today—back then you didn't need a degree to be an artist.
Dorothée
Things have changed a lot in the last few decades, and I'd like to talk about that with you, but I'd also like to define with you the fundamentals of design. It's a serious field of creativity and critical thinking that can be put to better purpose than just serving the advertising industry.
Barbara
I really didn't come from design. I just went to school for a year or two, and my teachers were involved in magazine culture. I started doing layouts, but I was never schooled in design. And I never felt I could have been a successful designer because, to me, what separates design practice—which is a very creative practice—from a so-called art subculture practice, is the client relationship. When you're a designer, you have to come up with a whole sort of posse of creative solutions, which is someone else's image of perfection. You're a problem solver for someone else's problems. And I never could have really done that. Also, magazine design is rather different than, say, advertising or being a straight designer. Basically, what I learned in those jobs was how to work with photographs and how to work with type. But I just never had the ability to function as a designer.
Dorothée
Diane Arbus was one of your teachers in the 1960s?
Barbara
At Parsons we were taught by Marvin Israel—who was the art director at Harper's Bazaar [and designed album covers for Atlantic Records]—and Diane. This was before she became famous.
Dorothée
That was the best time for magazines.
Barbara
Yes, it was a very good time.
Dorothée
How do you react to the irony of your work sometimes being used and appropriated in the wrong contexts or for the wrong purposes?
Barbara
I believe in Creative Commons.1 I believe in copyright, but I believe in it in a more limited version, and I certainly don't feel ripped off. I think it's interesting the way iconography and images and proper names enter the discourse. And I certainly never thought anyone would know my name or my work. It's so arbitrary the way things happen. I view the whole art subculture as an anthropology. It always amuses me in this day and age of digital fluidity that people complain that they're being ripped off.
Dorothée
Yes, it sounds a bit grotesque sometimes. [Laughs]  Do you make a distinction between the classroom and the studio? As a public intellectual, an artist, an educator, how do you interact between these things to form your art? Is it all the same?
Barbara
It's not all the same, but it definitely comes from a particular engagement. I always say I try to make my work about how we are to one another. So it's about the relation, the social, how cultures systematize social relations, value, powers, sexuality, class—all these things play into what my engagements are. And me coming to teaching happened quite late. I don't have any undergraduate degrees or graduate degrees myself. I had little visiting jobs. But as far as full time, it wasn't until 2002 that I started teaching at the University of California at San Diego, and then I switched to UCLA in, I think, 2007.
Dorothée 
Is teaching something you enjoy doing, along with your career as a respected artist?
Barbara
It's very much to do with being in Los Angeles. Historically, artists in L.A. chose to become part of a teaching community, and this has been true for decades. Andrea Fraser, Mary Kelly, Cathy Opie, Jim Welling, Lari Pittman, Jenny Bolande, Rodney MacMillian, and Hirsch Perlman are in my department at UCLA. Charles Ray just resigned, after decades. Paul McCarthy used to teach there, Chris Burden, Nancy Rubins—and that's just at UCLA.  At Art Center, Mike Kelley was there for years, Diana Thater is still there, Christopher Williams used to teach there. And then USC, which has gone through some unfortunate things recently. And there's Otis and CalArts, of course.
Dorothée
It's a long tradition.
Barbara
Yes. It's in the DNA of this town, which make the art subcultures here so powerful and organic and real. It's not that we're having an art fair every year, but it's baked into the education system and the museum system. This is so unique to this city, that so many artists are engaged, and not as a secondary thing—Well, we're teaching because we can't make art. We are really engaged in both. It means a lot.
Dorothée
Yeah, it's a great attitude to have as an artist, which is why I'm interested in the work you've done with the two public high schools in Los Angeles.
Barbara
Public education is in crisis in this country. Teaching and nursing, just about the most important professions in the culture, are not valued anymore due to social changes. And it's great that the Getty and UCLA and MOCA and the Hammer and LACMA have programs where they are reaching out to campuses. And, hopefully, those budgets will be increased to sort of take over what the public school system can no longer provide. Which is teaching in music and art. They don't exist.
Dorothée
At UCLA you teach a class on New Genres to a group of undergraduates, and you worked last year on a Getty Artists Program project with 11th and 12th graders from Cleveland High and Chatsworth High. Is it important for you to teach in the public system?
Barbara
Yes. I relate to it. It's me, coming from northern New Jersey, going to public schools. I didn't go to a fancy school. I didn't know I was going to be an artist. The thing I like about teaching at UCLA, and about being able to go into these public schools, is that many of the students in public universities, like UCLA—and, of course, in the high schools—are first-generation Americans, first-generation English speakers, the first generation to go to college. I really prefer teaching that. Even in my undergraduate classes, I prefer teaching the beginning classes.
Dorothée
To incite your high school students to engage in critical thinking and have powerful conversations, you posed four questions: Whose Values? Whose Justice? Whose Fears? Whose Hopes? Did you formulate the questions yourself, or did you work collaboratively with the students? And independently, what motivated this particular choice of questions?
Barbara
I had lots of meetings at the Getty with the teachers from these schools. I knew that I wanted to ask those questions because I wanted to bring up ideas that some of these kids would not be thinking about. Even though they're very much victims of a culture that is run on these questions. Not necessarily victims, but sometimes unconscious players.
Dorothée
So you were interested in working with a group of kids who were at an age where they were being shaped by these issues.
Barbara
Exactly. Now, mind you, a lot of these conversations were happening just when Ferguson and all the police-related shootings were happening, so it was interesting to be talking about justice. And I was very pleased with the work we wound up doing and installing, as I was with the tagging in the lobby and the internet and the hashtag element of it all. Look, I'm very happy that the Getty has chosen to put some of its money in education, just like I feel that way about all the institutions in this town.
Dorothée
To go back to the idea of the kids who are less focused, who may be "unconscious players"—do you feel that education, slowly but surely, is in danger of being hijacked by the corporate entity?
Barbara
Kids' attention is being occupied by all this stuff. It's not just the corporate world, it's the changing world we live in which has been changed by technology in a sort of huge, earth-shaking way. I am not nostalgic for the good old days—these are the good old days, only because we are alive to experience them and to change them. But there's no doubt that the concept of historical memory, popular memory, has pretty much been eradicated. And I think that it's important to try to remind young people that there are histories and there are precedents. I mean, who ever knew that the language of the future would be the haiku? [Laughs] That somehow this short tumbling of words would represent our level of communication? This represents a huge alteration of attention spans, of scrutiny, of many things which, on one hand, can make people more active and more connected, but on the other, it's just this confluence of voyeurism and narcissism.
Dorothée
Yeah, Frances and Steiner also talk about that. [See "And Then There Were None—Frances Stark and A. L. Steiner in Conversation with Dorothée Perret," PARIS LA 14 (Winter 2016)]  As educators, you all, in different ways, are quite aware of the distractions for this generation of kids.
Barbara
It's huge. In a way, it's the end of eye contact. All of us are ruled by screens. I mean, I'm sitting here with two screens on right now. The question is, can we live a life without seeing it on the screen or reflected in a lens?  Is that possible?  Oh, there's this most incredible app where you can actually look around 360° and see what's going on. I think, yeah, if you just take away the screen, the app is your eyes. That's simply the way things are now, and it's changed the world for the good and for the not-so-good, and for everything in-between.
Dorothée
Now that the separation between our culture and the marketplace is tenuous, what questions do you think politics should be asking, in order to keep the warranty and the independence of our critical thinking? So that we can actually start seeing again with our eyes—
Barbara
—instead of through a lens. I don't think of things as political problems. To me, our whole conversation has to do with people and the exchange of power or the non-exchange of power. So, to label a specific thing political, and another not political, is something that I really can't even do. To me, it's a fluid sort of thing, the way power and capital and sexuality threads through culture. It's just such an interesting time now. Whether there's a minimum wage, whether there's a Department of Education, whether you can afford to stay alive if you have health insurance. To say it's political—Oh, it's over there! But, in fact, it affects whether we have shelter, whether we live or die, whether we can read and write—all these things. And, of course, there are a lot of people who think it's better if people can't read and write.
Dorothée
What's your feeling about digital as a creative format?
Barbara
It's absolutely another medium to use. Artists today can work digitally at the same time as working analog. They can work in a digital ether but still do material-based objects. It's a great time for that. But I think it's important to mention that with this sort of density of art school and art students, the visual arts in this country are totally marginalized. Nobody thinks of visual arts. If you stop people on the street, they're not going to know the name of an artist. It's different in Europe, especially in Germany, and maybe in France. Here, maybe they would know Andy Warhol. It's totally marginalized. It's its own sort of global subculture, and the good part is based on the ability to create commentary to somehow visualize, textualize, and musicalize the result of an examined life, one hopes.
This conversation was originally published in PARIS LA 14, the "Arts Education" issue (Winter 2016).
Text © PARIS LA.
Note:
 According to its website, "Creative Commons is a non-profit organization that enables the sharing and use of creativity and knowledge through free legal tools."  See creativecommons.org
Images © Barbara Kruger, 2015–2016, courtesy of the artist and the Getty Museum.