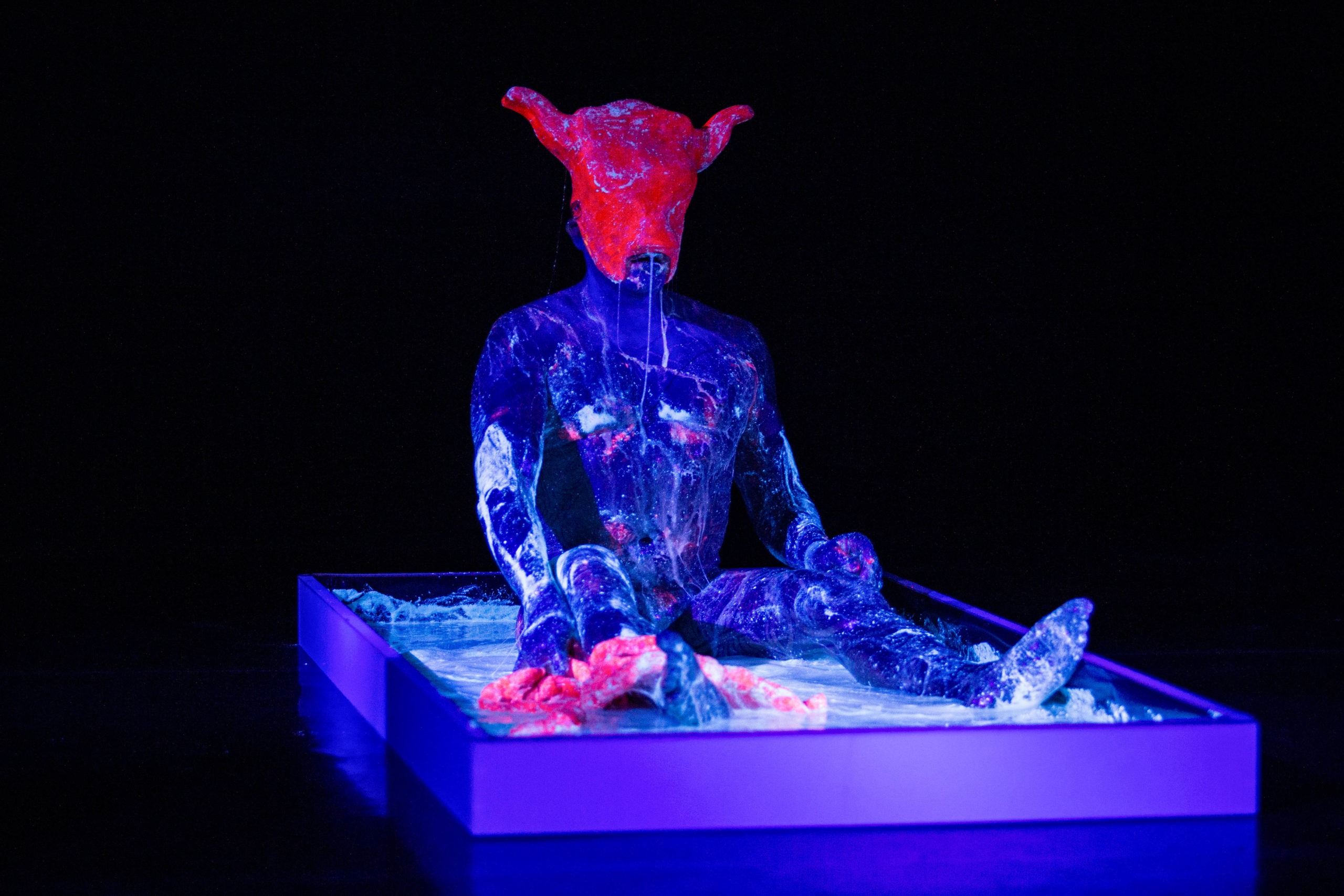 Terror unendingly renews with advancing age. Without end, it returns us to the beginning. The beginning that I glimpse on the edge of the grave is the pig in me which neither death nor insult can kill. Terror on the edge of the grave is divine and I sink into terror whose child I am. — Georges Bataille*
Ron Athey grew up in a family of Pentecostals and spiritualists. Speaking in tongues and dream analysis were everyday activities. Athey was revered as a young prophet whose tears were saved and shared on pieces of cloth. Someone once said that stars aren't born, they're made, but in Athey's case the reverse is true. In his twenties—leaving aside the belief system of fundamentalism and embracing same-sex relationships—Athey immersed himself in the hardcore music, club, and drug scenes of Los Angeles in the 1980s before developing his torture trilogy—Martyrs & Saints (1992), Four Scenes in a Harsh Life (1994), Deliverance (1995)—with a group of like-minded performers.
ACEPHALOUS MONSTER—a recent multimedia work first performed in New York City in 2018 and presented this week at REDCAT in what the artist calls a "deluxe version"—accesses the writings of Georges Bataille, a key Athey influence in the ongoing reification and performative realization of his origin story. The opening quote above, which chimes as a potential Athey statement of purpose, greets the audience onscreen before the show. Once onstage—joined by Sean Griffin's Opera Povera, vocalist extraordinaire Carmina Escobar, and performance associate Hermes Pittakos—Athey takes us through a mesmerizing five-part program, beginning with a movement take on Brion Gysin's Pistol Poem in fascist drag and ending with a blood-letting-and-blotting ritual. During the hour-long event, a bewigged Louis XVI speaks in glossolalic rupture, a Minotaur writhes in viscous viscera, and the videos The Executioner and the Labyrinth (starring Divinity Fudge) and Entering the Forest (featuring, among others, Latex Lucifer/Lucy) play behind the action. Athey's reverberations of ecstasy and abjection—and humor—escape reason yet make perfect sense as a response to chaos and nullification.
The in-person tickets for the four ACEPHALOUS MONSTER performances are sold out, though stand-by tickets may become available fifteen minutes before showtime. A virtual livestream will be presented on Sunday evening. See links below for details.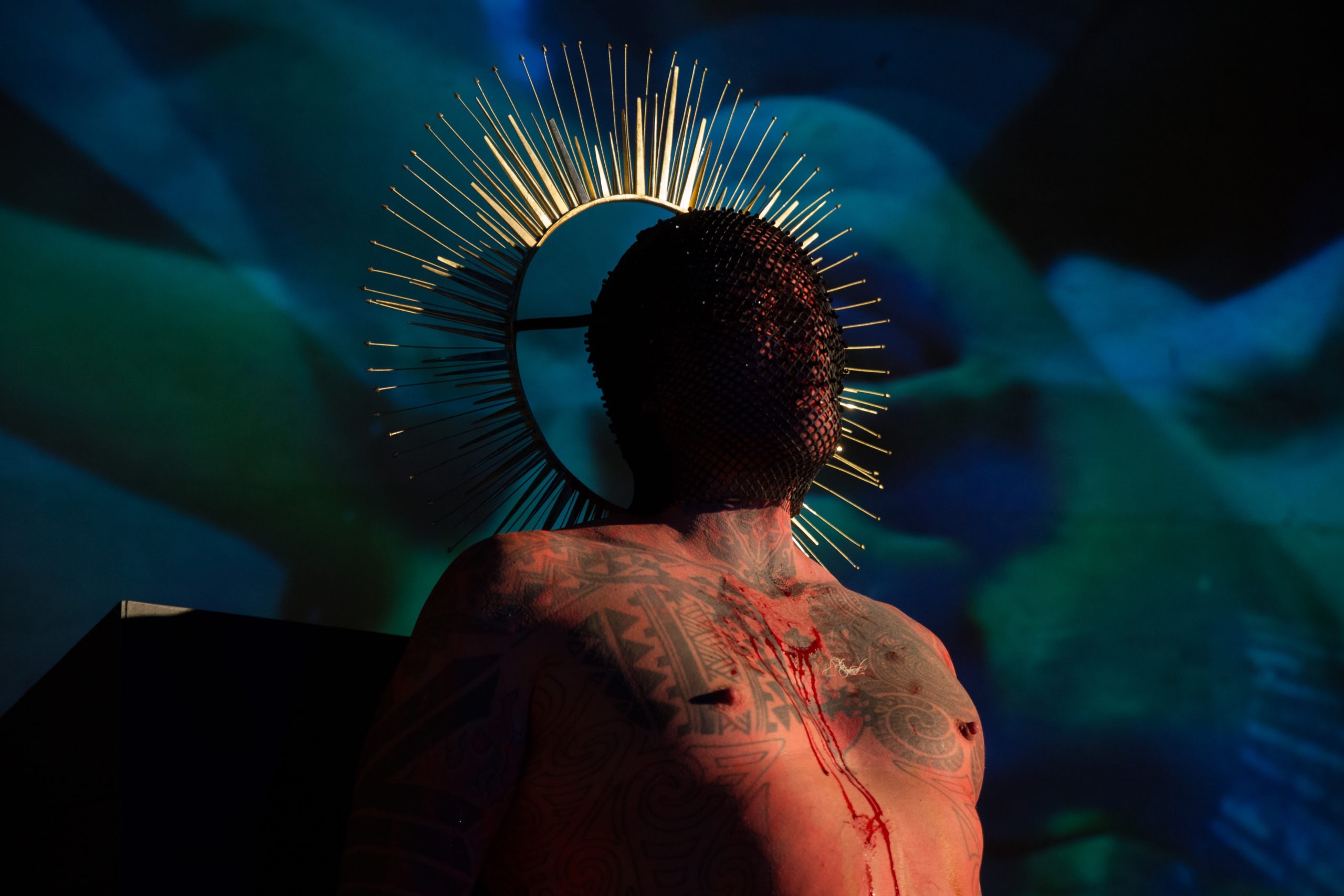 Thursday, Friday, and Saturday, August 26, 27, and 28, at 8:30 pm.
Sunday, August 29, at 7 pm.
REDCAT
631 West 2nd Street, downtown Los Angeles.
Sunday, August 29, at 7 pm.
*Georges Bataille, My Mother.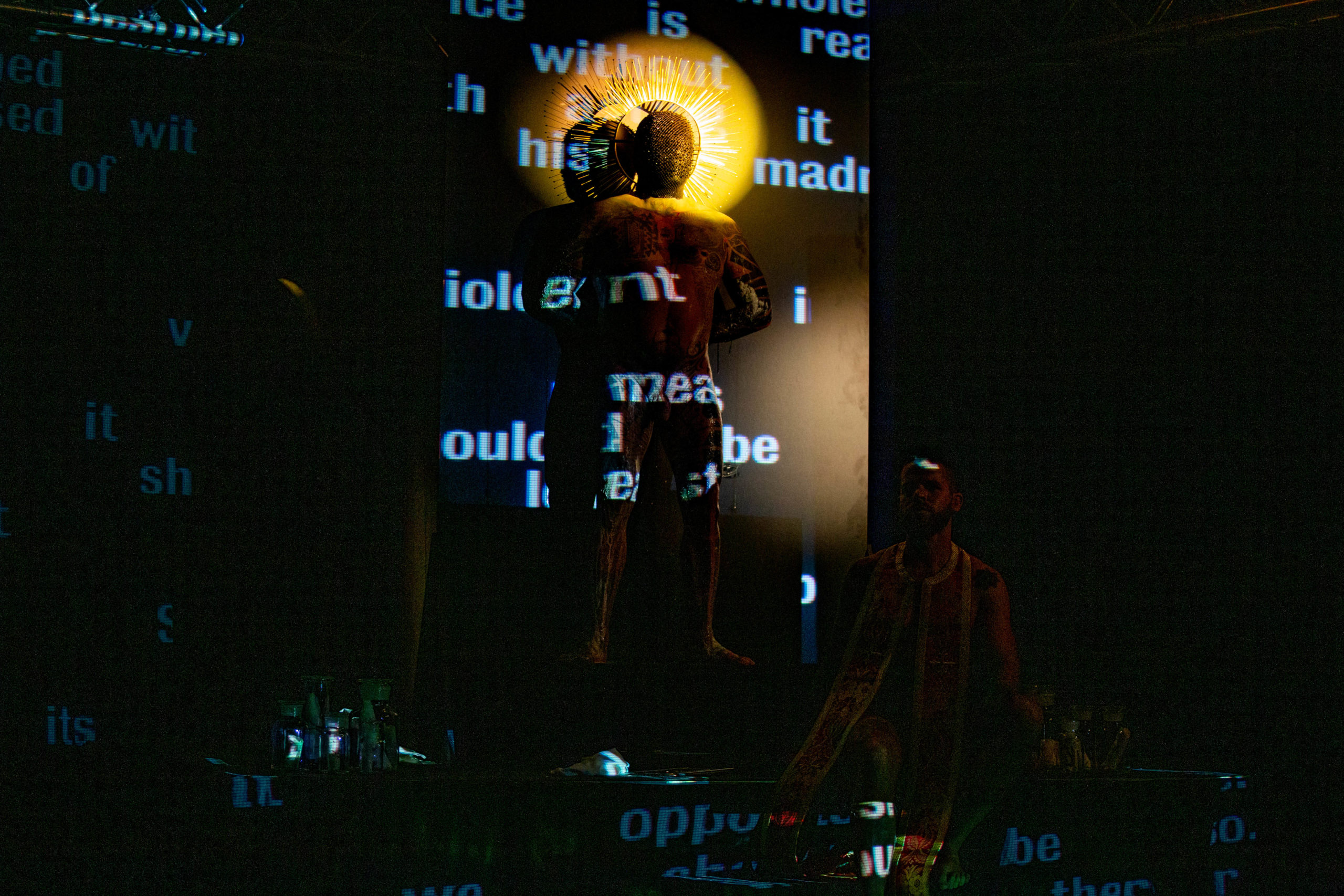 Ron Athey, Acephalous Monster (2018–2021). Images courtesy and © the artist.