On the occasion of the publication of PARIS LA 17—CHANGE AGENTS (2021–2022): An intermittent, open-ended, alphabetical Reading List, expanding on the artists, works, and concepts raised in the print issue.
Sophie Taeuber-Arp — Living Abstraction. Edited by Anne Umland, Walburga Krupp, and Charlotte Healy. New York: Museum of Modern Art, 2021.
Margaret Tait — Poems, Stories, and Writings. Edited by Sarah Neely. Manchester: Carcanet Press, 2012.
Mika Tajima — Mika Tajima. Edited by Eugenia Bell. Texts by T'ai Smith and Mika Yoshitake. Interview by Yoshitake. Los Angeles: Inventory Press; Kayne Griffin, 2022.
Atsuko Tanaka — Electrifying Art: Atsuko Tanaka, 1954–1968. By Mizuho Kato and Ming Tiampo. Vancouver: Morris and Helen Belkin Art Gallery; New York: Gray Art Gallery, 2004.
Dorothea Tanning — Between Lives: An Artist and Her World. New York: W. W. Norton, 2001.
Tarsila Do Amaral — Cannibalizing Modernism. Edited by Adriano Pedrosa and Fernando Oliva. São Paulo: Museu de Arte de São Paulo, 2019.
— The Moon. Text by Beverly Adams. New York: Museum of Modern Art, 2023.
Alma W. Thomas — Alma Thomas. Edited by Ian Berry and Lauren Haynes. Berlin: Prestel, 2016.
— Everything Is Beautiful. By Seth Feman and Jonathan Frederick Walz. New Haven, CT: Yale University Press, 2021.
Mickalene Thomas — I Can't See You Without Me. Columbus, OH: Wexner Center for the Arts, 2018.
— Femmes Noires. Edited by Andrea Andersson and Julie Crooks. New Orleans: Contemporary Arts Center; Toronto: Art Gallery of Ontario; Fredericton, NB: Goose Lane Editions, 2019.
— Mickalene Thomas. Texts by Roxane Gay and Kellie Jones. London: Phaidon, 2022.
Denyse Thomasos — Odyssey. Edited by Gaëtane Verna and Sarah Milroy. Text by Esi Edugyan. Kleinburg, ON: McMichael Canadian Art Collection, 2021.
Mildred Thompson — Transitions. By David Driskell and Thompson. Washington, DC: Howard University Gallery of Art, 1977.
— Radiation Explorations and Magnetic Fields. By Melissa Messina and Lowery Stokes Sims. New York: Galerie Lelong, 2018.
Sue Thornham — Feminist Film Theory: A Reader. Edited by Thornham. New York: New York University Press, 1999.
Leslie Thornton — Leslie Thornton. Edited by Natalie Bell, Dan Kidner, and Milan Ther. Texts by Erika Balsom, Rosalyn Deutsche, Chrissie Iles, Chris Kraus, et al. Cambridge, MA: MIT List Visual Arts Center; Nuremburg: Kunstverein Nürnberg–Albrecht Dürer Gesellschaft; Berlin: Sternberg Press, 2022.
Lynne Tillman — What Would Lynne Tillman Do? Brooklyn: Red Lemonade Press, 2014.
— The Complete Madame Realism and Other Stories. South Pasadena, CA: Semiotext(e), 2016.
— Mothercare: On Obligation, Love, Death, and Ambivalence. New York: Soft Skull, 2022.
Tyra Tingleff — Of Course I'm Not Sorry. Milan: Mousse, 2022.
Nadya Tolokonnikova — Read and Riot: A Pussy Riot Guide to Activism. New York: Harper One, 2018.
Faye Toogood — Drawing, Material, Sculpture, Landscape. Text by Alistair O'Neill. London: Phaidon, 2022.
Celeida Tostes — Escultura. Text by Lélia Coelho Frota. Rio de Janeiro: Galeria César Ache, 1987.
Trinh T. Minh-Ha — Woman Native Other. Bloomington: Indiana University Press, 1989.
— When the Moon Waxes Red: Representation, Gender, and Cultural Politics. New York: Routledge, 1991.
— Lovecidal: Walking with the Disappeared. New York: Fordham University Press, 2016.
— Traveling in the Dark. Texts by Larys Frogier and Trinh. Interviews with Ute Meta Bauer, Kaori Nakasone, Mayumo Inoue, Shivani Radhakrishnan, Benjamin Schultz-Figueroa, Patricia Alvarez Astacio. Milan: Mousse, 2023.
— The Twofold Commitment. Edited by Rachel Valinsky. Brooklyn: Primary Information, 2023.
Rosemarie Trockel — The Same Different. Edited and with texts by Iris Müller-Westermann and Jo Applin. Stockholm: Moderna Museet; Cologne: Walther König, 2019.
— Schizogenesis: The Art of Rosemarie Trockel. By Katherine Guinness. Minneapolis: University of Minnesota Press, 2019.
Tatiana Trouvé — Tatiana Trouvé. Texts by Catherine Millet, Robert Storr, and Trouvé. Cologne: Walther König, 2008.
— Il grande ritratto. Edited by Peter Pakesch. Cologne: Walther König, 2010.
— Tatiana Trouvé. Texts by Thierry Davila and Françoise Ninghetto. Geneva: MAMCO, 2022.
Anne Truitt — Daybook: The Journal of an Artist. New York: Pantheon, 1982.
— Threshold. Text by Anne M. Wagner. New York: Matthew Marks, 2013.
— Yield: The Journal of an Artist. Texts by Alexandra Truitt and Rachel Kushner. New Haven, CT: Yale University Press, 2022.
Wu Tsang — Not in My Language. Cologne: Walther König, 2015.
Irene Tsatsos — Below the Underground: Renegade Art and Action in 1990s Mexico. Edited by Tsatsos. Texts by Amy Sara Carroll, Michele Fiedler, Sol Henaro, Daniela Lieja Quintanar, Lorena Peña, Selene Preciado, Alexis Salas, and Tsatsos. Interviews by Michele Fiedler, Roberto Tejada, and Lorena Wolffer. Pasadena, CA: Armory Press, Armory Center for the Arts, 2019.
Marcia Tucker — Out of Bounds: The Collected Writings of Marcia Tucker. Edited by Lisa Phillips, Johanna Burton, and Alicia Ritson, with Kate Wiener. Los Angeles: Getty Research Institute; New York: New Museum, 2019.
Anne Turyn — Top Stories. Berlin: Weiss Berlin, 2019.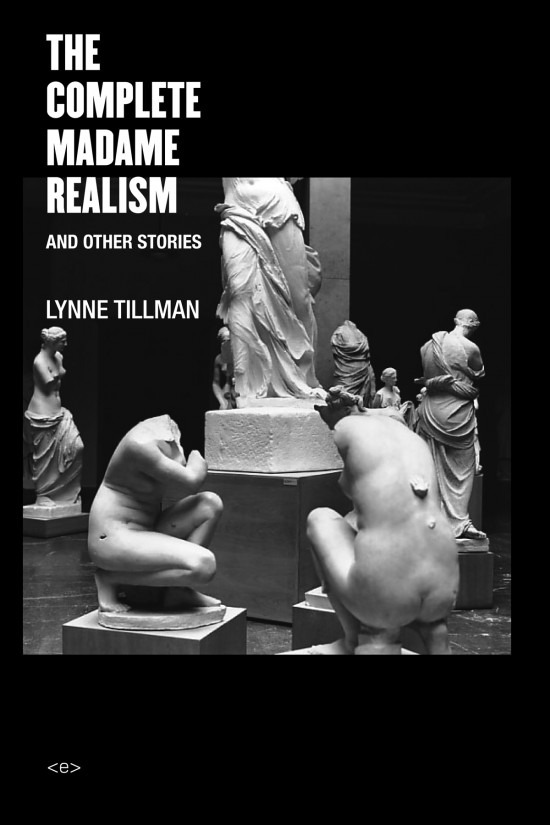 From top: Alma Thomas, Untitled, circa 1974, acrylic and watercolor on paper, © estate of Alma Thomas, courtesy Michael Rosenfeld Gallery; Lynne Tillman, The Complete Madame Realism and Other Stories, cover design by Hedi El Kholti, image courtesy and © Semiotext(e).