On the occasion of the publication of PARIS LA 17—CHANGE AGENTS (2021–2022): An intermittent, open-ended, alphabetical Reading List, expanding on the artists, works, and concepts raised in the print issue.
Frank Wagner, Kasper König, and Julia Friedrich — The Eighth Square: Gender, Life, and Desire in the Arts Since 1960. Edited by Wagner, König, and Friedrich. Texts by Judith Butler, Douglas Crimp, Diedrich Diederichsen, Harald Fricke, Hanne Loreck, Thomas Meinecke, Eva Meyer, Cristina Nord, Friedrich, and Wagner. Berlin: Hatje Cantz; Cologne: Museum Ludwig, 2006.
Alice Walker — In Search of Our Mother's Gardens: Womanist Prose. New York: Harcourt Brace Jovanovich, 1983.
Barbara Walker — As Seen. London: Tiwani Contemporary, 2013.
— Barbara Walker. Texts by Paul Gilroy, Sarah Martin and Aïcha Mehrez. Interview by Courtney J. Martin. Margate, England: Turner Contemporary, 2022.
Kara Walker — White Shadows in Blackface. By Robert Hobbs (2002). New York: Karma Books, 2022.
— Narratives of a Negress. Edited by Ian Berry, Darby English, Vivian Patterson, and Mark Reinhardt. Saratoga Springs, NY: Tang Teaching Museum and Art Gallery at Skidmore College; Williamstown, MA: Williams College Museum of Art; Cambridge, MA: MIT Press, 2003.
— Seeing the Unspeakable: The Art of Kara Walker. By Gwendolyn DuBois Shaw. Durham, NC: Duke University Press, 2004.
— My Complement, My Enemy, My Oppressor, My Love. Edited by Philippe Vergne. Minneapolis: Walker Art Center, 2007.
— The Ecstasy of St. Kara. Essay by Walker. Cleveland: Cleveland Museum of Art; New Haven, CT: Yale University Press, 2016.
— Consuming Stories: Kara Walker and the Imagining of American Race. By Rebecca Peabody. Oakland: University of California Press, 2016.
— Hyundai Commission: Kara Walker—Fons Americanus. Edited by Clara Kim. Texts by Zadie Smith and Walker. London: Tate Modern, 2019.
— A Black Hole is Everything a Star Longs to Be: Drawings 1992–2020. Edited by Anita Haldemann. Texts by Maurice Berger, Aria Dean, Haldemann, and Walker. Geneva: JRP Editions, 2020.
— Book of Hours. Amsterdam: Roma Publications, 2022.
— Kara Walker: October Files 28. Edited by Vanina Géré. Texts by Lorraine Morales Cox, Thelma Golden, Tavia Nyong'o, Yasmil Raymond, Jerry Saltz, Zadie Smith, Anne M. Wagner, Hamza Walker, and Géré. Cambridge, MA: MIT Press, 2022.
Michele Wallace — Invisibility Blues: From Pop to Theory. London: Verso, 1990.
— Dark Designs and Visual Culture. Durham, NC: Duke University Press, 2004.
— "Michele Wallace." In What It Means to Write About Art: Interviews with Art Critics. By Jarrett Earnest. New York: David Zwirner Books, 2018.
McKenzie Wark — Reverse Cowgirl. South Pasadena, CA: Semiotext(e), 2015.
— Philosophy for Spiders: On the Low Theory of Kathy Acker. Durham, NC: Duke University Press, 2021.
— "Acker Enterprise: McKenzie Wark and Matias Viegener in Conversation." PARIS LA 17 (2021–2022).
— Raving. Durham, NC: Duke University Press, 2023.
Gillian Wearing — Family Stories. Berlin: Hatje Cantz, 2018.
Carrie Mae Weems — The Usual Suspects. Baton Rouge: Louisiana State University Press, 2019.
— October Files 25. Edited by Sarah Elizabeth Lewis and Christine Garnier. Texts by Dawoud Bey, Jennifer Blessing, Kimberly Juanita Brown, Huey Copeland, Erina Duganne, Kimberly Drew, Coco Fusco, Thelma Golden, Katori Hall, bell hooks, Robin Kelsey, Thomas J. Lax, Jeremy McCarter, Yxta Maya Murray, José Rivera, Gwendolyn DuBois Shaw, Salamishah Tillet, Deborah Willis, and Lewis. New York: October, 2021.
— A Great Turn in the Possible. Texts by Iris Dressler, Elvira Dyangani Ose, Fred Moten, Raul Muñoz, and LaCharles Ward. New York: D.A.P.; Madrid: Fundación MAPFRE, 2022.
Carrie Mae Weems and Dawoud Bey — In Dialogue. Edited by Ron Platt. Grand Rapids, MI: Grand Rapids Art Museum; New York: DelMonico Books, 2022.
Jennifer West — Media Archaeology. Edited by Andy Campbell and Chelsea Weathers. Texts by Norman Klein, Campbell, and Weathers. Interview by Stuart Comer. Santa Fe: Radius Books, 2022.
Anna Weyant — Drawings. Text by Emma Allen. Interview by Robin F. Williams. Edgartown, MA: Winter Street Books, 2021.
Pae White — Spacemanship. Berlin: Distanz, 2021.
Rachel Whiteread — Interview by Andrea Rose [1997]. In Modern Sculpture Reader. Edited by Jon Wood, David Hulks, and Alex Potts. 2nd printing. Leeds: Henry Moore Institute; Los Angeles: Getty Publications, 2012.
Margret Wibmer — Relay. Vienna: Verlag für modern Kunst, 2021.
Faith Wilding — By Our Own Hands: The Woman Artist's Movement, Southern California, 1970–1976. Santa Monica, CA: Double X, 1977.
— Faith Wilding's Fearful Symmetries. Edited by Shannon R. Stratton, with Wilding. Bristol, UK: Intellect, 2019.
Hannah Wilke — A Retrospective. Copenhagen: Nikolaj Contemporary Art Center, 2000.
— Gestures. Texts by Tracy Fitzpatrick, Saundra Goldman, Tom Kochheiser, and Griselda Pollock. Purchase, NY: Neuberger Museum of Art, 2010.
— Art for Life's Sake. Edited by Tamara H. Schenkenberg and Donna Wingate. St. Louis: Pulitzer Arts Foundation; Princeton, NJ: Princeton University Press, 2021.
Michelle Joan Wilkinson — Material Girls: Contemporary Black Women Artists. Baltimore: Reginald F. Lewis Museum of Maryland African American History & Culture, 2011.
Kandis Williams — Interview with Mahfuz Sultan and Chloe Wayne and Chloe Wayne. Pin-Up 29 (Fall-Winter 2020/2021).
— Kandis Williams. Texts by Ebony L. Haynes and Hannah Black. Interview by Okwui Okpokwasili. New York: David Zwirner Books, 2022.
Margaux Williamson — Margaux Williamson. Edited by Jessica Bradley. Texts by Sheila Heti and Ben Lerner. Kleinburg, ON: McMichael Canadian Art Collection, 2021.
Sue Williamson — Life and Work. By Mark Gevisser. Milan: Skira, 2016.
Deborah Willis and Carla Williams — The Black Female Body: A Photographic History. Philadelphia: Temple University Press, 2002.
Martha Wilson — Martha Wilson Sourcebook: 40 Years of Considering Performance, Feminism, Alternative Spaces. New York: Independent Curators International, 2011.
Siona Wilson — Art Labor, Sex Politics: Feminist Effects in 1970s British Art and Performance. Minneapolis: University of Minnesota Press, 2015.
Jackie Winsor — Jackie Winsor. Text by Ellen H. Johnson. New York: Museum of Modern Art, 1979.
— "Love Goes to Building on Fire: Jackie Winsor, Michelle Lopez, and Anna Sew Hoy in Conversation with Alex Klein." PARIS LA 17 (2021–2022).
Matthias Winzen — Just Love Me: Post/Feminist Positions of the1990s from the Goetz Collection. Edited by Winzen. Cologne: Walther König, 2003.
Jeanette Winterson — Frankissstein: A Love Story. New York: Grove Press, 2019.
Monique Wittig — "The Straight Mind." In Out There: Marginalization and Contemporary Cultures. Edited by Russell Ferguson, Martha Gever, Trinh T. Minh-ha, and Cornel West. New York: New Museum; Cambridge, MA: MIT Press, 1990.
Ruth Wolf-Rehfeldt — Signs Fiction. Berlin: Motto Books, 2016.
Mary Wollstonecraft — A Vindication of the Rights of Women [1790]. Introduction by Sheila Rowbotham. London: Verso, 2019.
Terry Wolverton — Insurgent Muse: Life and Art at the Woman's Building. San Francisco: City Lights, 2002.
Beatrice Wood — I Shock Myself: The Autobiography of Beatrice Wood. Edited by Lindsay Smith. Ojai, CA: Dillingham Press, 1985.
Issy Wood — All the Rage, 2019–2017. London: Carlos/Ishikawa, 2019.
Francesca Woodman — On Being an Angel. Edited by Anna Tellgren. Texts by Daniel Burnbaum, Lena Esseling, Ann-Sofie Noring, Anna-Karin Palm, and George Woodman. Stockholm: Moderna Museet; London: Koenig Books, 2016.
— Alternate Stories. Text by Chris Kraus. New York: Marian Goodman Gallery, 2022.
Virginia Woolf — Virginia Woolf: Art, Life and Vision. By Frances Spalding. London: National Portrait Gallery, 2014
Rose Wylie — Painting a noun… Text by Michael Glover. New York: David Zwirner Books, 2020.
 — Rose Wylie. Edited by Markus Stegmann. Baden: Museum Langmatt; Berlin: Hatje Cantz, 2021.
— The Tempest. Text by William Shakespeare. New York: David Zwirner Books, 2022.
— Which One. Texts by Judith Bernstein, David Salle, and Barry Schwabsky. Interview by Hans Ulrich Obrist. New York: David Zwirner, 2023.
Nil Yalter — Nil Yalter. Interview with Fabienne Dumont. Paris: Archives of Women Artists, Research, and Exhibitions (AWARE); Manuella Éditions, 2019.
Haegue Yang — Haegue Yang: Anthology 2006–2018, Tightrope Walking and Its Wordless Shadow. Edited by Bruna Roccasalva. Milan: Skira, 2019.
— In the Cone of Uncertainty. Berlin: Hatje Cantz, 2020.
Anicka Yi — 6,070,430K of Digital Spit. Edited by Alise Upitis. Milan: Mousse Publishing, 2016.
— Metaspore. Edited by Fiammetta Griccioli and Vicente Todolí. Texts by Giovanni Aloi, Rachel Lee, Griccioli, and Todolí. Interview by Merlin Sheldrake. Milan: Pirelli Hangar Bicocca; Venice: Marsilio Editori, 2022.
Lynette Yiadom-Boakye — Any Number of Preoccupations. Texts by Naomi Beckwith, Okwui Enwezor, Thelma Golden, and Yiadom-Boakye. New York: Studio Museum in Harlem, 2010.
— Under-Song for a Cipher. Edited and with an interview by Massimiliano Gioni and Natalie Bell. Texts by Elena Filipovic, Chris Ofili, and Robert Storr. New York: New Museum; Basel: Kunsthalle Basel, 2017.
— Fly in League with the Night. Edited by Isabella Maidment and Andrea Schlieker. London: Tate, 2020.
Midori Yoshimoto — Into Performance: Japanese Women Artists in New York. New Brunswick, NJ: Rutgers University Press, 2005.
Lisa Yuskavage — Babie Brood: Small Paintings, 1985–2018. New York: David Zwirner Books, 2019.
Gerlind Zeilner — Cowgirls. Edited by Sandro Droschl. Vienna: Verlag für modern Kunst, 2021.
Andrea Zittel — Between Art and Life. Edited by Alberto Salvadori. Milan: Mousse, 2012.
— "An Institute of Investigative Living." Interview by Elizabeth Chodos. Portable Gray 3, no. 1 (Spring 2020).
Portia Zvavahera — Portia Zvavahera. Text by Meredith A. Brown. Interview by Allie Biswas. New York: David Zwirner, 2023.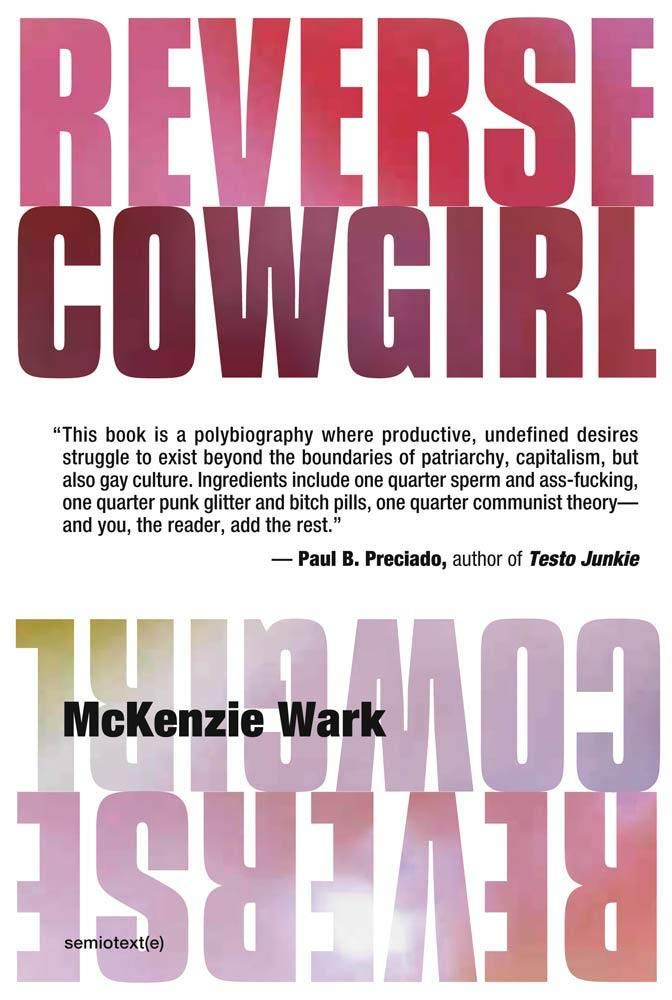 From top: Jackie Winsor, Double Circle, 1970–71, hemp, © Jackie Winsor, courtesy of the artist and Paula Cooper Gallery; McKenzie Wark, Reverse Cowgirl, book cover design by Hedi El Kholti, courtesy and © Semiotext(e).