On the occasion of the publication of PARIS LA 17—CHANGE AGENTS (2021–2022): An intermittent, open-ended, alphabetical Reading List, expanding on the artists, works, and concepts raised in the print issue.
Frank Wagner, Kasper König, and Julia Friedrich — The Eighth Square: Gender, Life, and Desire in the Arts Since 1960. Berlin: Hatje Cantz; Cologne: Museum Ludwig, 2006.
Alice Walker — In Search of Our Mother's Gardens: Womanist Prose. New York: Harcourt Brace Jovanovich, 1983.
Barbara Walker — As Seen. London: Tiwani Contemporary, 2013.
Kara Walker — A Black Hole is Everything a Star Longs to Be. Edited by Anita Haldemann. Zürich: JRP Editions, 2020.
— White Shadows in Blackface. By Robert Hobbs (2002). New York: Karma Books, 2022.
— Book of Hours. Amsterdam: Roma Publications, 2022.
Michele Wallace — Invisibility Blues: From Pop to Theory. London: Verso, 1990.
— Dark Designs and Visual Culture. Durham, NC: Duke University Press, 2004.
— "Michele Wallace." In What It Means to Write About Art: Interviews with Art Critics. By Jarrett Earnest. New York: David Zwirner Books, 2018.
McKenzie Wark — Reverse Cowgirl. South Pasadena, CA: Semiotext(e), 2015.
— Philosophy for Spiders: On the Low Theory of Kathy Acker. Durham, NC: Duke University Press, 2021.
— "Acker Enterprise: McKenzie Wark in Conversation with Matias Viegener." PARIS LA 17 (2021–2022).
Gillian Wearing — Family Stories. Berlin: Hatje Cantz, 2018.
Carrie Mae Weems — The Usual Suspects. Baton Rouge: Louisiana State University Press, 2019.
Carrie Mae Weems and Dawoud Bey — In Dialogue. Edited by Ron Platt. Grand Rapids, MI: Grand Rapids Art Museum; New York: DelMonico Books, 2022.
Anna Weyant — Drawings. Text by Emma Allen. Interview by Robin F. Williams. Edgartown, MA: Winter Street Books, 2021.
Pae White — Spacemanship. Berlin: Distanz, 2021.
Rachel Whiteread — Interview by Andrea Rose [1997]. In Modern Sculpture Reader. Edited by Jon Wood, David Hulks, and Alex Potts. 2nd printing. Leeds: Henry Moore Institute; Los Angeles: Getty Publications, 2012.
Margret Wibmer — Relay. Vienna: Verlag für modern Kunst, 2021.
Faith Wilding — By Our Own Hands: The Woman Artist's Movement, Southern California, 1970–1976. Santa Monica, CA: Double X, 1977.
— Faith Wilding's Fearful Symmetries. Edited by Shannon R. Stratton, with Wilding. Bristol, UK: Intellect, 2019.
Hannah Wilke — A Retrospective. Copenhagen: Nikolaj Contemporary Art Center, 2000.
— Gestures. Texts by Tracy Fitzpatrick, Saundra Goldman, Tom Kochheiser, and Griselda Pollock. Purchase, NY: Neuberger Museum of Art, 2010.
— Art for Life's Sake. Edited by Tamara H. Schenkenberg and Donna Wingate. St. Louis: Pulitzer Arts Foundation; Princeton, NJ: Princeton University Press, 2021.
Michelle Joan Wilkinson — Material Girls: Contemporary Black Women Artists. Baltimore: Reginald F. Lewis Museum of Maryland African American History & Culture, 2011.
Kandis Williams — Interview with Mahfuz Sultan and Chloe Wayne and Chloe Wayne. Pin-Up 29 (Fall-Winter 2020/2021).
— Kandis Williams. Texts by Ebony L. Haynes and Hannah Black. Interview by Okwui Okpokwasili. New York: David Zwirner Books, 2022.
Margaux Williamson — Margaux Williamson. Edited by Jessica Bradley. Texts by Sheila Heti and Ben Lerner. Kleinburg, ON: McMichael Canadian Art Collection, 2021.
Sue Williamson — Life and Work. By Mark Gevisser. Milan: Skira, 2016
Martha Wilson — Martha Wilson Sourcebook: 40 Years of Considering Performance, Feminism, Alternative Spaces. New York: Independent Curators International, 2011.
Siona Wilson — Art Labor, Sex Politics: Feminist Effects in 1970s British Art and Performance. Minneapolis: University of Minnesota Press, 2015.
Jackie Winsor — Jackie Winsor. Text by Ellen H. Johnson. New York: Museum of Modern Art, 1979.
— "Love Goes to Building on Fire: Jackie Winsor, Michelle Lopez, and Anna Sew Hoy in Conversation with Alex Klein." PARIS LA 17 (2021–2022).
Matthias Winzen — Just Love Me: Post/Feminist Positions of the1990s from the Goetz Collection. Edited by Winzen. Cologne: Walther König, 2003.
Jeanette Winterson — Frankissstein: A Love Story. New York: Grove Press, 2019.
Monique Wittig — "The Straight Mind." In Out There: Marginalization and Contemporary Cultures. Edited by Russell Ferguson, Martha Gever, Trinh T. Minh-ha, and Cornel West. New York: New Museum; Cambridge, MA: MIT Press, 1990.
Mary Wollstonecraft — A Vindication of the Rights of Women [1790]. Introduction by Sheila Rowbotham. London: Verso, 2019.
Terry Wolverton — Insurgent Muse: Life and Art at the Woman's Building. San Francisco: City Lights, 2002.
Beatrice Wood — I Shock Myself: The Autobiography of Beatrice Wood. Edited by Lindsay Smith. Ojai, CA: Dillingham Press, 1985.
Issy Wood — All the Rage, 2019–2017. London: Carlos/Ishikawa, 2019.
Francesca Woodman — On Being an Angel. Stockholm: Moderna Museet, 2016.
— Alternate Stories. Text by Chris Kraus. New York: Marian Goodman Gallery, 2022.
Virginia Woolf — Virginia Woolf: Art, Life and Vision. By Frances Spalding. London: National Portrait Gallery, 2014
Rose Wylie — Painting a noun… Text by Michael Glover. New York: David Zwirner Books, 2020.
 — Rose Wylie. Edited by Markus Stegmann. Baden: Museum Langmatt; Berlin: Hatje Cantz, 2021.
— The Tempest. Text by William Shakespeare. New York: David Zwirner Books, 2022.
Nil Yalter — Nil Yalter. Interview with Fabienne Dumont. Paris: Archives of Women Artists, Research, and Exhibitions (AWARE); Manuella Éditions, 2019.
Haegue Yang — Haegue Yang: Anthology 2006–2018, Tightrope Walking and Its Wordless Shadow. Edited by Bruna Roccasalva. Milan: Skira, 2019.
— In the Cone of Uncertainty. Berlin: Hatje Cantz, 2020.
Anicka Yi — 6,070,430K of Digital Spit. Edited by Alise Upitis. Milan: Mousse Publishing, 2016.
Lynette Yiadom-Boakye — Fly in League with the Night. Edited by Isabella Maidment and Andrea Schlieker. London: Tate, 2020.
Midori Yoshimoto — Into Performance: Japanese Women Artists in New York. New Brunswick, NJ: Rutgers University Press, 2005.
Lisa Yuskavage — Babie Brood: Small Paintings, 1985–2018. New York: David Zwirner Books, 2019.
Gerlind Zeilner — Cowgirls. Edited by Sandro Droschl. Vienna: Verlag für modern Kunst, 2021.
Andrea Zittel — Between Art and Life. Edited by Alberto Salvadori. Milan: Mousse, 2012.
— "An Institute of Investigative Living." Interview by Elizabeth Chodos. Portable Gray 3, no. 1 (Spring 2020).
Portia Zvavahera — Portia Zvavahera. Text by Meredith A. Brown. New York: David Zwirner Books, 2021.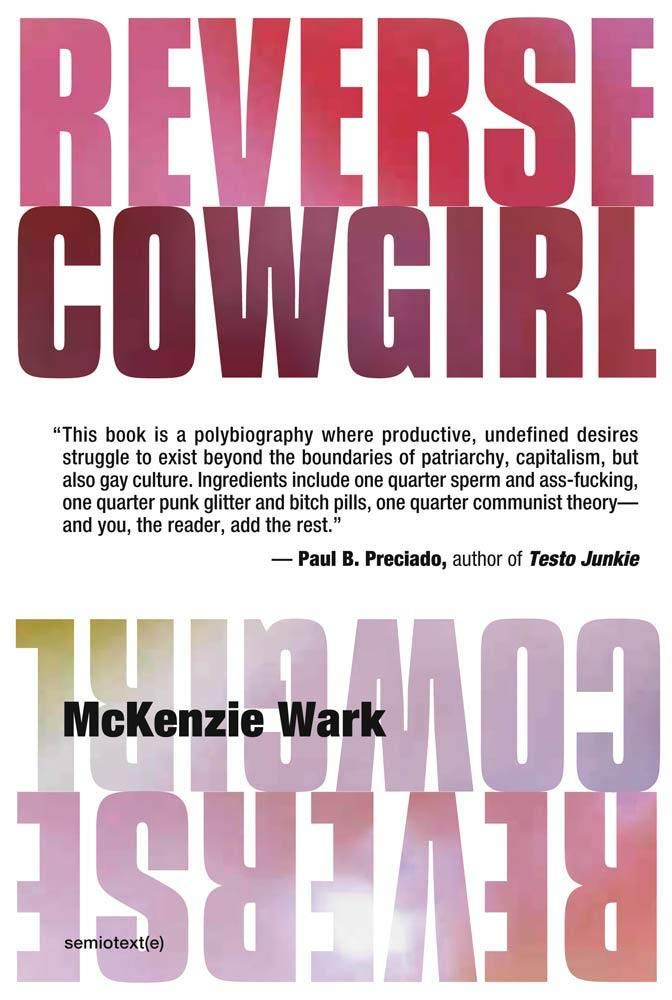 From top: Jackie Winsor, Double Circle, 1970–71, hemp, © Jackie Winsor, courtesy of the artist and Paula Cooper Gallery; McKenzie Wark, Reverse Cowgirl, book cover design by Hedi El Kholti, courtesy and © Semiotext(e).