Remembering Monsieur Miyake (1938–2022)
THE FUTURE OF MAKING THINGS
Issey Miyake in conversation with Dorothée Perret
From PARIS LA 6—Tokyo Fashion (Spring 2011)
Last Fall in Paris, Monsieur Issey Miyake—with the help of his team of engineers, researchers, and designers, gathered under the name Reality Lab—revealed a new clothing line named 132 5. ISSEY MIYAKE. Behind the scientific resonance of the name resides a new lyrical approach on the art of making clothes. Not that Monsieur Miyake had never engaged himself in art before, but this time the concept is structured like an educational lab. He and his team question and resolve problems of our present time by the use of creative ideas. The starting point of 132 5. was an idea of recycling, with a focus on regenerating the traditional Japanese ways of production, in order to preserve and revitalize them. The result is astonishing, and the process remarkable. Monsieur Miyake and the Reality Lab. has succeeded, thanks to years of efforts and a magic touch, in transforming a flat origami figure in recycled fabrics into a piece of clothing.
For the occasion Monsieur Miyake kindly agreed to discuss the art of making things. It's with great honor that we receive him today and start the conversation.
Dorothée Perret
Would you consider that 132 5. ISSEY MIYAKE is a logical and natural continuation of your older collection PLEATS PLEASE? Both in the philosophical concept and the industrial process?
Issey Miyake
In a way, 132 5. ISSEY MIYAKE can be considered as a continuation of PLEATS PLEASE ISSEY MIYAKE that started in 1993.  But more than that, it is a new project in which I and my team, named Reality Lab., have devoted much effort to conducting various series of researches, keeping in mind the future of making things.
When and how did the idea of working on this ambitious project start to germinate in your mind?
It was during my research with my team when we were preparing for the XXIst Century Man exhibition held at 21­_21 DESIGN SIGHT in 2007.  When we were re-visiting various local production areas of Japan after the exhibition, I decided to realize the issues that we could not have achieved yet.
And precisely because the project was so ambitious, not only economically but also conceptually—creating a team of research, developing a new process industrially, bringing together craft and industrial tools—did you encounter a moment where you were losing faith?
Because it is a new project, a new venture, I have been able to tackle it in a positive attitude with my team.
As an inventor have you ever had to abort a project because it was too crazy for its time, too utopian?
After a new idea is conceived, it is necessary to take much time to work on it to make it a reality.  In retrospect, there may have been some projects that may have been considered too early…
For example, I think of one of the main processes which 132 5. ISSEY MIYAKE is drawn from is recycling. Would this have been possible to offer in the late '70s or early '80s?
Yes, I think it was possible to suggest the recycling issue in the late 1970s or early '80s.  The difference lies in the fact that 132 5. ISSEY MIYAKE utilizes the combination of the traditional technology with the latest hi-technology of our present time.
By the way, was the recycling process the starting point of the project, or did it naturally come along because it's one of the main questions of our time?
We started the new project with the idea of using recycled polyester.
And maybe as a designer you are here to resolve problems of our time?
I find it important and rewarding if the actual work by myself and my team, materialized in the new project, helps people to think and to make actions on their own.
Also apart from the essence of the project, I'm very intrigued by its form: origami. I find it really beautiful and maybe the reason why the project is so appealing to me. So how did it come to you? Is it due to the combination of technical and conceptual research or simply an aesthetic choice?
We created the forms combining all those factors.  Needless to say, we always keep in mind the beauty of forms.
Because of both its technique and its philosophical essence, would you say that 132 5. ISSEY MIYAKE could only be made in Japan?
I feel that there's a great significance in using Japanese technology in making things of today.
I very often feel that the fashion field is not very tender with older people. Somehow it's hard to age when you work in fashion– but you prove the contrary! Does it come from the distance you took when you stop designing your own collection, or maybe because you are always animated by new ideas, or a little bit of both?
For me, to think of ideas and to realize the ideas is very important.  It is to continue to think of new ideas, to conduct researches with the Reality Lab. team, and to create and to make things with them.
Which makes me think of the new project you are already moving on, the collection of lamps named IN-EI ("shadow" in Japanese). It's again about origami, right?
It comes from the idea of folding a piece of material to make it flat.  It is a different idea from origami.
Apart the specificity of the form, what is the concept behind IN-EI?
Light and shadow.  IN-EI means shadow.  Plane and three dimensions.
What I find very touching in your work, is the way you name a project, or a collection, for example A-POC (for 'a piece of cloth'); PLEATS PLEASE; IN-EI (shadow in Japanese); and now 132 5., which has a mathematic signification from 2D to 3D. It feels as though you consider each of your projects as a living person—maybe as one of your children?
I try to name them with my heart.
Looking at your life history as a designer who has always confronted the issues of the modern world, it's quite amazing that you succeed to transform technological knowledge into beauty. Would you consider yourself as a very optimistic person?
I don't consider myself as an optimistic person. I always think of what I should do to make things.  I think of what I should do now. I wish to continue to make research and develop the future technology and to make things with the team of young designers who are to create the future designs.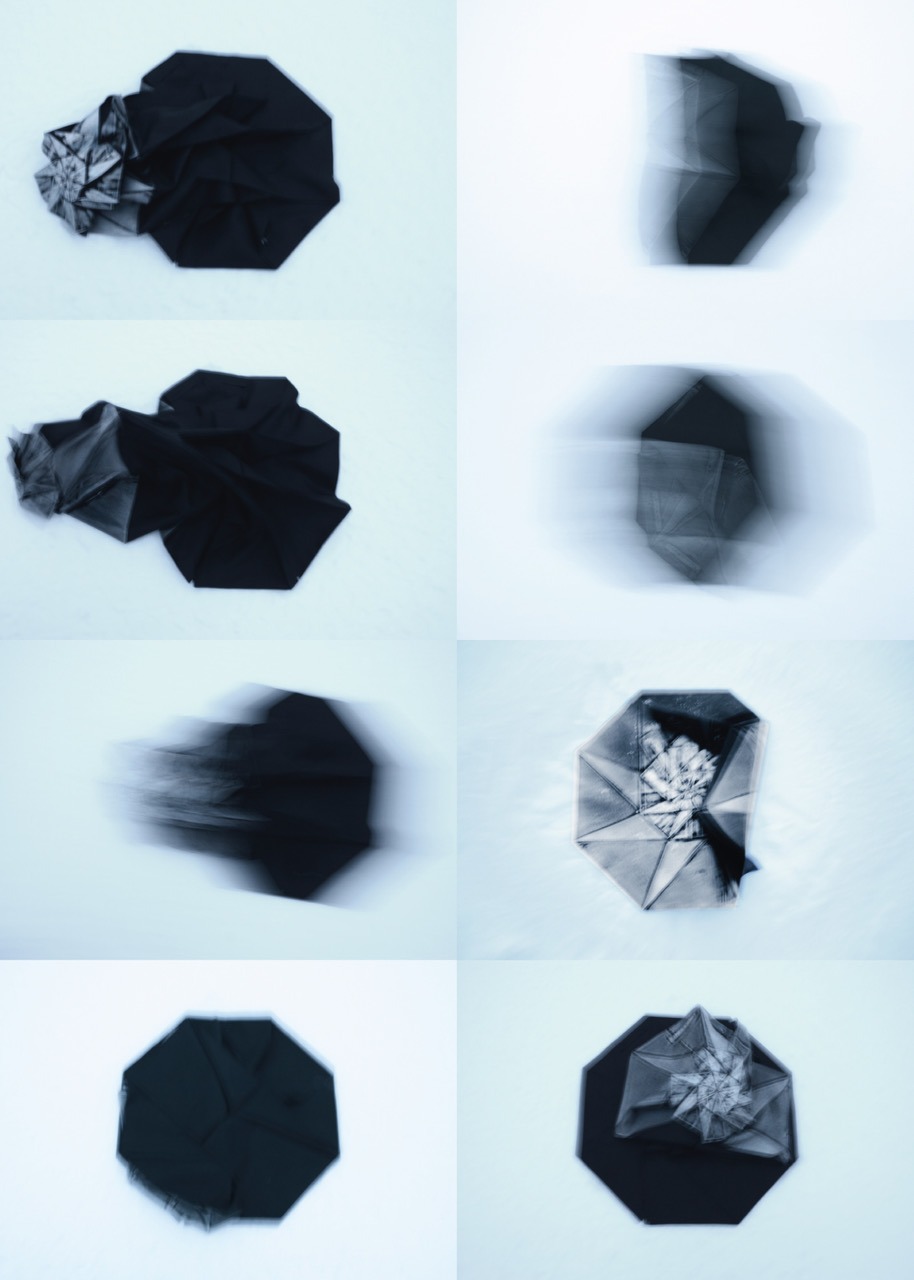 Artwork: The original poster design containing the conversation with Issey Miyake, PARIS LA 6—Tokyo Fashion (Spring 2011). Images © Patricia Schwoerer, courtesy of the artist.