Basically I believe that everyone is a dancer. Seeing how ritual is performed in other cultures I understand that one is a member of a community. Anyone can take part in actions, movements, events… When I began to explore performance in the 1960s (and before there was a name for what I do), people often referred to me as a dancer. Actually, I was not a dancer in the way Yvonne Rainer or Simone Forti were dancers. But at that time dancers were working with everyday movement, and this gave me the freedom to begin. No, I am not a dancer. But if anyone can be a dancer then I am. — Joan Jonas*
For the long-awaited opening of the exhibition JOAN JONAS at Haus der Kunst—originally scheduled for 2018—the artist will present performances of Mirror Piece I & II (1969/2018). And in November, the museum will host the European premiere of Jonas' new Out Takes: What the Storm Washed In (2022)—a work combining video footage with live music (composed by Ikue Mori), text, and performance—and an artist talk and screenings.
See links and listings below for details.
JOAN JONAS — MIRROR PIECE I & II
Saturday, September10, at 5 pm and 6 pm
JOAN JONAS — OUT TAKES: WHAT THE STORM WASHED IN
Sunday, November 13, at 6 pm
JOAN JONAS IN CONVERSATION WITH ANDREA LISSONI
Monday, November 14, at 7 pm
JOAN JONAS — SELECTED WORKS film screening
Thursday, November 17, at 7 pm
*Joan Jonas, "Movement," in In the Shadow a Shadow: The Work of Joan Jonas, edited by Joan Simon (New York: Gregory R. Miller; Berlin: Hatje Cantz; Milan: Hangar Bicocca; Malmö: Malmö Konsthall, 2015), 48.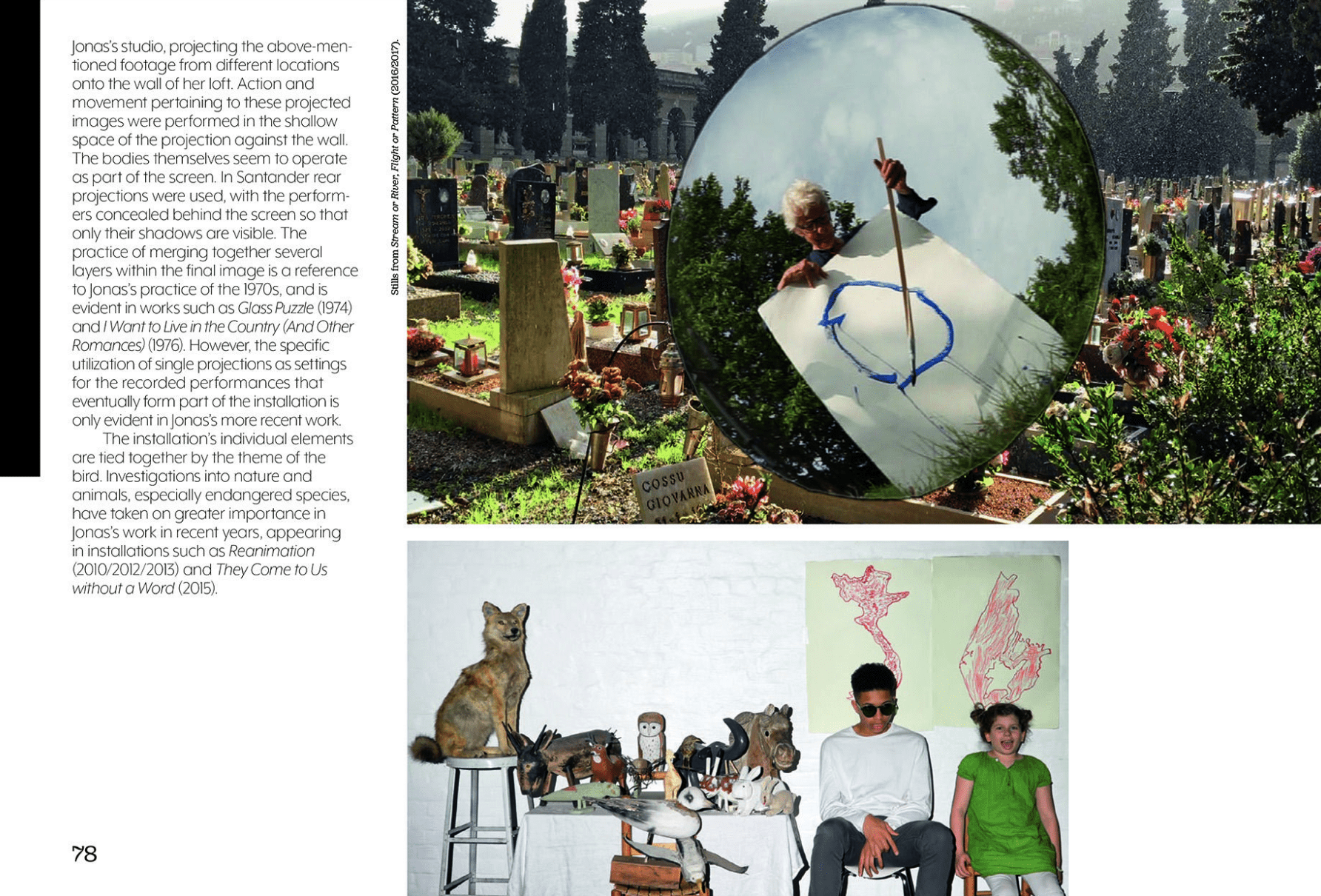 Joan Jonas, from top: Performance view of Mirror Piece I, 1969, Bard College, Annandale-on-Hudson, New York, photograph by Joan Jonas, © the artist, courtesy Haus der Kunst; Wolf Lights, 2004–2005, image © Joan Jonas and VG Bild-Kunst, Bonn 2022; page layout from Joan Jonas, edited by Julienne Lorz (Munich: Hirmer, 2018), featuring (top image) Stream or River, Flight or Pattern, 2016–2017, artwork image © Joan Jonas, Artists Rights Society (ARS), New York, and DACS, London, book image © Hirmer.