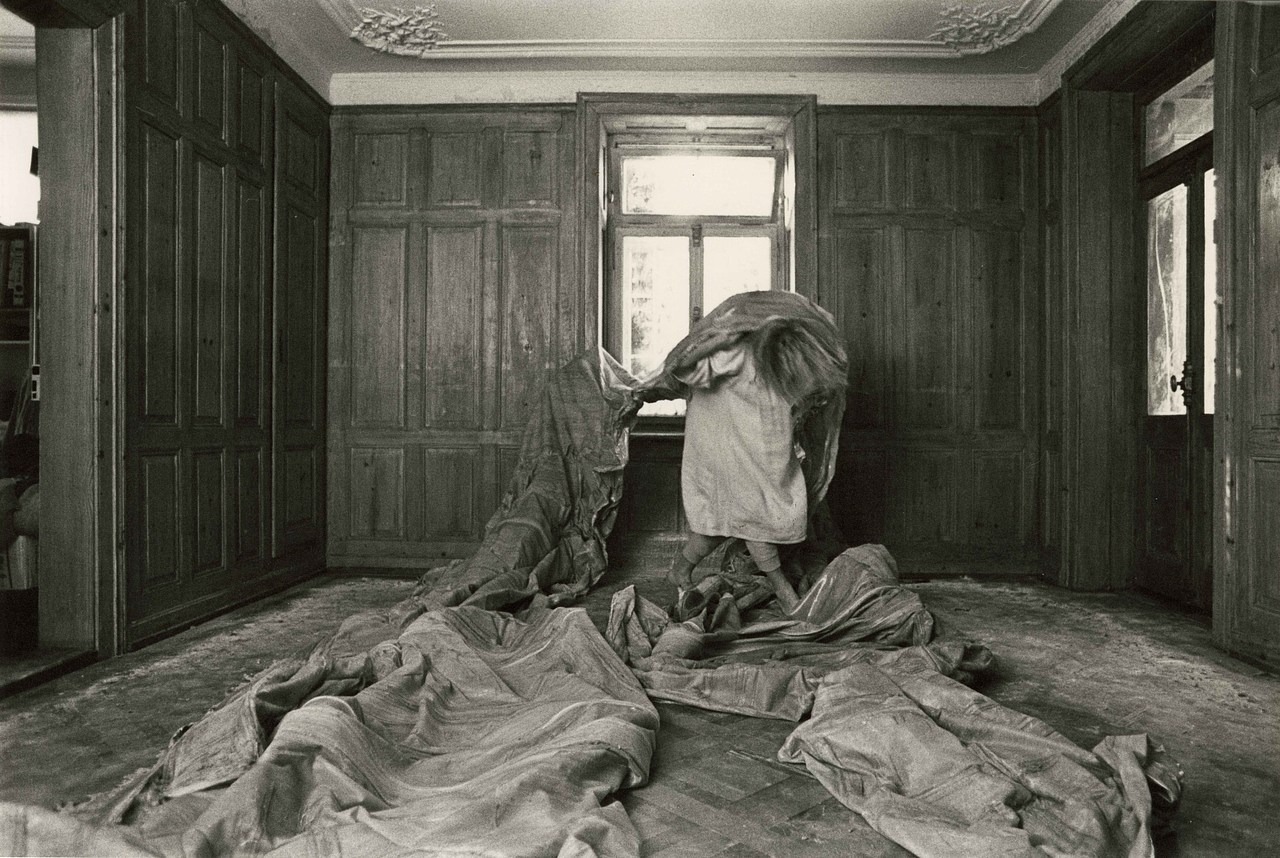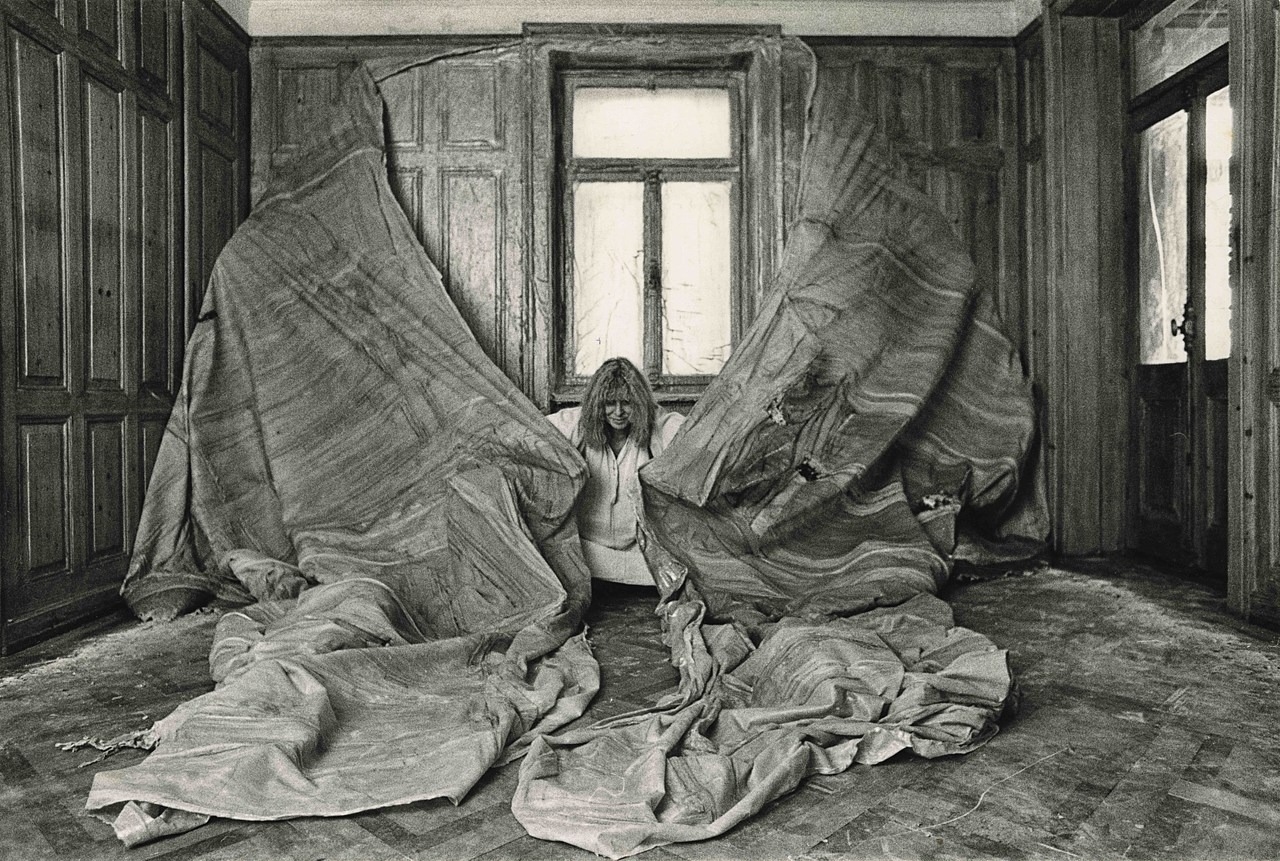 There is a photo from 1976 of Heidi Bucher wearing her dragonfly costume, a dress that looks breathtakingly Victorian, as though the British photographer Julia Margaret Cameron had arranged the image herself. Bucher's arresting self-portrait is a vision of the artist inhabiting her own latex sculpture: a living being encased within a costume-like carapace, a billowing form that, ironically, rules out any idea of flight – the dress itself mimicking the layers of stiff taffeta and muslin that stifled her historical peers, nineteenth-century women.
In this particular image, the living flash of light is a realization: Bucher's contemporaneity is her own self-possession, made apparent by the insubordination of her crossed arms, a defiance that never would have been granted to Cameron's models: the household help she transformed from scullery and parlor maids into classical nymphs and medieval queens. As a woman artist working a century later than Cameron, Bucher had far more agency, but her own non-compliance was hard-won, and arguably has roots in the three years she spent in in North America: first Canada, then Los Angeles, between 1970 and 1973. During that time, Bucher made her initial attempts at body-based performance and sculpture, strongly informed by the American-style feminist art she encountered. — Jenni Sorkin*
METAMORPHOSES—an exhibition curated by Jana Baumann that investigates the cross-currents of sculpture, architecture, design, film, and performance in Bucher's work—is in its final week in Munich. See link below for details.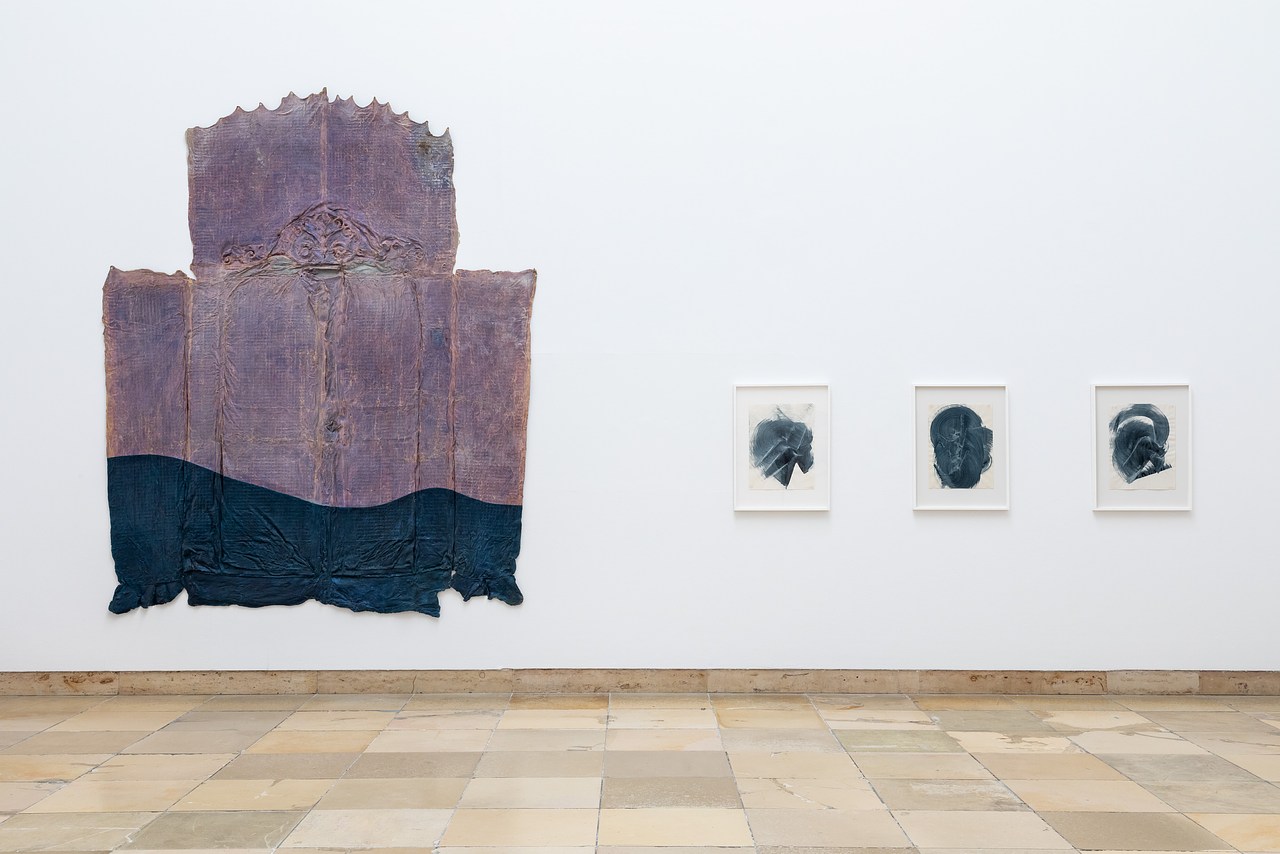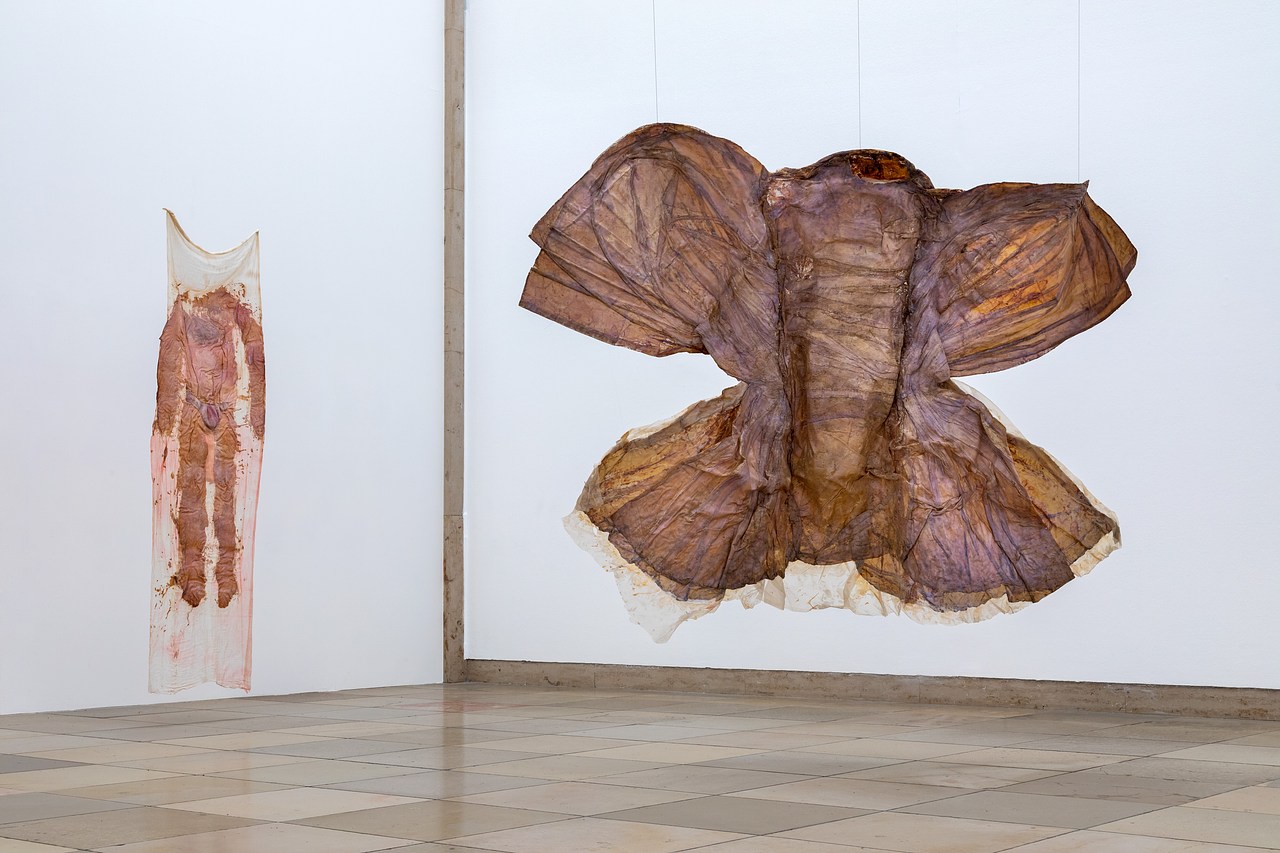 Through February 13
Haus der Kunst
Prinzregentenstrasse 1, Munich
*Jenni Sorkin, "California Dreaming: Heidi Bucher's Roots in West Coast Feminism," in Heidi Bucher: Metamorphoses, edited by Jana Baumann (Berlin: Hatje Cantz, 2022).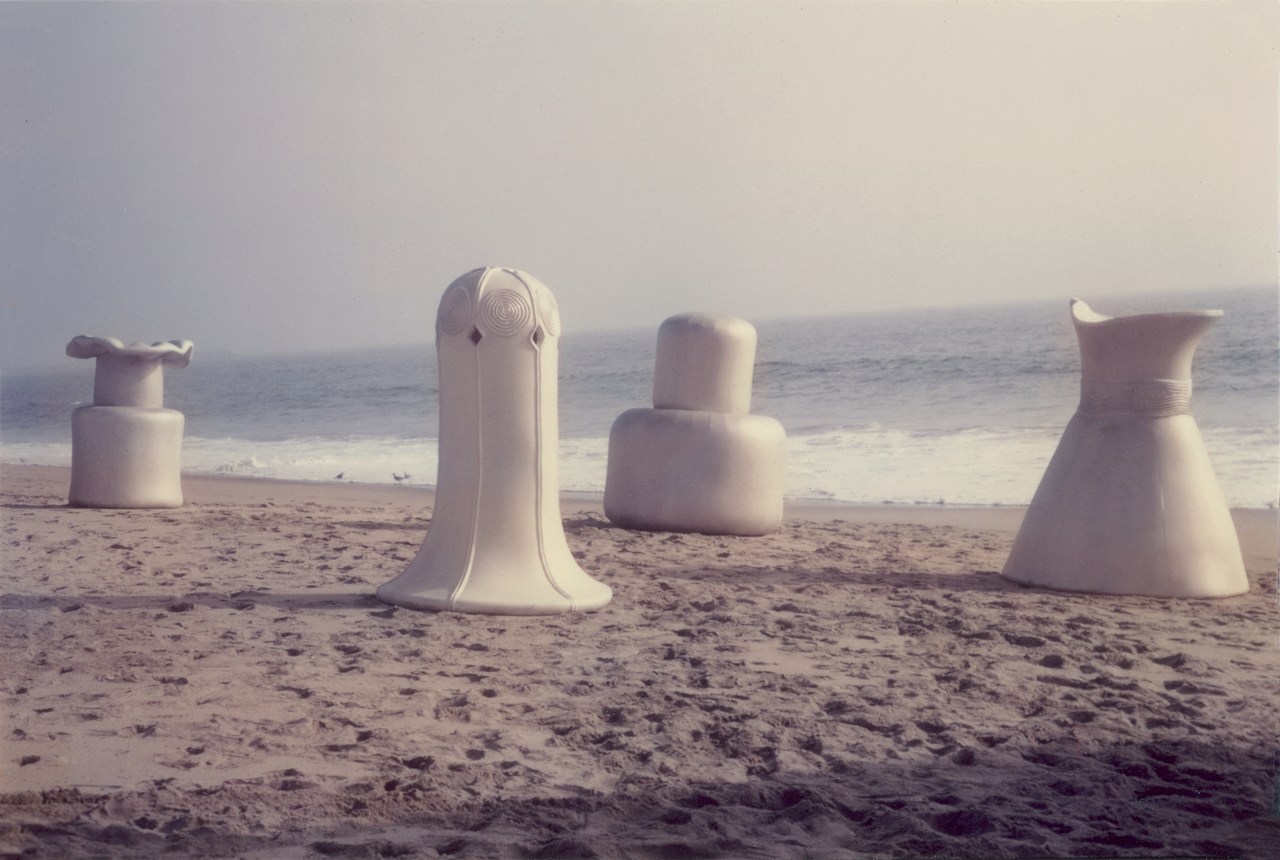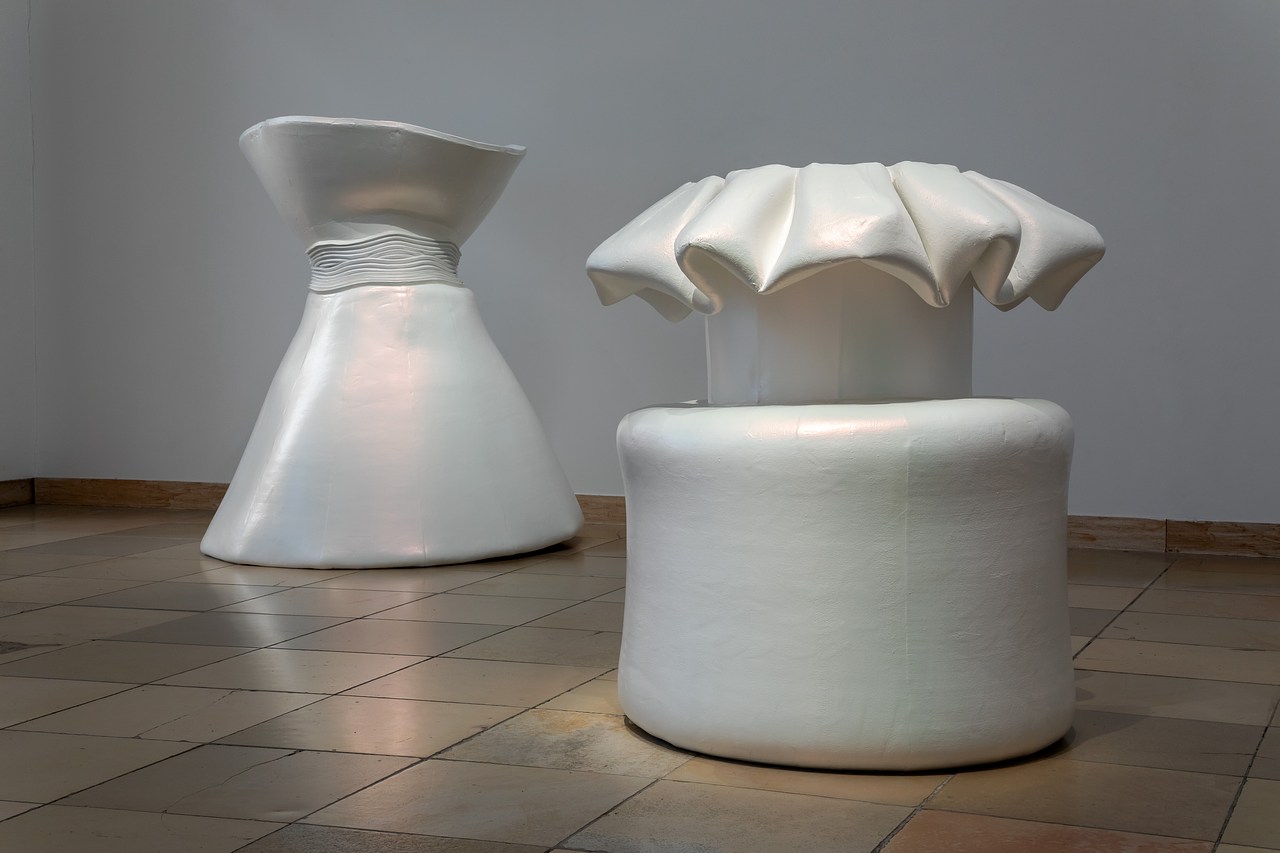 Heidi Bucher, Metamorphoses, Haus der Kunst, curated by Jana Baumann, September 17, 2021–February 13, 2022, from top: Grande Albergo Brissago (Entrance Portal), 1987, photograph by Markus Tretter, © the Collection of Jill and Peter Kraus; Bucher during the skinning process of Gentlemen's Study, 1987 (2), photographs by Hans Peter Siffert, images © the Estate of Heidi Bucher; installation view with (left) Rescue of the Skin Oceanic, 1981, and Untitled, 1986, photograph by Tretter, image © Kunstsammlung Kanton, Zürich; installation view with (right) Libellenlust (Costume), 1976, © the Estate of Heidi Bucher; Bodyshells, 1972, video still, Venice Beach; Bodyshells installation view; Skin Room (Rick's Nursery, Lindgut Winterthur), 1987, Migros Museum, photograph by Stefan Altenburger Photography, Zürich.