On the occasion of the publication of PARIS LA 17—CHANGE AGENTS (2021–2022): An intermittent, open-ended, alphabetical Reading List, expanding on the artists, works, and concepts raised in the print issue.
Pacita Abad — A Passion to Paint: The Colorful World of Pacita Abad. By Jack Garrity. Singapore: Pacita Abad Books, 2005.
Lida Abdul — Lida Abdul. Turin: Hopefulmonster, 2009.
Elizabeth Abel and Emily K. Abel — The Signs Reader: Women, Gender and Scholarship. Edited by Abel and Abel. Chicago: University of Chicago Press, 1993.
Nina Chanel Abney — Royal Flush. Edited by Marshall N. Price. Durham, NC: Nasher Museum of Art at Duke University, 2017.
Marina Abramović — Writings 1960–2014. Cologne: Walther König, 2018.
Tomma Abts — Tomma Abts. Edited by James Rondeau and Lekha Hileman Waitoller. Chicago: Art Institute of Chicago, 2018.
Carla Accardi — Carla Accardi. Edited by Germano Celant. Milan: Charta, 2001.
— Interview by Achille Bonito Oliva (2005). In Encyclopaedia of the Word: Artist Dialogues 1968–2008. Milan: Skira, 2010.
— Contexts. Edited by Maria Grazia Messina and Anna Maria Montaldo. Milan: Electa, 2020.
Kathy Acker — Hannibal Lecter, My Father. Edited by Sylvère Lotringer. Los Angeles: Semiotext(e), 1991.
Kathy Acker and McKenzie Wark — I'm Very Into You: Correspondence 1995–1996. Edited by Matias Viegener. South Pasadena, CA: Semiotext(e), 2015.
Parveen Adams and Elizabeth Cowie — The Woman in Question: m/f. Cambridge, MA: MIT Press, 1990.
Kemi Adeyemi — "The Practice of Slowness: Black Queer Women and the Right to the City." GLQ 25, no. 4 (October 2019).
Ruth Adler Schnee — Modern Designs for Living. Edited by Andrew Blauvelt and Ian Gabriel Wilson. Bloomfield Hills, MI: Cranbrook Art Museum, 2020.
Etel Adnan — "On Perception: Etel Adnan's Visual Art." By Simone Fattal. In Etel Adnan: Critical Essays on the Arab-American Writer and Artist. Edited by Lisa Suhair Majaj and Amal Amireh. Jefferson, NC: McFarland & Company, 2002.
 — Shifting the Silence. Brooklyn: Nightboat Books, 2020.
Etel Adnan, Simone Fattal and Bob Wilson — Garden of Memory. Edited by Mouna Mekouar. London: Koenig, 2018.
Hilma af Klint — The Complete Catalogue Raisonné. Edited by Kurt Almqvist and Daniel Birnbaum. Stockholm: Bokförlaget Stolpe, 2021.
Laura Aguilar — "The Plush View: Makeshift Sexualities and Laura Aguilar's Forbidden Archives." By Macarena Gómez-Barris. In Axis Mundo: Queer Networks in Chicano L.A. Los Angeles: ONE National Gay & Lesbian Archives at the USC Libraries; Munich: DelMonico / Prestel, 2017.
Chantal Akerman — Interview by Élisabeth Lebovici. Mousse 31 (December-January, 2011–2012).
— My Mother Laughs. Translated by Corina Copp. Brooklyn: Song Cave, 2019.
— Nothing Happens: Chantel Akerman's Hyperrealist Everyday. By Ivone Margulies. Durham, NC: Duke University Press, 1996.
— "Beside Chantal Akerman's NOW." Special issue, Moving Image Review & Art Journal 8, nos. 1–2 (2019).
Njideka Akunyili Crosby — Predecessors. Edited by Ian Berry and Steven Matijcio. Cincinnati: Contemporary Arts Center, 2019.
Anni Albers — Anni Albers. Edited by Ann Coxon, Briony Fer, and Maria Müller-Schareck. London: Tate; New Haven, CT: Yale University Press, 2018.
Lita Albuquerque — Stellar Axis: New York: Skira Rizzoli, 2014.
Laura Aldridge — Things That Soak You. Milan: Mousse Publishing, 2021.
Neda Al-Hilali — Selected Works: 1968–1985. Los Angeles: Los Angeles Municipal Art Gallery, 1985.
Theodora Allen — Saturnine. Edited by Stephanie Cristello. Geneva: Motto Books, 2021.
Patricia Allmer — Intersections: Women Artists, Surrealism, Modernism. Edited by Allmer. Manchester: Manchester University Press, 2016.
Hilton Als — Alice Neel, Uptown. New York: David Zwirner; London: Victoria Miro, 2017.
Susanne Altmann, Katarina Lozo, and Hilke Wagner — The Medea Insurrection: Radical Women Artists Behind the Iron Curtain. Edited by Altmann, Lozo, and Wagner. Cologne: Walther König, 2019.
Maria Alyokhina — Riot Days. New York: Metropolitan Books, 2017.
Ruby Onyinyechi Amanze — How To Be Enough. Text by Mario Diacono. Milan: Mousse Publishing, 2021.
Ruby Onyinyechi Amanze and Wura-Natasha Ogunji — "Just a Note: Artist to Artist." Bomb 149 (Fall 2019).
Emma Amos — Color Odyssey. Edited by Shawnya Harris. Athens: Georgia Museum of Art, 2021.
Rhea Anastas and Michael Brenson — Witness to Her Art. Edited by Anastas and Brenson. Annandale-on-Hudson, NY: Bard College, 2006.
Laurie Anderson — All the Things I Lost in the Flood. New York: Rizzoli Electa, 2018.
Andrea Andersson — Hinge Pictures: Eight Women Artists Occupy the Third Dimension. Edited by Andersson, essay by Alex Klein. Catskill, NY: Siglio, 2018.
Carina Seth Andersson — Work. Stockholm: The Studio, 2022.
Mamma Andersson — Memory Banks. Edited by Kevin Moore. Bologna: Damiani, 2018.
— The Lost Paradise. Text by Karl Ove Knausgård. New York: David Zwirner Books, 2021.
Eleanor Antin — Multiple Occupancy: Eleanor Antin's "Selves."  Edited by Emily Liebert. New York: Miriam and Ira D. Wallach Art Gallery, Columbia University Press, 2014.
Janine Antoni, Anna Halprin, and Stephen Petronio — Ally. Edited by Adrian Heathfield. Philadelphia: Fabric Workshop and Museum; Munich: Hirmer, 2017.
Leonor Antunes — A seam, a surface, a hinge, or a knot. Edited by João Ribas. Berlin: Sternberg Press, 2019.
Ida Applebroog — Angry Birds of America. Vienna: Verlag für Moderne Kunst, 2019.
Diane Arbus — Revelations. New York: Random House, 2003.
Penny Arcade — Bad Reputation: Performances, Essays, Interviews. Los Angeles: Semiotext(e), 2009.
Elise Archias — The Concrete Body: Yvonne Rainer, Carolee Schneemann, Vito Acconci. New Haven, CT: Yale University Press, 2016.
Carol Armstrong and Catherine de Zegher — Women Artists at the Millennium. Edited by Armstrong and de Zegher. Cambridge, MA: MIT Press, 2006.
Eve Arnold, Abigail Heyman, and Susan Meiselas — Unretouched Women: Femmes à l'oeuvre, femmes à l'épreuve. Edited by Clara Bouveresse. Arles: Actes Sud, 2019.
Ruth Asawa — Ruth Asawa. New York: David Zwirner, 2018.
 — Ruth Asawa: Life's Work. Edited by Tamara H. Schenkenberg. St. Louis: Pulitzer Arts Foundation; New Haven, CT: Yale University Press, 2019.
Oreet Ashery — How We Die Is How We Live Only More So. Milan: Mousse Publishing, 2020.
Tauba Auerbach — S v Z. Edited by Joseph Becker and Jenny Gheith. San Francisco: San Francisco Museum of Modern Art; New York, D.A.P., 2020.
Julie Ault — In Part: Writings by Julie Ault. Edited by Ault and Nicolas Linnert. Brooklyn: Dancing Foxes Press; Cologne: Galerie Buchholz, 2017.
Alice Aycock — Sculpture and Projects. By Robert Hobbs. Cambridge, MA: MIT Press, 2005.
Helène Aylon — Whatever is Contained Must Be Released: My Jewish Orthodox Girlhood, My Life as a Feminist Artist. New York: The Feminist Press, 2012.
Belkis Ayón — Nkame. Catalogue Raisonné. Edited by Cristina Vives. Madrid: Turner, 2010.
— Behind the Veil of a Myth. By Cristina Vives. Houston: Station Museum of Contemporary Art, 2018.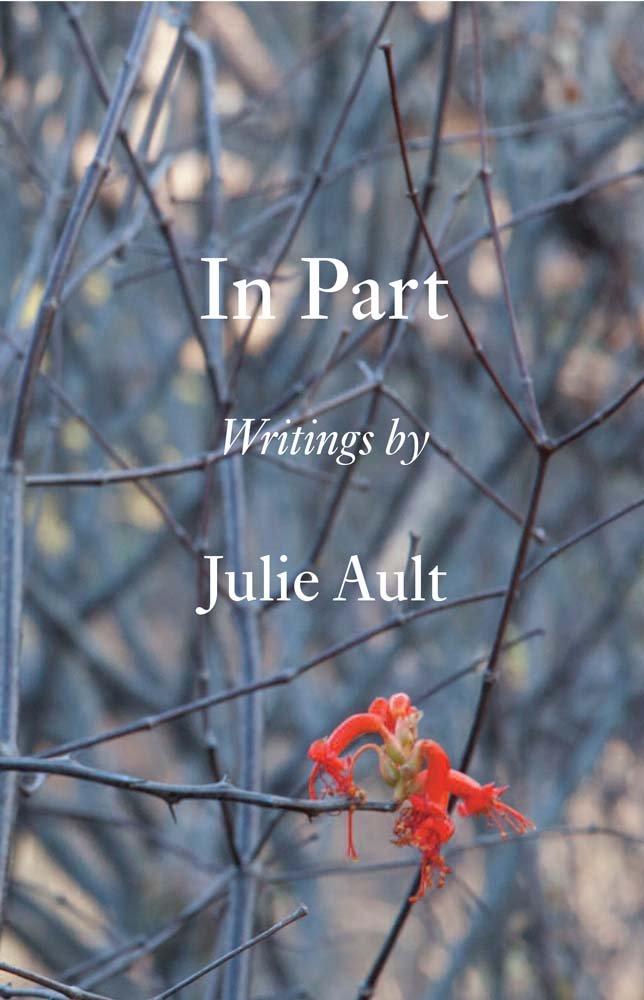 From top: Leonor Antunes, Discrepancies with M.G., 2011, brass, nylon rope, cork, rubber, installation view, Museo Experimental el Eco, Mexico City, 2011, image © Leonor Antunes, courtesy of the artist and kurimanzutto; Julie Ault, In Part: Writings by Julie Ault (2017), image courtesy and © Dancing Foxes Press and Galerie Buchholz.