On the occasion of the publication of PARIS LA 17—CHANGE AGENTS (2021–2022): An intermittent, open-ended, alphabetical Reading List, expanding on the artists, works, and concepts raised in the print issue.
Suzi Gablik — Has Modernism Failed? Revised edition. London: Thames & Hudson, 2004.
Mary Gabriel — Ninth Street Women—Lee Krasner, Elaine de Kooning, Grace Hartigan, Joan Mitchell, and Helen Frankenthaler: Five Painters and the Movement That Changed Modern Art. New York: Little, Brown, 2018.
Ellen Gallagher — Murmur, Orbis. Edinburgh: Fruitmarket Gallery; Zürich: Hauser & Wirth, 2005.
— Accidental Records. Zürich: Hauser & Wirth, 2018.
Ellen Gallagher and Edgar Cleijne — A law… a blueprint… a scale. Texts by Philip Hoare, Sun Ra, and Helen Scales. Milan: Mousse Publishing; Santander, Spain: Centro Botin, 2022.
Dora García — Rooms, Conversations. Berlin: Jovis, 2008.
Gego — Thinking the Line: Gego 1957–1988. Edited by Nadja Rottner and Peter Weibel. Berlin: Hatje Cantz, 2006.
— The Architecture of an Artist. Edited by Ulrike Groos, Philip Kurz, and Stefanie Reisinger. Leipzig: Spector Books, 2022.
Lynne Golob Gelfman — Grids. Texts by Tobias Ostrander & Barry Schwabsky. Miami: Pérez Art Museum, 2018.
Artemisia Gentileschi — Artemisia. Edited by Letizia Treves. London: National Gallery, 2020.
— Artemisia Gentileschi and Feminism in Early Modern Europe. By Mary D. Garrard. London: Reaktion Books, 2020.
— By Her Hand: Artemisia Gentileschi and Women Artists in Italy, 1500–1800. Edited by Eve Straussman-Pflanzer and Oliver Tostmann. Detroit: Detroit Institute of Arts, 2021.
Cecilia Gentili — Faltas: Letters to Everyone in My Hometown Who Isn't My Rapist. Brooklyn: LittlePuss Press, 2022.
Isa Genzken — Retrospective. New York: Museum of Modern Art, 2013.
— Isa Genzken: Sculpture as World Receiver. By Lisa Lee. Chicago: University of Chicago Press, 2017.
— Works from 1973 to 1983. Edited by Søren Grammel. Basel: Kunstmuseum Basel; Düsseldorf: Kunstsammlung Nordrhein-Westfalen, 2021.
Andrea Geyer — Dancing in a Future with All Present. Edited by Alhena Katsof, Karen Kelly, and Barbara Schroeder. Brooklyn: Dancing Foxes Press; Portland, OR: Portland Institute of Contemporary Art, 2019.
Elsi Giauque — Wall Hangings. Edited by Mildred Constantine and Jack Lenor Larsen. New York: Museum of Modern Art, 1969.
Beatrice Gibson — Deux Soeurs. Edited by Axel Wieder. Bergen: Bergen Kunsthall; Berlin: Sternberg Press, 2020.
Simryn Gill — Here Art Grows on Trees. Edited by Catherine de Zegher. Ghent: MER. Paper Kunsthalle, 2013.
— "Making to Place: Simryn Gill." By Brian Massumi. In Architectures of the Unforeseen: Essays in the Occurent Arts. Minneapolis: University of Minnesota Press, 2019.
Jules Gill-Peterson — Histories of the Transgender Child. Minneapolis: University of Minnesota Press, 2018.
Madeline Gins —The Saddest Thing is That I Have Had to Use Words. Edited by Lucy Ives. Catskill, NY: Siglio, 2020.
Massimiliano Gioni — The Great Mother: Women, Maternity, and Power in Art and Visual Culture, 1900–2015. Milan: Skira, 2016.
Renee Gladman and Fred Moten — One Long Black Sentence. Ithaca, NY: Image Text Ithaca Press, 2020.
Ariel Goldberg — The Estrangement Principle. New York: Nightboat Press, 2016.
Nan Goldin — I'll Be Your Mirror. Edited by Goldin, David Armstrong, and Hans Werner Holzwarth. New York: Whitney Museum of American Art; Zürich: Scalo, 1996.
— "The Ballad of Nan Goldin: A Conversation with Darryl Pinckney." Aperture 239 (Summer 2020).
Sara Gómez — The Cinema of Sara Gómez: Reframing Revolution. Edited by Susan Lord and María Caridad Cumaná, with Víctor Fowler Calzada. Bloomington: Indiana University Press, 2021.
Beatriz González — A Retrospective. By Tobias Ostrander and Mari Carmen Ramírez. Houston: Museum of Fine Arts; Miami: Pérez Art Museum, 2019.
Dominique Gonzalez-Foerster — Dominique Gonzalez-Foerster and Hans Ulrich Obrist: The Conversation Series 12. Cologne: Walther König, 2008.
Kim Gordon — Is It My Body?: Selected Texts. Berlin: Sternberg Press, 2014.
— No Icon. New York: Rizzoli, 2020.
Kim Gordon and Carrie Brownstein — "No Retirement Plan." Interview by Dorothée Perret. PARIS LA 15 (Spring 2017).
Sheela Gowda — Making. Madrid: La Fabrica, 2020.
Michelle Grabner — Michelle Grabner. Edited by Barry Blinderman. Normal: University Galleries of Illinois State University, 2007.
Elsa Gramcko — The Invisible Plot of Things. Edited by Gabriela Rangel. Texts by Aruna D'Souza, Luis Felipe Farías, and Rangel. Interview by Miguel Miguel and Margot Römer. New York: James Cohan; Houston: Sicardi Ayers Bacino, 2023.
Catherine Grant — A Time of One's Own: Histories of Feminism in Contemporary Art. Durham, NC: Duke University Press, 2022.
Eileen Gray — Eileen Gray. Edited by Cloé Pitiot and Nina Stritzler-Levine. New York: Bard Graduate Center; New Haven, CT: Yale University Press, 2020.
Denise Green — Denise Green: An Artist's Odyssey. Minneapolis: University of Minnesota Press, 2012.
Renée Green — Other Planes of There: Selected Writings. Durham, NC: Duke University Press, 2014.
— Pacing. Cambridge, MA: Carpenter Center for the Visual Arts, Harvard University, 2021.
— Inevitable Distances. Edited by Mason Leaver-Yap. Texts by Kathrin Bentele, Howie Chen, Emma Hedditch, Katherine McKittrick, Taylor Le Melle, Ima-Abasi Okon, and Green. Berlin: DAAD Artists-in-Berlin Program; Hatje Cantz; KW Institute for Contemporary Art; Zürich: Migros Museum, 2022.
Germaine Greer — The Obstacle Race: The Fortunes of Women Painters and Their Work. New York: Farrar, Straus & Giroux, 1979.
Farah Jasmine Griffin — Harlem Nocturne: Women Artists and Progressive Politics During World War II. New York: Basic Civitas, 2013.
Katharina Grosse — Studio Paintings, 1988–2022: Returns, Revisions, Inventions. Edited by Sabine Eckmann. Texts by Graham Bader, Stephan Berg, Kathleen Bühler, and Gregory H. Williams. Interview by Eckmann. Berlin: Hatje Cantz; St. Louis: Mildred Lane Kemper Art Museum, 2022.
Bettina Grossman — Bettina. Edited by Yto Barrada and Gregor Huber. Texts by Ruba Katrib, Antonia Pocock, and Barrada. New York: Aperture; Paris: Éditions Xavier Barral, 2022.
Guerrilla Girls — The Art of Behaving Badly. San Francisco: Chronicle Books, 2020.
Catherine Gund — Interview by Thyrza Nichols Goodeve. Brooklyn Rail, November 2020.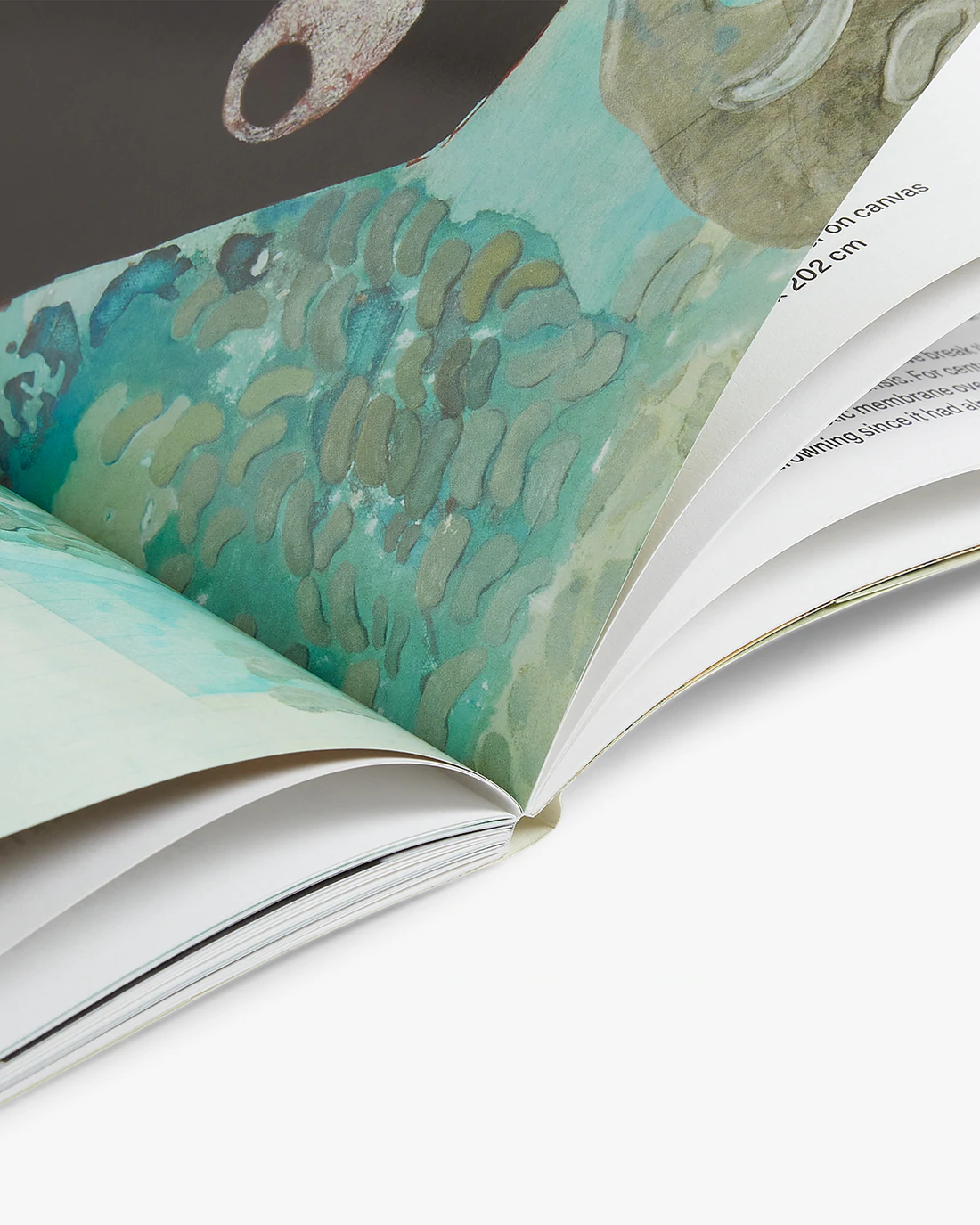 Ellen Gallagher, Accidental Records (2), images © Ellen Gallagher and Hauser & Wirth, courtesy of the artist and the gallery.