On the occasion of the publication of PARIS LA 17—CHANGE AGENTS (2021–2022): An intermittent, open-ended, alphabetical Reading List, expanding on the artists, works, and concepts raised in the print issue.
Suzi Gablik — Has Modernism Failed? Revised edition. London: Thames & Hudson, 2004.
Mary Gabriel — Ninth Street Women—Lee Krasner, Elaine de Kooning, Grace Hartigan, Joan Mitchell, and Helen Frankenthaler: Five Painters and the Movement That Changed Modern Art. New York: Little, Brown, 2018.
Louisa Gagliardi — Louisa Gagliardi. Text by Simon Castets. Interview by Mitchell Anderson. Geneva: JRP Editions, 2023.
Ellen Gallagher — Murmur, Orbis. Edinburgh: Fruitmarket Gallery; Zürich: Hauser & Wirth, 2005.
— Accidental Records. Zürich: Hauser & Wirth, 2018.
Ellen Gallagher and Edgar Cleijne — A law… a blueprint… a scale. Texts by Philip Hoare, Sun Ra, and Helen Scales. Milan: Mousse Publishing; Santander, Spain: Centro Botin, 2022.
Dora García — Rooms, Conversations. Berlin: Jovis, 2008.
Pippa Garner — Act Like You Know Me. Edited by Fiona Alison Duncan and Maurin Dietrich. Texts by Dodie Bellamy, Shola von Reinhold, Duncan, and Garner. Berlin: Bierke, 2023.
Gego — Thinking the Line: Gego 1957–1988. Edited by Nadja Rottner and Peter Weibel. Berlin: Hatje Cantz, 2006.
— The Architecture of an Artist. Edited by Ulrike Groos, Philip Kurz, and Stefanie Reisinger. Leipzig: Spector Books, 2022.
— Measuring Infinity. Edited by Geaninne Gutiérrez-Guimarães and Pablo León de la Barra. Texts by Mónica Amor, Ruth Auerbach, Tanya Barson, Vered Engelhard, Julieta González, Sean Nesselrode Moncada, Luis Pérez-Oramas, Mari Carmen Ramírez, Michael Wellen, Gutiérrez-Guimarães, and León de la Barra. New York: Guggenheim, 2023.
Lynne Golob Gelfman — Grids. Texts by Tobias Ostrander & Barry Schwabsky. Miami: Pérez Art Museum, 2018.
Artemisia Gentileschi — Artemisia. Edited by Letizia Treves. London: National Gallery, 2020.
— Artemisia Gentileschi and Feminism in Early Modern Europe. By Mary D. Garrard. London: Reaktion Books, 2020.
— By Her Hand: Artemisia Gentileschi and Women Artists in Italy, 1500–1800. Edited by Eve Straussman-Pflanzer and Oliver Tostmann. Detroit: Detroit Institute of Arts, 2021.
Cecilia Gentili — Faltas: Letters to Everyone in My Hometown Who Isn't My Rapist. Brooklyn: LittlePuss Press, 2022.
Isa Genzken — Retrospective. New York: Museum of Modern Art, 2013.
— Isa Genzken: Sculpture as World Receiver. By Lisa Lee. Chicago: University of Chicago Press, 2017.
— Works from 1973 to 1983. Edited by Søren Grammel. Basel: Kunstmuseum Basel; Düsseldorf: Kunstsammlung Nordrhein-Westfalen, 2021.
Andrea Geyer — Dancing in a Future with All Present. Edited by Alhena Katsof, Karen Kelly, and Barbara Schroeder. Brooklyn: Dancing Foxes Press; Portland, OR: Portland Institute of Contemporary Art, 2019.
Elsi Giauque — Wall Hangings. Edited by Mildred Constantine and Jack Lenor Larsen. New York: Museum of Modern Art, 1969.
Beatrice Gibson — Deux Soeurs. Edited by Axel Wieder. Bergen: Bergen Kunsthall; Berlin: Sternberg Press, 2020.
Simryn Gill — Here Art Grows on Trees. Edited by Catherine de Zegher. Ghent: MER. Paper Kunsthalle, 2013.
— "Making to Place: Simryn Gill." By Brian Massumi. In Architectures of the Unforeseen: Essays in the Occurent Arts. Minneapolis: University of Minnesota Press, 2019.
Jules Gill-Peterson — Histories of the Transgender Child. Minneapolis: University of Minnesota Press, 2018.
Ruth Wilson Gilmore — Abolition Geography: Essays Towards Liberation. Edited with an introduction by Brenna Bhandar and Alberto Toscano. London: Verso, 2022.
Madeline Gins —The Saddest Thing is That I Have Had to Use Words. Edited by Lucy Ives. Catskill, NY: Siglio, 2020.
Massimiliano Gioni — The Great Mother: Women, Maternity, and Power in Art and Visual Culture, 1900–2015. Milan: Skira, 2016.
Renee Gladman — Prose Architectures. Seattle: Wave Books, 2017.
Renee Gladman and Fred Moten — One Long Black Sentence. Ithaca, NY: Image Text Ithaca Press, 2020.
Michaela Gleave — The influence of an idea on the physical properties of the world. Edited by Mark Gowing. Texts by Anna Briers, Edward Colless, and Naomi Riddle. Interview by Annika Kristensen. Sydney: Formist, 2022.
Mark Godfrey and Katy Siegel — Making Their Mark: Art by Women in the Shah Garg Collection. Edited by Mark Godfrey and Katy Siegel. Texts by Daniel Belasco, Glenn Adamson, David J. Getsy, Kirsty Bell, Jessica Bell Brown, Gloria Sutton, Kevin Beasley, Charles Gaines, Lyle Ashton Harris, Jacqueline Humphries, Allison Katz, Helen Marten, Laura Owens, Tschabalala Self, Christina Quarles, Jaune Quick-to-See Smith, Joyce J. Scott, Kay Sekimachi, Mary Weatherford, Aria Dean, Kay WalkingStick, Godfrey, and Siegel. Interview by Godfrey and Siegel. New York: Gregory R. Miller, 2023.
Ariel Goldberg — The Estrangement Principle. New York: Nightboat Press, 2016.
Nan Goldin — The Ballad of Sexual Dependency. New York: Aperture, 1986; reprinted with new afterword, 2021.
— The Other Side. Edited by David Armstrond and Walter Keller. New York: Scalo, 1993; Göttingen: Steidl, 2019.
— Ten Years After. Texts by Guido Costa and Cookie Mueller. New York: Scalo, 1997.
— I'll Be Your Mirror. Edited by Goldin, David Armstrong, and Hans Werner Holzwarth. Texts by James Fenton, Marvin Heiferman, Cookie Mueller, Darryl Pinckney, Lucy Sante, Joachim Sartorius, Elisabeth Sussman, and David Wojnarowicz. Interviews by J. Hoberman, and Walter Keller and Armstrong. New York: Whitney Museum of American Art; Zürich: Scalo, 1996.
— The Devil's Playground. Texts by Nick Cave, Catherine Lampert, Cookie Mueller, and Richard Price. London: Phaidon, 2003.
— The Beautiful Smile. Edited by Walter Keller, Jack Ritchey, and Gerhard Steidl. Göttingen: Steidl, 2007, 2017.
— Diving for Pearls. Texts by Lotte Dinse, Glenn O'Brien, and Goldin. Hannover: Kestner Gesellschaft; Göttingen: Steidl, 2016.
— "The Ballad of Nan Goldin: A Conversation with Darryl Pinckney." Aperture 239 (Summer 2020).
— This Will Not End Well. Edited by Fredrik Liew with Nan Goldin Studio. Texts by Vince Aletti, Thomas Beard, Guido Costa, Marvin Heiferman, Roni Horn, Patrick Radden Keefe, Caitlín R. Kiernan, Gabor Maté, Eileen Myles, Cookie Mueller, Alfred Pacquement, Darryl Pinckney, Rene Ricard, Lucy Sante, Sarah Schulman, Anne Swärd, Hala Wardé, David Wojnarowicz, and Liew. Interview by Andrea Lissoni. Stockholm: Moderna Museet; Göttingen: Steidl, 2022.
Sara Gómez — The Cinema of Sara Gómez: Reframing Revolution. Edited by Susan Lord and María Caridad Cumaná, with Víctor Fowler Calzada. Bloomington: Indiana University Press, 2021.
Beatriz González — A Retrospective. By Tobias Ostrander and Mari Carmen Ramírez. Houston: Museum of Fine Arts; Miami: Pérez Art Museum, 2019.
Dominique Gonzalez-Foerster — Dominique Gonzalez-Foerster and Hans Ulrich Obrist: The Conversation Series 12. Cologne: Walther König, 2008.
Kim Gordon — Is It My Body?: Selected Texts. Berlin: Sternberg Press, 2014.
— No Icon. New York: Rizzoli, 2020.
Kim Gordon and Carrie Brownstein — "No Retirement Plan." Interview by Dorothée Perret. PARIS LA 15 (Spring 2017).
Sheela Gowda — Making. Madrid: La Fabrica, 2020.
Michelle Grabner — Michelle Grabner. Edited by Barry Blinderman. Normal: University Galleries of Illinois State University, 2007.
Elsa Gramcko — The Invisible Plot of Things. Edited by Gabriela Rangel. Texts by Aruna D'Souza, Luis Felipe Farías, and Rangel. Interview by Miguel Miguel and Margot Römer. New York: James Cohan; Houston: Sicardi Ayers Bacino, 2023.
Catherine Grant — A Time of One's Own: Histories of Feminism in Contemporary Art. Durham, NC: Duke University Press, 2022.
Eileen Gray — Eileen Gray. Edited by Cloé Pitiot and Nina Stritzler-Levine. New York: Bard Graduate Center; New Haven, CT: Yale University Press, 2020.
Denise Green — Denise Green: An Artist's Odyssey. Minneapolis: University of Minnesota Press, 2012.
Renée Green — Other Planes of There: Selected Writings. Durham, NC: Duke University Press, 2014.
— Pacing. Cambridge, MA: Carpenter Center for the Visual Arts, Harvard University, 2021.
— Inevitable Distances. Edited by Mason Leaver-Yap. Texts by Kathrin Bentele, Howie Chen, Emma Hedditch, Katherine McKittrick, Taylor Le Melle, Ima-Abasi Okon, and Green. Berlin: DAAD Artists-in-Berlin Program; Hatje Cantz; KW Institute for Contemporary Art; Zürich: Migros Museum, 2022.
Germaine Greer — The Obstacle Race: The Fortunes of Women Painters and Their Work. New York: Farrar, Straus & Giroux, 1979.
Melissa Gregg and Gregory J. Seigworth — The Affect Theory Reader. Edited by Gregg and Seigworth. Texts by Sara Ahmed, Ben Anderson, Lauren Berlant, Lone Bertelsen, Steven D. Brown, Patricia Ticineto Clough, Anna Gibbs, Lawrence Grossberg, Ben Highmore, Brian Massumi, Andrew Murphie, Elspeth Probyn, Kathleen Stewart, Nigel Thrift, Ian Tucker, Megan Watkins, Gregg, and Seigworth. Durham, NC: Duke University Press, 2010.
Farah Jasmine Griffin — Harlem Nocturne: Women Artists and Progressive Politics During World War II. New York: Basic Civitas, 2013.
Katharina Grosse — Studio Paintings, 1988–2022: Returns, Revisions, Inventions. Edited by Sabine Eckmann. Texts by Graham Bader, Stephan Berg, Kathleen Bühler, and Gregory H. Williams. Interview by Eckmann. Berlin: Hatje Cantz; St. Louis: Mildred Lane Kemper Art Museum, 2022.
Bettina Grossman — Bettina. Edited by Yto Barrada and Gregor Huber. Texts by Ruba Katrib, Antonia Pocock, and Barrada. New York: Aperture; Paris: Éditions Xavier Barral, 2022.
Guerrilla Girls — The Art of Behaving Badly. San Francisco: Chronicle Books, 2020.
Catherine Gund — Interview by Thyrza Nichols Goodeve. Brooklyn Rail, November 2020.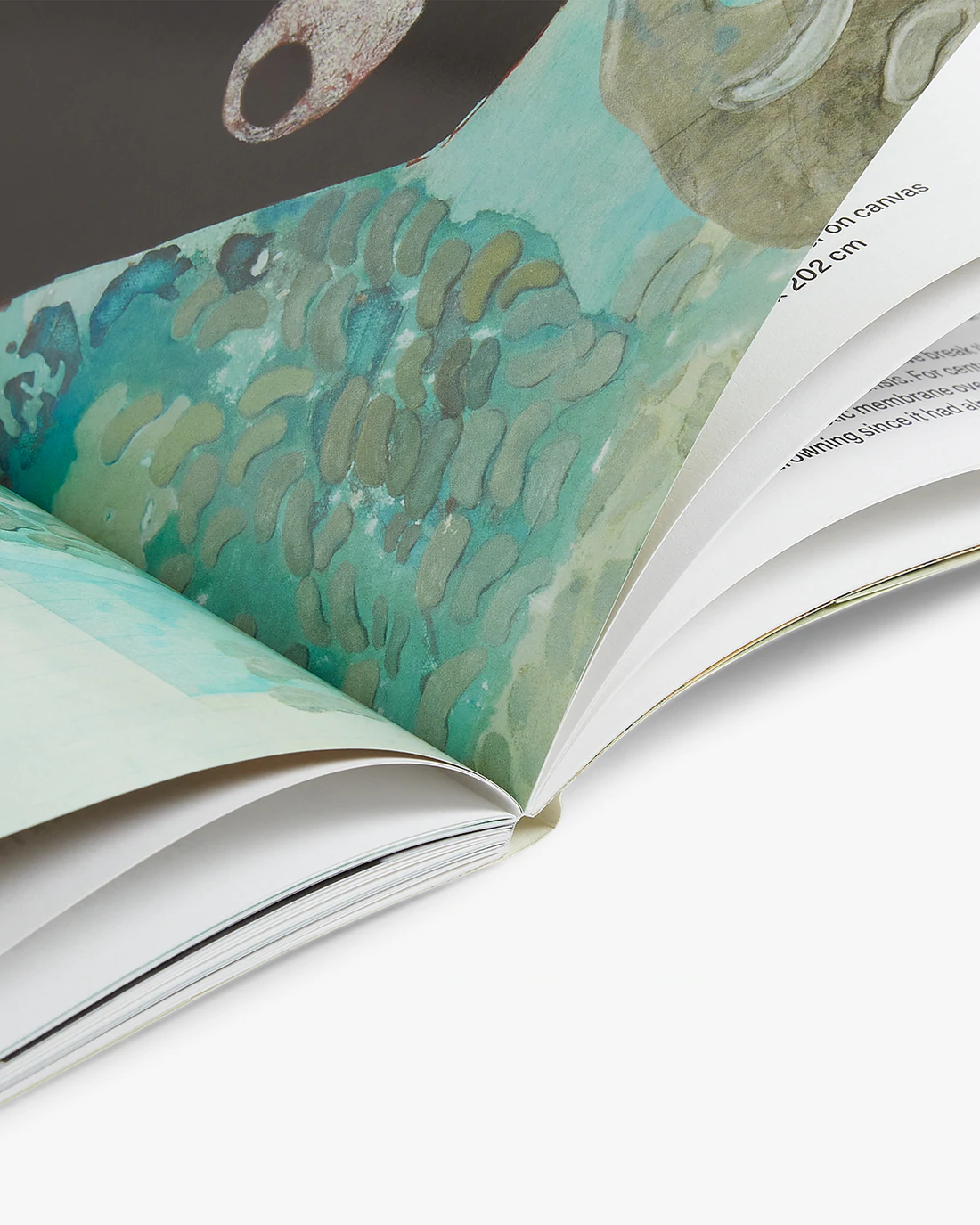 Ellen Gallagher, Accidental Records (2), images © Ellen Gallagher and Hauser & Wirth, courtesy of the artist and the gallery.