On the occasion of the publication of PARIS LA 17—CHANGE AGENTS (2021–2022): An intermittent, open-ended, alphabetical Reading List, expanding on the artists, works, and concepts raised in the print issue.
Dorothy Iannone — You Who Read Me with Passion Now Must Forever Be My Friends. Catskill, NY: Siglio, 2014.
Cristina Iglesias — Hondalea. Edited by James Lingwood. Texts by Penelope Curtis, Carlos Duarte, Russell Ferguson, Asier Hilario, Lisa Le Feuvre, Beñat Sarasola, Manuel Soto, Adolfo Uriarte, and Lingwood. Berlin: Hatje Cantz, 2023.
Anne Imhof — "Headbanging from the Heart." Interview by Lotta Volkova. Interview 524 (March 2019).
Miyoko Ito — A Review. Text by Dennis Adrian. Chicago: Renaissance Society at the University of Chicago, 1980.
Graciela Iturbide — Graciela Iturbide. Mexico City: RM; Madrid Fundación Mapfre, 2019.
— Graciela Iturbide's Mexico. Boston: Museum of Fine Arts, 2019.
— Heliotropo 37. Text by Eduardo Halfon. Paris: Fondation Cartier pour l'Art Contemporain, 2022.
— On Dreams, Symbols, and Imagination. Edited by Mauricio Maillé and Alfonso Morales Carrillo. Texts by Morales Carrillo and Iturbide. New York: Aperture, 2022.
Sanja Iveković — Sweet Violence. Edited by Roxana Marcoci. New York: Museum of Modern Art, 2011.
Suzanne Jackson — Suzanne Jackson: Five Decades. Edited by Rachel Reese. Savannah, GA: Telfair Museums, 2019.
Carol Jacobi — Out of the Cage: The Art of Isabel Rawsthorne. London: Thames and Hudson, 2021.
Qween Jean — Revolution is Love: A Year of Black Trans Liberation. Texts by Joela Rivera, and Mikelle Street, and Jean. Interview with Jean by Raquel Willis. New York: Aperture, 2022.
Consuelo Jimenez Underwood — Art, Weaving, Vision. Edited by Laura E. Pérez and Ann Marie Leimer. Durham, NC: Duke University Press, 2022.
Barbara Johnson — The Barbara Johnson Reader. Edited by Melissa Feuerstein, Bill Johnson González, Lili Porten, and Keja L. Valens. Texts by Judith Butler and Shoshana Felman. Durham, NC: Duke University Press, 2014.
Jill Johnston — The Disintegration of a Critic. Edited by Fiona McGovern, Megan Francis Sullivan, and Axel Wieder. Berlin: Sternberg Press; Bergen, Norway: Bergen Kunsthall, 2019.
Joan Jonas — In the Shadow a Shadow: The Work of Joan Jonas. By Jonas and Joan Simon. New York: Gregory R. Miller; Ostfildern, Germany: Hatje Cantz; Milan: Hangar Bicocca; Malmö: Malmö Konsthall, 2015.
— They Come to Us Without a Word. Texts by Uta Meta Bauer, Paul C. Ha, Ann Reynolds, Marina Warner, and Jonas. Interview by Ingrid Schaffner. New York: Gregory R. Miller, 2015.
— The Shape, the Scent, the Feel of Things: Fifteenth Anniversary Edition. Texts by Lynne Cooke, Jessica Morgan, and Jonas. Conversation with Jason Moran and Jonas. Beacon, NY: Dia Art Foundation, 2022.
— Next Move in a Mirror World. Texts by Barbara Clausen, Adrienne Edwards, Kelly Kivland, André Lepecki, Kristin Poor, and Jeannine Tang. Interviews by Douglas Crimp, Heather Davis, and Zoe Todd. Beacon, NY: Dia Art Foundation, 2022.
— Moving Off the Land. Edited by Uta Meta Bauer. Cologne: Walther König, 2022.
Joan Jonas and Gina Pane — Parallel Practices. Houston: Contemporary Arts Museum, 2014.
Amelia Jones — The Feminism and Visual Culture Reader. Second Edition. Edited by Jones. London: Routledge, 2010.
— In Between Subjects: A Critical Genealogy of Queer Performance. London: Routledge, 2021.
Amelia Jones and Erin Silver — Otherwise: Imagining Queer Feminist Art Histories. Edited by Jones and Silver. Manchester, UK: Manchester University Press, 2015.
Jennie C. Jones — Compilation. Edited by Valerie Cassel Oliver. Texts by Hilton Als, Huey Copeland, and George E. Lewis. New York: Gregory R. Miller, 2016.
 — Constant Structure. Essay by Fred Moten. Chicago: Arts Club of Chicago, 2020.
Kellie Jones — EyeMinded: Living and Writing Contemporary Art. Durham, NC: Duke University Press, 2011.
Rachel Jones — say cheeeeese. Texts by Anaïs Duplan, Ellen Greig, Aïcha Mehrez, Claudia Rankine, and Zoé Whitley. London: Chisenhale Books, 2022.
Cathy Josefowitz — Cathy Josefowitz. Texts by Ludovic Delalande, Rebecca Lamarche-Vadel, and Elise Lammer. Milan: Mousse Publishing, 2020.
Alexandra Juhasz — Women of Vision: Histories in Feminist Film and Video. Edited by Juhasz. Minneapolis: University of Minnesota Press, 2001.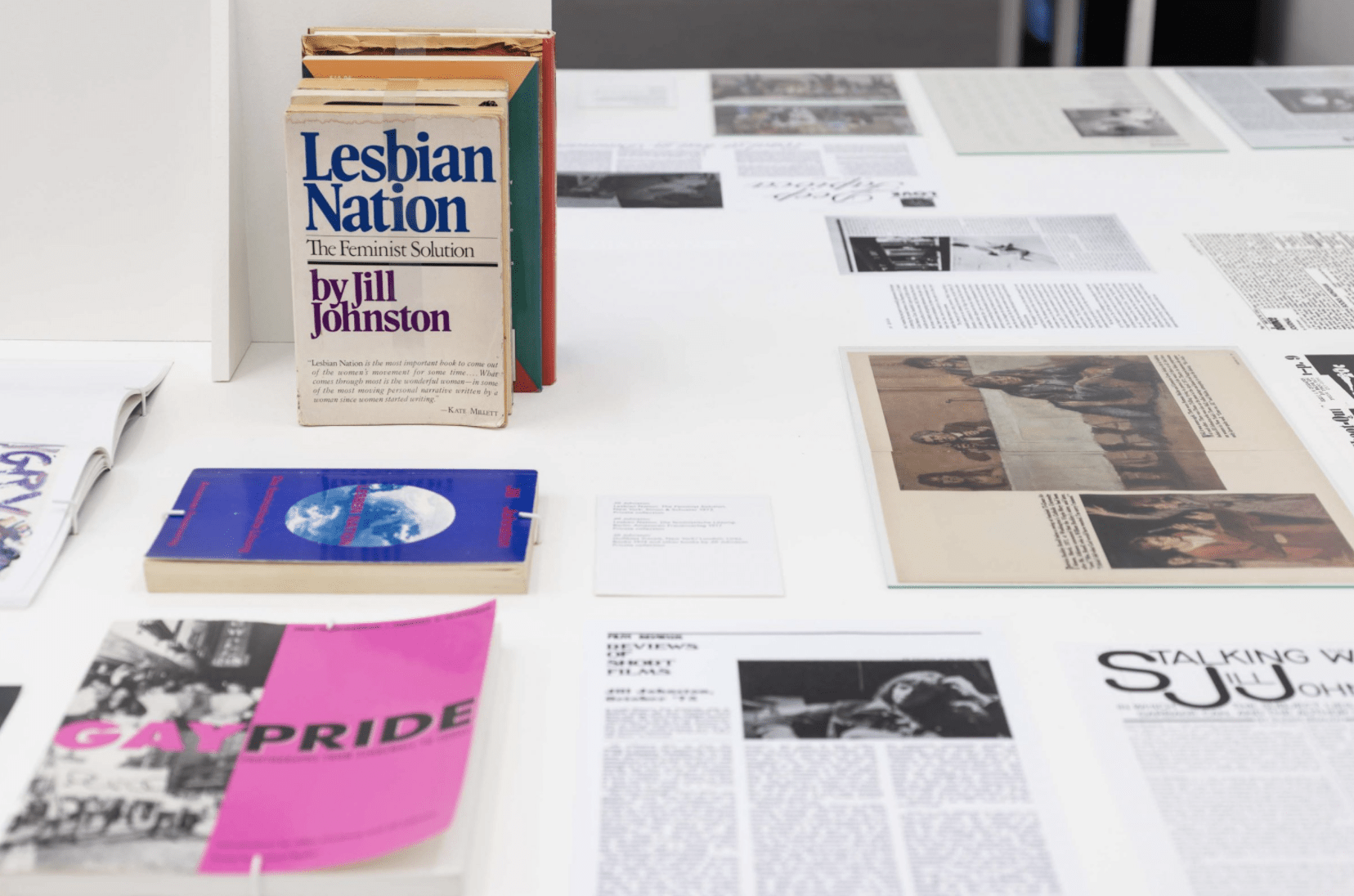 From top: Anne Imhof, Sex (still), 2021, Eliza Douglas, image © Anne Imhof, courtesy of the artist and Galerie Buchholz, Berlin, Cologne, and New York; Jill Johnston: The Disintegration of a Critic, Bergen Kunsthall, 2019, curated by Bergen Kunsthall, Fiona McGovern, and Megan Francis Sullivan, installation view, photograph by Thor Brødreskift, courtesy and © Bergen Kunsthall.