Thinking aloud with others… is an ongoing and even dialectical process, in that it involves allowing oneself to be interpenetrated and transformed while retaining the capacity to differentiate and assert. It does not require that we agree. It requires that we not abandon one another. Using discursive language in service of such a goal is tricky, insofar as discursive language monologues, pretends to know. But thinking aloud is distinct from mere argument, bossiness, or persuasion. It involves examining the hold certain ideas have on us, as individuals, a culture, a subculture, or even a species, and allowing for ventilation, adaptation, and even release, so that we don't become unwittingly shackled to them… — Maggie Nelson*
Nelson—CalArts' 2022 MA Aesthetics and Politics Theorist in Residence and author of On Freedom (2021)—presents the public lecture Thinking Aloud with Others.
This virtual REDCAT event is part of the School of Critical Studies program at CalArts. See link below for details.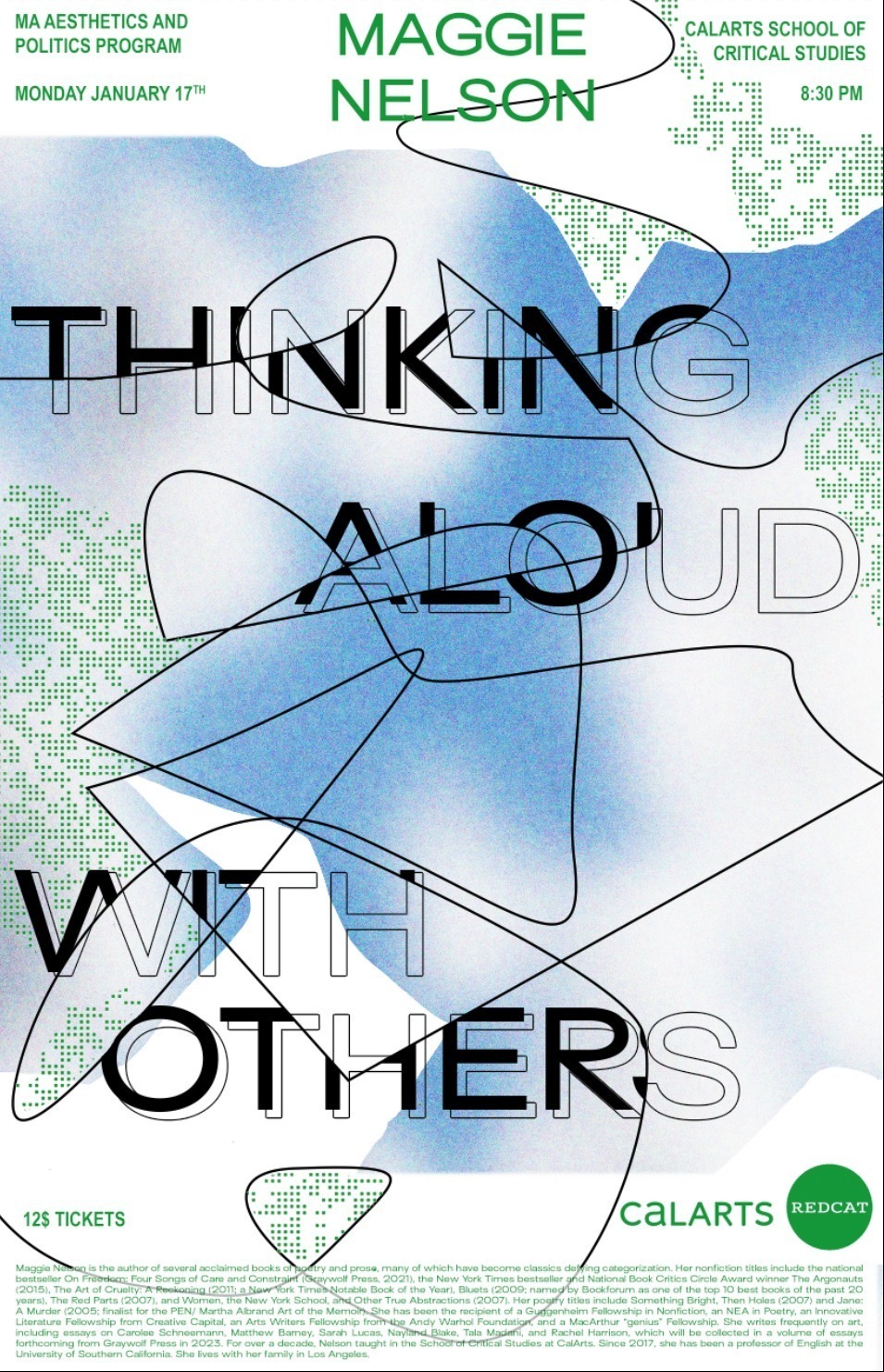 MAGGIE NELSON— THINKING ALOUD WITH OTHERS
REDCAT online
Monday, January 17, at 8:30 pm
*Maggie Nelson, "Afterword," in On Freedom: Four Songs of Care and Constraint (Minneapolis: Graywolf Press, 2021), 216–217.
From top: Maggie Nelson, photograph by Harry Dodge, courtesy and © Dodge; REDCAT event image courtesy and © REDCAT and CalArts; Maggie Nelson, On Freedom: Four Songs of Care and Constraint cover design by Kapo Ng, image courtesy and © Graywolf Press.