And here is my diary, containing the body—the painfullest feeling is that of your own feebleness. — Patricia Highsmith*
In middle age, Highsmith allowed herself to be interviewed on a number of television programs and filmed for several documentaries, typing and smoking at her desk, walking and smoking on the grounds of her rural hideaways in France and Switzerland—a slim, attractively disheveled specter in slacks and sweaters. This Texas ex-patriot always looked miserable, suffering some combination of depression and a daily hangover. Welcoming the company of animals over people, she needed to be alone to write her peerless run of novels that are often filed under "crime" or "thriller" but which remain among the most enduring works of twentieth-century literary fiction—The Blunderer, A Game for the Living, This Sweet Sickness, The Cry of the Owl, The Tremor of Forgery, Found in the Street, the "Ripley" quintet, etc. Despite a lifelong reluctance to inconvenience herself with the presence of others, this problematic writer was a figure of great attraction to a number of young women.
LOVING HIGHSMITH, a new documentary directed by Eva Vitija, brings together a fascinating series of interviews with three of these women—writer Marijane Meaker, teacher and translator Monique Buffet, and legendary Berlin artist and actress Tabea Blumenschein. (There are also interviews with some of Highsmith's Texas relatives, whose presence merely exemplifies what Highsmith needed to escape.) Temperamentally unsuited to sharing anything with anyone beyond what she put on the page, Highsmith's relationships were always short-lived and fraught with drama. As she aged, her self-imposed demand for solitude became more pressing, the drinking got worse, and the need to express a virulent late-in-life anti-Semitism and anti-Black-and-Arab racism became more pronounced.
In addition to the interviews with former lovers, vintage documentary footage and photographs, and a voiceover reading of the author's journals by Gwendoline Christie, LOVING HIGHSMITH features clips from a few of the dozens of films and television episodes made from her books, most of which are adequate without being memorable. But five of them are classics—Stranger on a Train (1951), Carol (2015), and three movies featuring one of her greatest creations and an alter ego of sorts, Tom Ripley: Plein soleil / Purple Noon (1960), The American Friend (1977), and The Talented Mr. Ripley (1999). (And all screening in repertory at the Film Forum.) Read the books, watch the films—Highsmith had nothing to be proud of except the work.
See theater and film links below for screening info.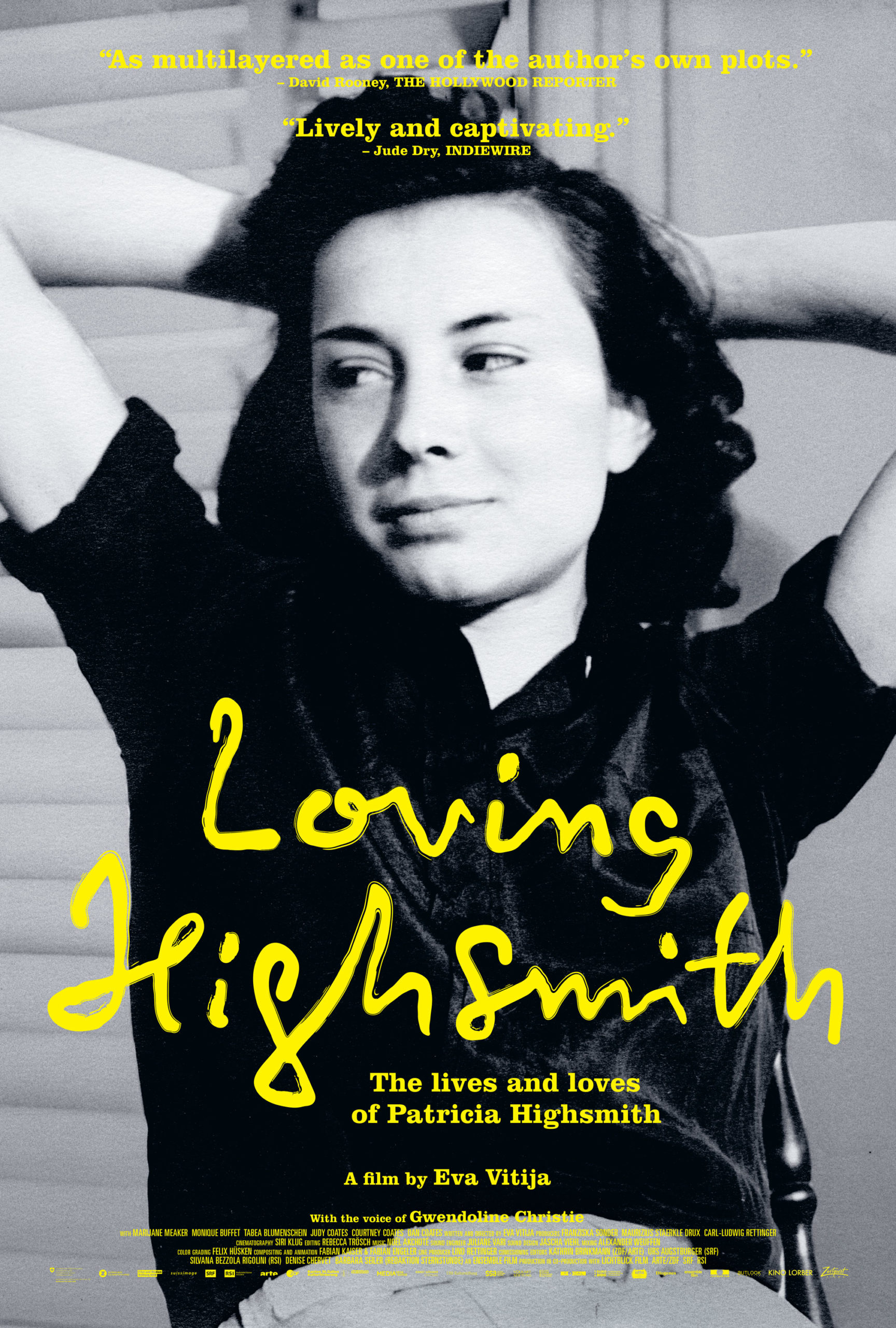 LOVING HIGHSMITH
Directed by Eva Vitija
Now playing
11272 Santa Monica Boulevard, West Los Angeles
209 West Houston Street, New York City
Q & A's with the director on September 2 and 3
Highsmith on Screen series at Film Forum:
Directed by René Clément

Friday, September 2 and 9, and Tuesday, September 6
Sunday, September 11, and Monday, September 12
Wednesday, September 14
Directed by Alfred Hitchcock

Saturday, September 3, and Wednesday, September 7 and 14
Friday, September 9, and Sunday, September 11
Tuesday, September 13
Directed by Wim Wenders

Sunday, September 4 and 11
Saturday, September 10, and Tuesday, September 13
Directed by Anthony Minghella

Monday, September 5 and 12
Saturday, September 10, and Thursday, September 15
Directed by Todd Haynes

Thursday, September 8 and 15
THE AMERICAN FRIEND will also screen in Los Angeles on Thursday, September 22:
American Cinematheque — Los Feliz 3
1822 North Vermont Avenue
*Patricia Highsmith, Her Diaries and Notebooks: 1944–1995, edited by Anna von Planta (New York: W.W. Norton, 2021).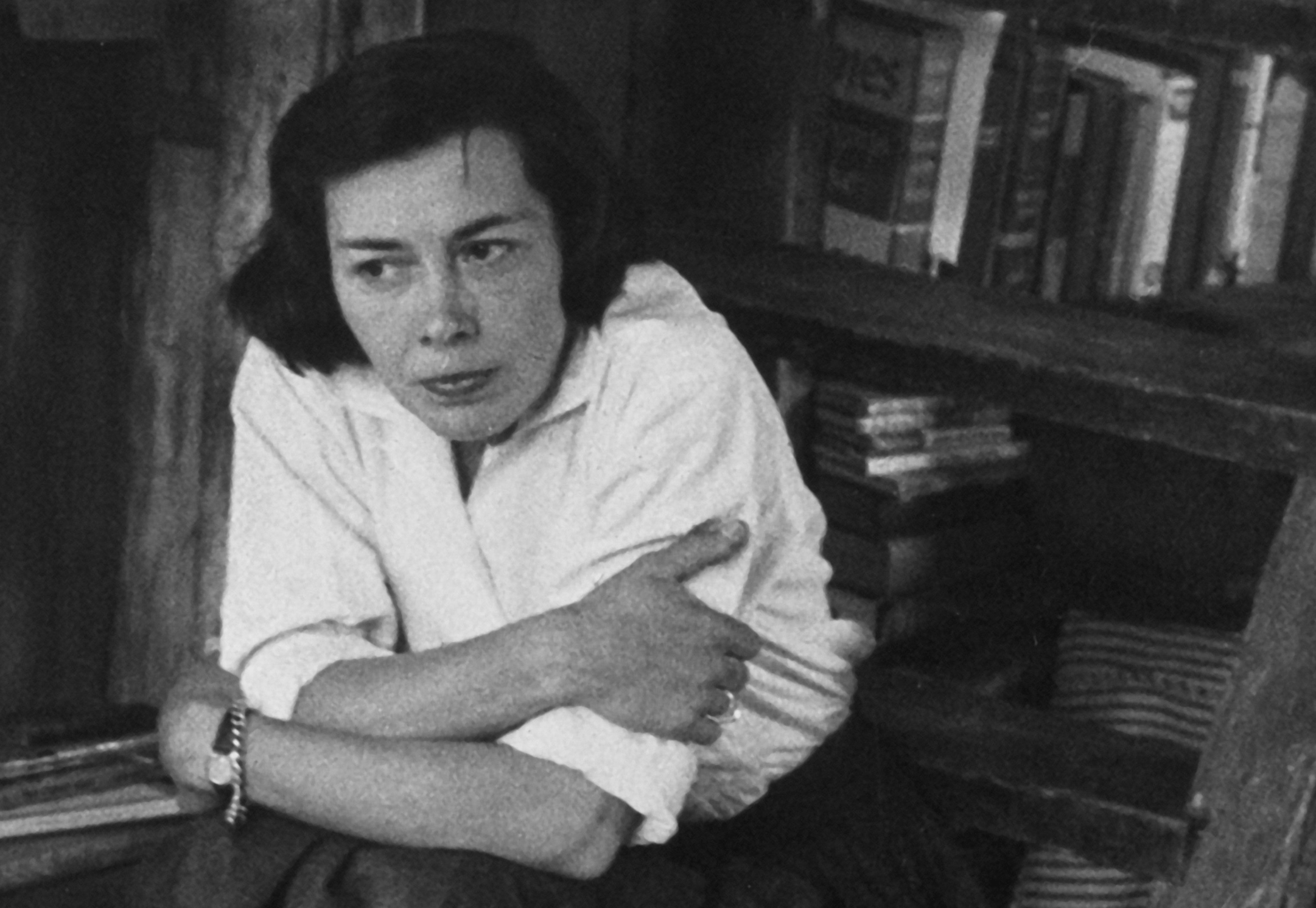 From top: Patricia Highsmith at 21, 1942, Rolf Tietgens © Keith de Lellis; Loving Highsmith: The Lives and Loves of Patricia Highsmith film poster courtesy and © Zeitgeist and Kino Lorber; Highsmith, courtesy The Swiss Literary Archives. Images courtesy Kino Lorber.