Each film is like a new territory. It's good to get lost and choose a path along the way. — Claire Denis*
Alienation, drift, and humidity define Claire Denis' STARS AT NOON, which follows an American activist-journalist at the end of her rope played with great emotional investment by Margaret Qualley. Trapped in a tense if not war-torn Central American country on the eve of an election, Qualley's Trish—a monster of need and desperation—drinks and sleeps with anyone who can help her retrieve her confiscated passport and pay for a plane ticket out. A soldier (Nick Romano) she refers to as "Subteniente Verga"—Second Lieutenant Cock, among other meanings—isn't much help outside of the hotel bedroom, so she latches onto Daniel DeHaven (Joe Alwyn), a mysterious Brit with a vague but possibly sinister brief.
The film risks the kind of "exoticism" written about by Edward Said and others—it's set in Nicaragua but it's not really about any specific incident in its history. Based on the Denis Johnson novel of the same title—which took place during the Sandinista era (1979–1990)—Denis updates the story to the Covid days of 2020. Managua and the surrounding countryside serve as a backdrop for Trish and Daniel as they make their way to the southern border, one step ahead of an OIJ officer (Danny Ramirez)—a Costa Rican cop who works with Interpol—and the CIA (uncannily embodied by Benny Safdie).
So, exactly why the couple has drawn such attention is beside the point. STARS AT NOON is about beautiful, steamy, nothing-to-lose sex and holding on to someone, anyone, when the world is about to end and you're not going to make it home before it does. As Trish says to her lover: "Let's just die here."
See link and info below for streaming details.
Directed by Claire Denis
Streaming on Hulu and on demand
Played in cinemas October 14–20:
Monica Film Center
1332 2nd Street, Santa Monica
Glendale
207 North Maryland Avenue, Glendale
Alamo Drafthouse — The Bloc
700 West 7th Street, downtown Los Angeles
*Anna Marie de la Fuente, "High Life Director Claire Denis Talks in Panama About Shooting Stars at Noon," Variety, December 5, 2021.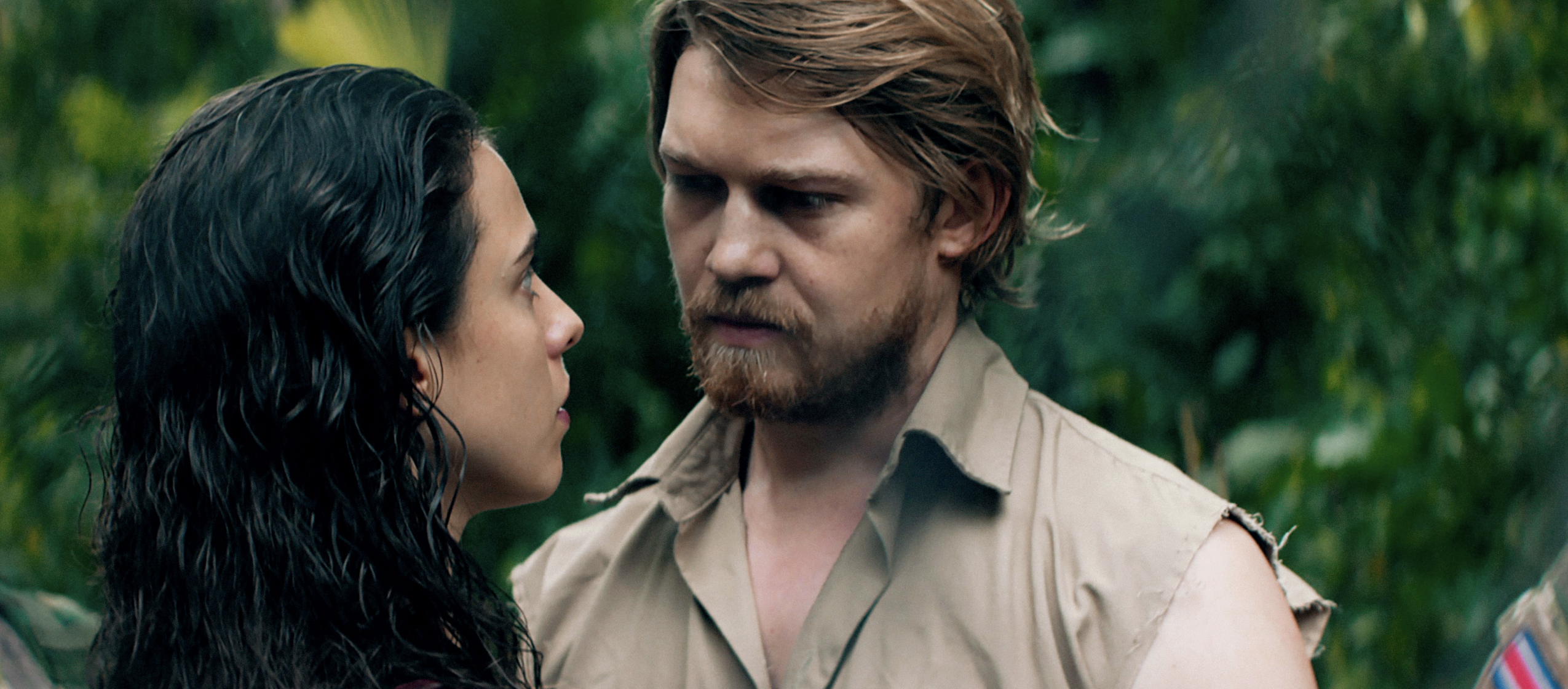 Claire Denis, Stars at Noon (2022), from top: Joe Alwyn and Margaret Qualley; Stars at Noon poster, United States; Qualley and Alwyn. Images courtesy and © A24.