MAKING SOFT SCULPTURE
Martin Laborde in conversation with Dorothée Perret
The French artist Martin Laborde, who co-runs the project space Ampersand in Lisbon, was invited by Acne Studios to conceive a capsule for its current Fall/Winter 2022 collection. Trained as a sculptor, Laborde welcomed the invitation with a series of found images cut and pasted, shifting his practice into soft objects à mi-chemin between art and fashion.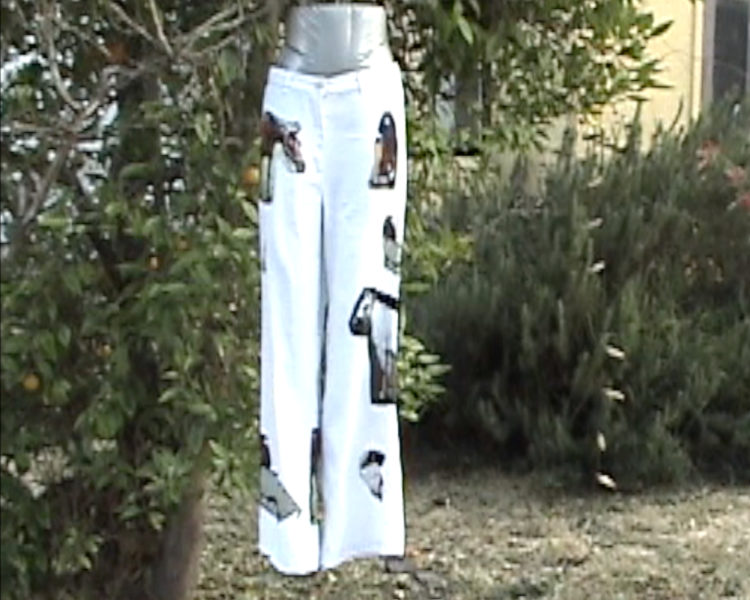 Dorothée Perret:
Can you please tell me how this collaboration came to fruition? Did you receive a carte blanche from Acne to create these prints?
Martin Laborde:
Acne and the work met in Paris, in the summer of 2021, at an exhibition arranged by Baptiste Pinteaux [Martin Laborde—Cheer Up Chicken! at Treize]. The images in that show were made in Rome, where I was living at the time. There was once meant to be a bathtub in this exhibition. Instead, there was a lot of glue, paper, and selected and/or found images. The windows were once meant to be open, but they remained closed. Wayne Koestenbaum wrote two poems to be used as the press release, printed as a poster. So, I got contacted, and got surprised. An open discussion about everything followed, and I suggested a group of approximately sixty works on paper—mostly A4, a few A0. From these Acne selected eight, processing the rest as usual, as imagined, but with real care.
It seems you've stayed faithful with your practice by fragmenting existing elements and assembling them into new objects. How different was working with soft materials such as silk and cotton from your object sculpture?
It's quite a big change. But when looked at as a kind of publishing, it made sense. Things can be published on walls, on the printed page, on fabric. Things can be read, looked at, or ignored. And ignoring is as much an act of editing as cutting something out, deleting it, amending it, copy/pasting it. But it's still necessary to start somewhere. There is already something done, edited, made, produced, whether it gets mediated or left alone. The material is always free to go, to be chosen and used. Shiny lurex, satin, jersey, pointed collars, etc., are not familiar to me, but to see the work working with that, without any mythology, or fidelity, becoming something else—that's really exciting. And again, all of this changes again when someone gets inside the clothes.
What's your take on fashion? Were you drawn by the shape of the clothes or strictly sticking to the composition of the collages as flat images? 
I wasn't really involved in the design process at all, and my sense of fashionistas and taste is very suspicious. But I stay curious and excited. Something was on the road with this project, and that movement weirdly gave me permission to simply stay with one of my daily activities in my studio, as I have for a long time now. And that is a luxury. Blocking something. Masking something else. Making it up as you go along. A lot of bridges could be built anyway. I saw the production at the end of the making process.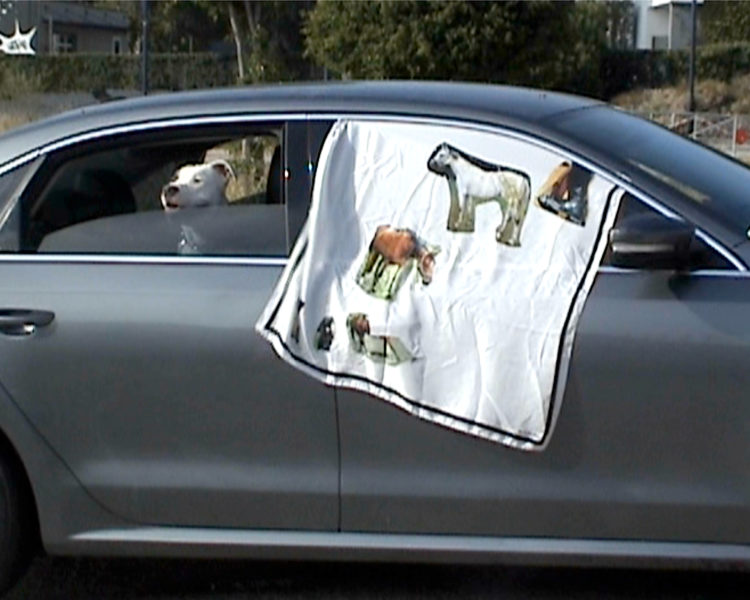 What stories are you shaping using this colorful and symbolic imagery of horses?
Fairy tales are not so much my stuff, but I understand pretty well why Acne chose those guys, and I love it. These works are part of a much larger group, and that's what counts to me. Taking random and accessible materials, 1/1 scale, already edited or pre-digested, that I can play with quickly. Because boredom can set in pretty rapidly. But that's not to say that these things are spontaneous—it's got nothing to do with that either. The main problem is how to keep something useful for tomorrow morning. This small group is taken from two equine teen-magazines from a kiosk at the corner by my studio. The photos were bigger compared to what I harvested from the daily mailbox that day. And it's a daily need for images. There is subjectivity, true, in selecting images, but the photo is not the center for me. There are also marks from cans and tea bags, hair and footprints, and glue marks, on the green dress.
Can you talk about your collaboration with Moni Haworth? Is it the first time you worked together? What's compelling about her work?
I got the chance, thanks to Olivia (Ahre) and Daniel (Lock) at Acne, to look at a selection of directors they had shortlisted for this project, following discussions about what the work was and was not about, and what could work as scenarios. Moni was on this list. I knew already what she and Petra Collins had made. She has a frank way of dealing with feelings, images, narratives, and commercials. I embrace Moni's work. It felt like there could be a complicity. So she said yes. And I was happy. But actually the starting point for all of that process, the videos, was the soundtrack, made by Js Donny, an artist from Marseilles, who we invited. That started everything. The sound came before the images.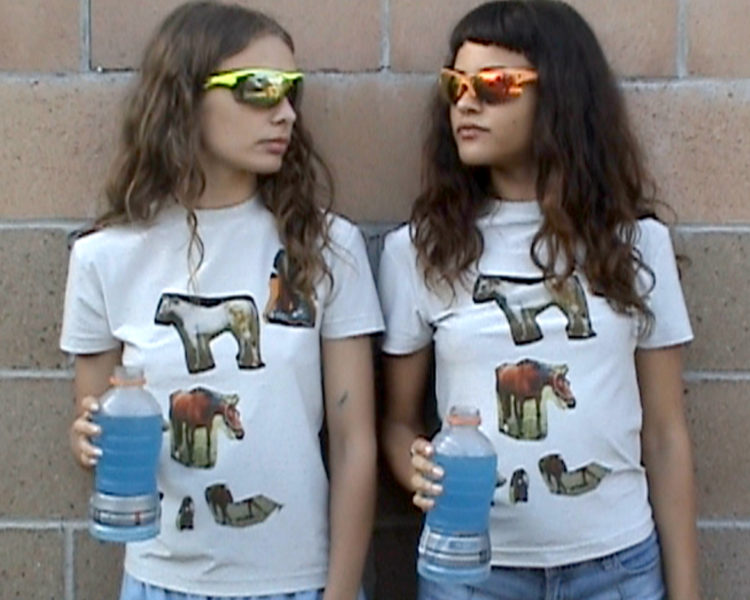 As an artist you've done things in exhibition spaces and publications. How different was it to work with a brand? What aspects of this experience felt similar or different, in this particular capsule?
Whether making works, exhibitions, or publications, it's always a process of addition and subtraction, taking and leaving, take it or leave it. Collaboration happens in all of these things, and the works always find their own way with their own logic. The Acne collection maybe found its own way more independently than some of these other projects. It grew its own feet. It wasn't until seeing the samples that it became clear how my pieces had been used and twisted, and it was refreshing to see how carefully they had been translated—appliqué, foil-printing, smears, patterns. The original works are far from flat or pristine, and it was good to see the clothes being given something of a similar personality.
Did you feel that you were making a product or a work of art while creating these collages?
Everything's always like a carrot on a stick that you hope someone might find delicious.
Video and stills by Moni Haworth © 2022.