Ted Dragon (1921–2011), pianist and dancer-turned-East End salonnière, is a legendary figure in the long history of the Hamptons as an artists' colony amid the mansions of the rich. With his partner—artist, collector, and sugar heir Alfonso Angel Ossorio y Yangco—Dragon turned their Georgica Pond estate into a summer destination and residency for the New York School. Purchased by Ossorio in 1952, the Creeks—which included an in-house theater—hosted Grace Hartigan, Clyfford Still, the de Koonings, Motherwell, Rothko, Franz Kline, Lee Krasner, and Jackson Pollock. In fact, Pollock, blotto, was driving home from the Creeks in August, 1956, when he crashed and overturned his car, killing himself and a female companion.
By this time Dragon's artistic interests had shifted from dancing to interior design—a passion which led him, for a brief period in the late 1950s, to burgle nearby estates for rare furniture he would then restore. As he explained after he was caught, "I just loved beautiful things so much, and sometimes I was appalled at how badly the furniture was being kept." Such was the beloved Dragon's stature in his community that he managed to avoid jail time and instead spent two years in a Connecticut sanatorium.
Portraying both Dragon and Ossorio, the artist and musician Mark Golamco brings this queer history to life in the performance work THE GHOST OF TED DRAGON, onstage for three nights during the final weekend of CalArts/REDCAT's New Original Works Festival 2023. Joined by dancers Kayla Aguila and Aeon Lux (who also sits in on bass), guitarist Allen Bleyle, and pianist and sax player Michael G. Bauer, Golamco performs a selection of original music evoking traditional folk-music storytelling, ballad love songs, and rock and roll. As the artist puts it: "A musician inspired by a painter who loves a dancer and what moves a dancer? Music! [The work] shows this cycle of creativity with the stage as its playground."
Also on the bill for NOW Week Three: Erica Bitton (Vacuum Girl) and Huntrezz Janos and Antigoni Tsagkaropoulou (DENTAXUVIA). See info and link below.
MARK GOLAMCO — THE GHOST OF TED DRAGON
NOW 2023 — Week Three
Thursday, Friday, and Saturday
August 31, September 1 and 2
REDCAT
631 West 2nd Street, downtown Los Angeles
https://www.redcat.org/events/2023/now/week3
See: Gail Levin, Lee Krasner: A Biography (New York: William Morrow, 2011); Irene Silverman, "Ted Dragon, Dancer and Heir to the Creeks, Dead at 90," East Hampton Star, October 6, 2011; and Bob Colacello, "Studios by the Sea," Vanity Fair, January 2000.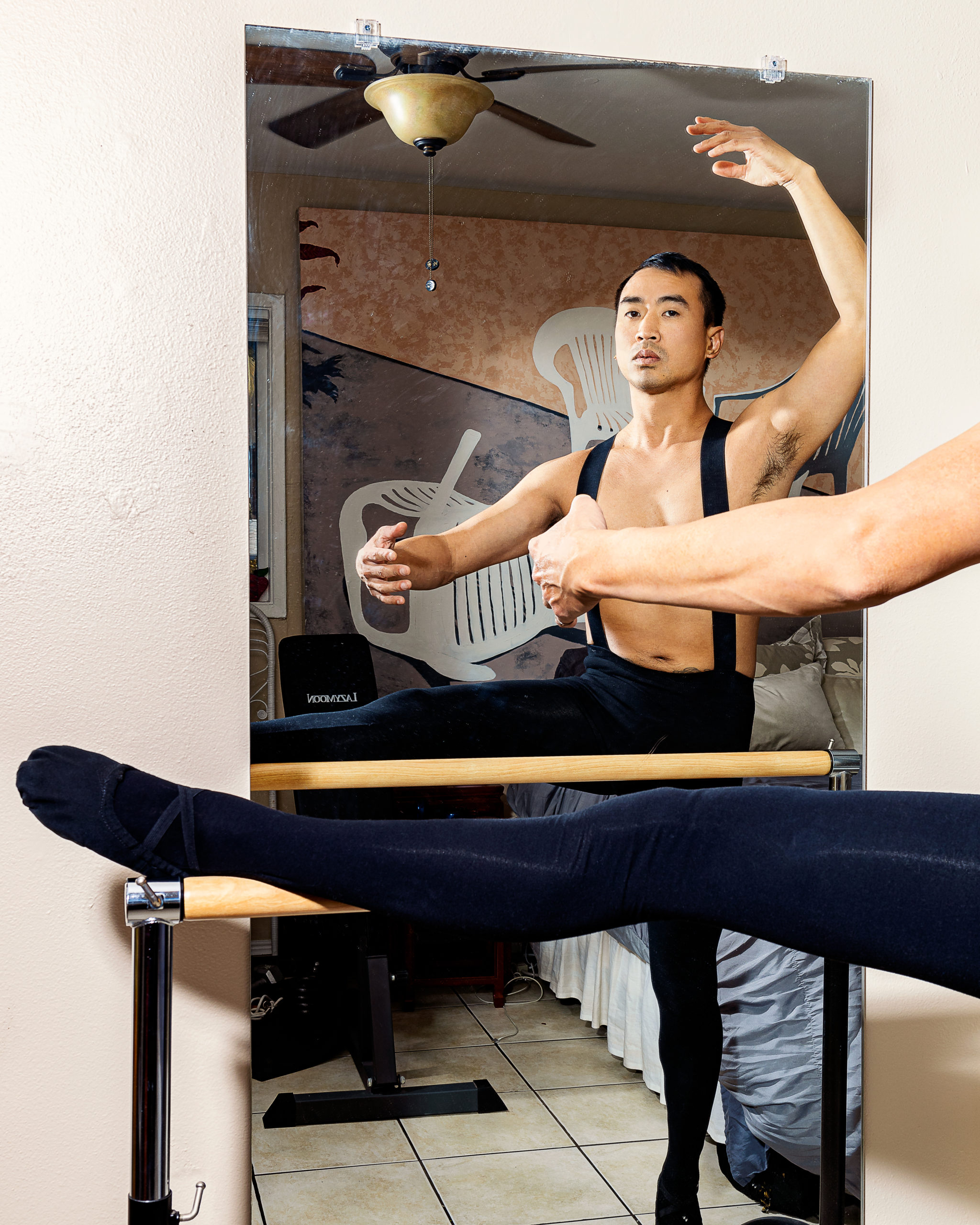 Mark Golamco, The Ghost of Ted Dragon (3). Photographs by Argel Rojo, courtesy and © the photographer and the artist.